Entrepreneurship
Payroll Services
America's Hottest Brands 2009. Technorati. Web Business. 10 Types of Social Media Sites You Need to be on and Why. My Social Media. 2010 Online Marketing Influencers: Trend Predictions in 140 characters by Trendsspotting. The Colors of the Web's Superbrands [INFOGRAPHIC] What colors do the web's most powerful brands use to distinguish themselves from others?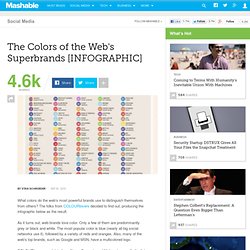 The folks from COLOURlovers decided to find out, producing the infographic below as the result. As it turns out, web brands love color. Only a few of them are predominantly grey or black and white. The most popular color is blue (nearly all big social networks use it), followed by a variety of reds and oranges. Also, many of the web's top brands, such as Google and MSN, have a multicolored logo.
Tech. Marketing. Marketing. Top 30 Entrepreneurs Under 30 - Bobby Kim and Ben Shenassafar, The Hundreds. #13 Bobby Kim#14 Ben Shenassafar The Hundreds Age: 28 (Kim) and 28 (Shenassafar)Location: Los Angeles, CA2007 Revenue: $2 millionEmployees: 30Year founded: 2003Website: www.thehundreds.com What started as a blog and a simple T-shirt line produced by two law school classmates has become The Hundreds -- a worldwide skateboarder lifestyle and apparel brand with an online magazine that attracts more than 1 million unique visitors a month.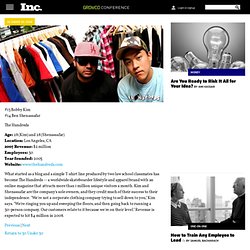 Kim and Shenassafar are the company's sole owners, and they credit much of their success to their independence. Just Manic Enough - Seeking Perfect Entrepreneurs.
Business Solutions. Apple TV: More Powerful Than You May Imagine. Apple's refreshed TV product hasn't yet hit the stores, and though it revealed some of its details, Apple's been quiet about the tech potential inside the tiny box.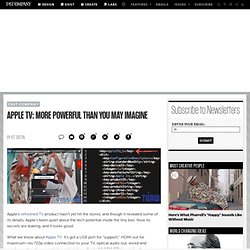 Now its secrets are leaking, and it looks good. What we know about Apple TV: It's got a USB port for "support," HDMI out for maximum-res 720p video connection to your TV, optical audio out, wired and wireless network connectivity, and inside an Apple A4 ARM CPU provides the computing oomph. We also know it has a custom UI, heavy on the simplicity, for browsing the iTunes-linked and Net-connected audio and TV content. The most interesting new data about the Apple TV comes from an experiment by the guys at 9to5Mac.com with the developer release of Apple's newest software, which contains its new wireless-sharing AirPlay system and Netflix's iPad app.
---