Mrlll
10 Search Engines to Explore the Invisible Web. The Invisible Web refers to the part of the WWW that's not indexed by the search engines.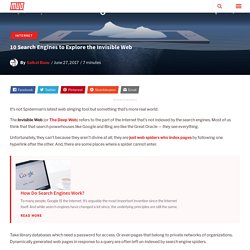 Most of us think that that search powerhouses like Google and Bing are like the Great Oracle"¦they see everything. Unfortunately, they can't because they aren't divine at all; they are just web spiders who index pages by following one hyperlink after the other. But there are some places where a spider cannot enter. Take library databases which need a password for access. AilmentsSs - What Grandma Knew - Herbal Remedies for Common Problems 
BEST of BTS | photography by Angus R Shamal. A selection of some of the most awesome Behind-the-scenes shots I've seen from some famous movies.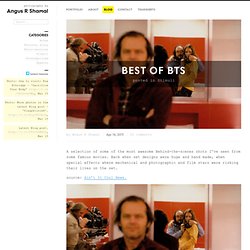 Back when set designs were huge and hand made, when special effects where mechanical and photographic and film stars were risking their lives on the set. source: Ain't It Cool News. A self portrait of Stanley Kubrick with his daughter, Jack Nicholson and the crew @ the set of The Shining. on the set of Fritz Lang's Metropolis — the actress inside the Maria robot taking a breather. The Empire Strikes Back – filming the Crawl. Bottle. Get Paid to Travel the World - Travel Writing Tips. Travel Writing — By Lost Girls on January 30, 2011 at 2:20 pm Be sure to check out our new Pitching 101 Series, including interviews with: BootsnAll editor, Katie HammelNew York Times' deputy travel editor, Monica DrakeThe Expeditioner's founder and editor-in-chief, Matt StabileGalavanting's managing editor, Joseph HernandezTravel Belles' publisher and editor, Margo MillureGo NOMAD's general edit Max HartshorneTravel Agent senior editor Joe PikeTravelingMom's editor Cindy RichardsRecommend's managing editor Paloma Villaverde de Rico.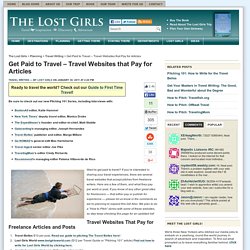 Pearltrees videos
Help.
---