Jeux en ligne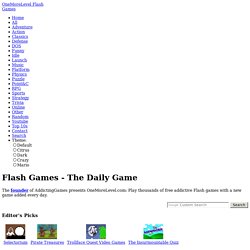 Friday, January 17th, 2014 Valthirian Arc 2 Adventure and magic await you in the Valthirian Kingdom... onward! Have a great weekend!
OneMoreLevel.com Flash Games - Your daily loss of productivity
Netcity.org, plate-forme de jeux de prévention des dangers d'int
Playit
Spiele bei Miniclip Welcome to Miniclip.com, the leading online games site, where you can play a huge range of free online games including action games, sports games, puzzle games, games for girls, mobile games, iPhone games, Android games, Windows Phone, games for kids, flash games and many more. Spiele und Erfolge des Spielers On Miniclip you can play games to compile games statistics such as high scores, and rankings on your own player page and can receive awards for playing games.
Games