Movies based on ghosts
Koji Suzuki
Koji Suzuki (鈴木光司 Suzuki Kōji born May 13, 1957) is a Japanese writer, who was born in Hamamatsu and currently lives in Tokyo. Suzuki is the author of the Ring cycle of novels, which has been adapted into a manga series.[1] He has written several books on the subject of fatherhood. His hobbies include traveling and motorcycling (hobbies found on the back of The Ring, 2002, Koji Suzuki). He is currently on the selection committee for the Japan Fantasy Novel Award. His recent novel Edge puts the main theme on Feynman point. Bibliography[edit]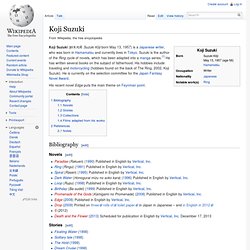 Even before its high-profile sale to Artisan Entertainment at Sundance this year, the buzz about The Blair Witch Project had been growing steadily.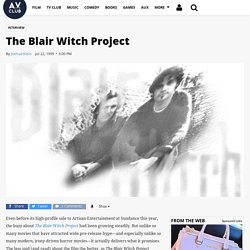 The Blair Witch Project | Interview
I didn't believe in ghosts. I believed in the spirit world but I didn't believe that it could interact with our world. -Carmen Snedeker (A Haunting in Connecticut, 2002) Questioning the Story: Southington home the Snedekerfamily rented from 1986-1988. Did the eldest son have cancer?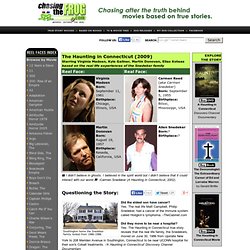 Haunting in Connecticut True Story - Carmen Reed, Snedeker Family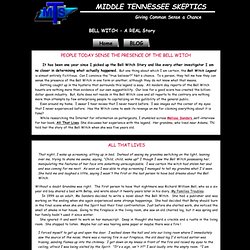 Giving Common Sense a Chance <span><a target="_self" href="/index.html">Home</a> | <a target="_blank" href="http://MTSkeptics.blogspot.com">BLOG</a></span> That night, I woke up screaming, sitting up in bed.
Bell Witch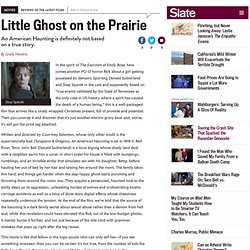 In the spirit of The Exorcism of Emily Rose, here comes another PG-13 horror flick about a girl getting possessed by demons. Sporting Donald Sutherland and Sissy Spacek in the cast and supposedly based on "true events validated by the State of Tennessee as the only case in US history where a spirit has caused the death of a human being," this is a well-packaged film that arrives like a nicely wrapped Christmas present, full of promise and potential. Then you unwrap it and discover that it's just another electric gravy boat and, worse, it's still got the price tag attached.
The silly lies of An American Haunting. - By Grady Hendrix
Paranormal Activity Story - The haunted history of 'Paranormal Activity'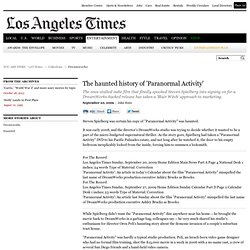 Steven Spielberg was certain his copy of "Paranormal Activity" was haunted. It was early 2008, and the director's DreamWorks studio was trying to decide whether it wanted to be a part of the micro-budgeted supernatural thriller. As the story goes, Spielberg had taken a "Paranormal Activity" DVD to his Pacific Palisades estate, and not long after he watched it, the door to his empty bedroom inexplicably locked from the inside, forcing him to summon a locksmith. For The Record Los Angeles Times Sunday, September 20, 2009 Home Edition Main News Part A Page 4 National Desk 1 inches; 24 words Type of Material: Correction 'Paranormal Activity': An article in today's Calendar about the film "Paranormal Activity" misspelled the last name of DreamWorks production executive Ashley Brucks as Brooks.
Bell Witch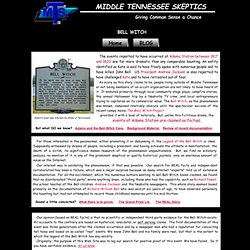 The events reported to have occurred at Adams Station between 1817 and 1820 are far more dramatic than any comparable haunting. An entity identified as Kate is said to have freely spoke with numerous people and to have killed John Bell. US President Andrew Jackson is also reported to have challenged Kate and to have retreated out of fear.
Claim: Several deaths have occured among the cast of the Poltergeist trilogy of films. Origins: What is seen as an unusually large number of deaths have occurred among the former cast of the Poltergeist trilogy. This occurrence has given rise to the rumor that the productions were in some way "cursed" due to the nature of the films themselves, as if the evil spirits conjured up in the make-believe world of the cinema have since reached out into the real world to claim what they might see as their rightful victims.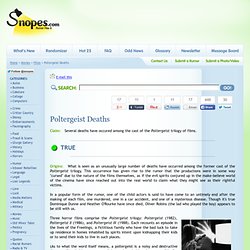 Poltergeist Deaths
Amityville Horror - Was it a hoax? The Real Horror - Castle of Spirits.com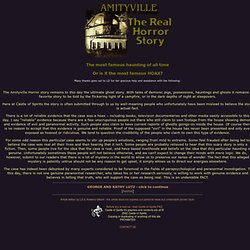 The most famous haunting of all time Or is it the most famous HOAX? Many thanks goes out to LD for her gracious help and assistance with the following:
THE HOAX IN AMITYVILLE
The Amityville Horror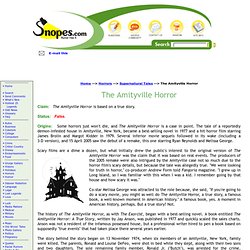 Claim:The Amityville Horror is based on a true story. Origins: Some horrors just won't die, and The Amityville Horror is a case in point. The tale of a reportedly demon-infested house in Amityville, New York, became a best-selling novel in 1977 and a hit horror film starring James Brolin and Margot Kidder in 1979.
Ghosts and Hauntings of Estes Park Colorado
The Baldpate Inn Gordon and Ethel Mace, who were newlyweds at the time, homesteaded the property in Estes Park and built a classic log cabin in 1911. To supplement their income, they built several small tourist cabins, which proved to be a huge success.