ITL Solitary
No! You Can't Just Take It!  No!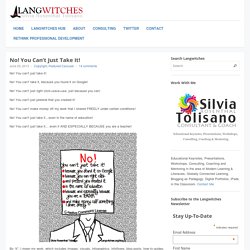 You can't just take it! No! You can't take it, because you found it on Google! 21 Google Chrome Extensions For Increased Productivity. Google Chrome is such a great resource for students.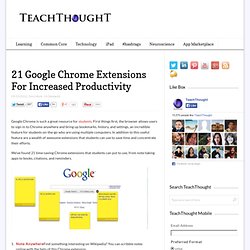 First things first, the browser allows users to sign in to Chrome anywhere and bring up bookmarks, history, and settings, an incredible feature for students on-the-go who are using multiple computers. In addition to this useful feature are a wealth of awesome extensions that students can use to save time and concentrate their efforts. We've found 21 time-saving Chrome extensions that students can put to use, from note-taking apps to books, citations, and reminders.
Critical Thinking Model 1. To Analyze Thinking We Must Identify and Question its Elemental Structures Standard: Clarityunderstandable, the meaning can be grasped Could you elaborate further?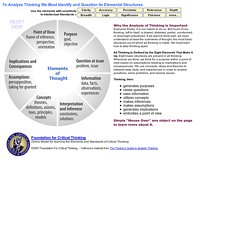 Could you give me an example? Common Craft. My StoryMaker : Carnegie Library of Pittsburgh. Welcome to Lit2Go ETC. Information Cycle - How Do I...? Introduction Welcome to the Information Cycle!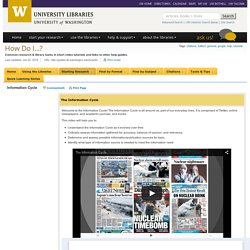 The Information Cycle is all around us, part of our everyday lives. It is comprised of tweets, online newspapers, and academic journals, and books. Free Virtual Classroom Premium Membership for Academicians on WizIQ. 1.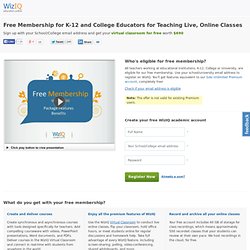 Can I use my free account for commercial purposes? Yes, you can use your free account for commercial purposes. Offer your courses for free or a fee, it's your choice! Thinking Tools. This graphic organizer is a great tool for students struggling to make a logical decision.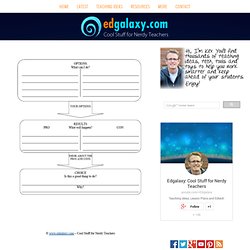 It encourages them to look at the pro's and cons and explore alternatives which they might not ordinarily consider. Download it here. Dan Ackland submitted this lesson plan and earned cash for it. You too can earn cash for your teaching ideas right now by clicking here. Book Trailers for Readers - How to make a book trailer. By Teacher Librarian Michelle Harclerode: www.booktrailersforreaders.com - Keep scrolling all the way down for lots of goodies & links to websites.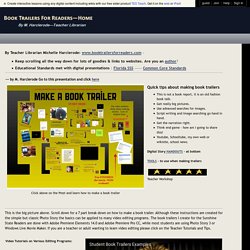 Are you an author? Educational Standards met with digital presentations : Florida SSS ----- Common Core Standards This is the big picture above. Scroll down for a 7 part break down on how to make a book trailer. The 21st Century Skills Teachers Should Have. Untitled. Last year all of the students in our school district received Google Docs accounts and I was kept quite busy all year getting students up and running and then finding innovative ways to use the tools for learning.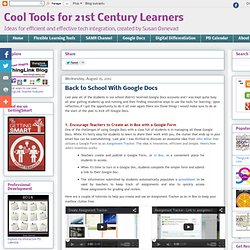 Upon reflection,if I got the opportunity to do it all over again there are three things I would make sure to do at the start of the year to kick off Google Docs. 1. Encourage Teachers to Create an In Box with a Google Form One of the challenges of using Google Docs with a class full of students is in managing all those Google Docs. Thesis Development - Research Tools. What is a thesis?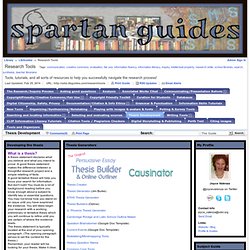 A thesis statement declares what you believe and what you intend to prove. A good thesis statement makes the difference between a thoughtful research project and a simple retelling of facts. A good tentative thesis will help you focus your search for information. But don't rush! Readlists. Reading: The Core Skill:True—or Not? How can students know whether the information they find online is True—or Not?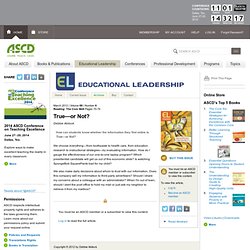 We choose everything—from toothpaste to health care, from education research to instructional strategies—by evaluating information. How do I gauge the effectiveness of our one-to-one laptop program? Which presidential candidate will get us out of this economic slide? Is watching SpongeBob SquarePants bad for my child? Freedom to Learn. Teacher-Librarians. I don't know about you; when I earned my certification as a media specialist, I had never been required to take a course in book repair. My colleague Nancy just received an MLS from Rutgers University (well known for their library sciences program) and she also never learned how to deal with damaged books. How is this possible? Can't figure that one out. But, if you can't attend a training workshop locally, you can always benefit from those who have posted videos and information online.
BookBox :: embeddable book widget: share your book list :: www.sharebookbox.com.
A Parent's Guide to 21st-Century Learning. Discover the tools and techniques today's teachers and classrooms are using to prepare students for tomorrow -- and how you can get involved. What should collaboration, creativity, communication, and critical thinking look like in a modern classroom? How can parents help educators accomplish their goals? We hope this guide helps bring more parents into the conversation about improving education. (And when you're done, don't miss our Home-to-School Connections Guide.) Untitled. Teaching Tools. Propaganda Techniques Seven techniques of propaganda demonstrated through easy to follow animation Launch The Propaganda Machine An interactive tool that encourages students to discover hidden propaganda within YouTube films.
No Books, No Problem: Teaching Without a Text. Thanks to a forward-thinking teacher, chemistry students quickly learn to love leaving the textbook behind. Credit: Francis DaSilva The students in my general chemistry class almost never open their textbook. My reason: The less I use the book, the more they learn. While some textbooks are excellent, most bore my students and frustrate me. "Readability formulae" produce mind-numbing prose. Infographics in Education - home. Google's New Spell Check Is Crazy Awesome. Do you use Today's Meet? DigitalDisruption - building a web savvy generation. DIS Library PYP. The Adventures of Library Girl. Creating Students' Survival Guide to the Web. Digital Tools Teaching Strategies Getty By Ann Michaelson Infotention is a word I came up with to describe the psycho-social-techno skill/tools we all need to find our way online today, a mind-machine combination of brain-powered attention skills with computer-powered information filters. - Howard Rheingold.
NeverEndingSearch. AASL: American Association of School Librarians. Big6 Resources. Building Good Search Skills: What Students Need to Know. Search Rescue. Improve Your Google Search Skills [Infographic]
The Plagiarism Checker. Works Cites (Key Middle School Library) Results : Plagiarism Report. 30+ Cool Content Curation Tools for Personal & Professional Use. Encyclopedia - Britannica Online Encyclopedia. How to Choose the Right Words for Best Search Results. The Adventures of Library Girl.
ABCs of Web Literacy: Interactive Tutorial. Critical thinking explained in six kid-friendly animations. 6 Websites to Maximize Your Summer Reading | Surviving College. Teachers Homepage. Read it! Loved it! At Last, They See: E-Books 'Democratize' Publishing. Home - Follett eBooks. Home - Follett eBooks. Flipped Classroom Infographic. Perspectives and Talking at Cross Purposes 
---