Formats
Dans le cadre d'un voyage d'études aux USA, je vais tenter de rendre compte, en direct, de mes rencontres et des informations collectées. Ce travail de compte-rendu, appelé "live blogging" a pour objectif le partage de l'information avec l'équipe du Centre pour l'édition électronique ouverte (Cléo), et, d'une façon plus large, avec les acteurs des "Digital humanities" en France. Parce qu'un savoir qui n'est pas partagé est un savoir stérile. En tant que partenaire privilégié du Cléo, le TGE-Adonis a décidé de reprendre cette activité de veille internationale sur son propre site.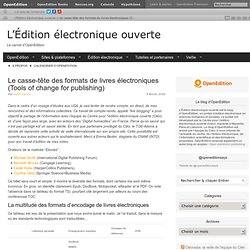 Le casse-tête des formats de livres électroniques (Tools of change for publishing)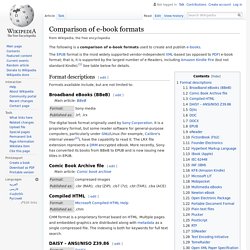 The following is a comparison of e-book formats used to create and publish e-books. The EPUB format is the most widely supported[citation needed] vendor-independent XML-based (as opposed to PDF) e-book format; that is, it is supported by the largest number of e-Readers. The popularity of Amazon.com's Kindle devices in America has led also to the prominence of KF8 and AZW formats; Kindle does not support EPUB. Format descriptions[edit] Formats available include, but are by no means limited to:
Livres électroniques: quelle liseuse pour quel format? [ebook]
Vous venez d'acheter un Amazon Kindle, un Apple iPad ou une autre liseuse numérique comme le CyBook ou le Sony eReader? Bienvenue dans la jungle des formats de fichiers. ePub, Mobi, Prc, Azw, Cbr, Cbz, Pdf sont les formats privilégiés des livres numériques.