Education/Race
Plantations, Prisons and Profits. Integration Worked. Why Have We Rejected It? At Explore Charter School, a Portrait of Segregated Education. Recess Helps African American, Latino Students Perform In Class, Study Says. While the benefits of physical activity among children has given rise to little, if any, debate, the benefits of midday playtime has.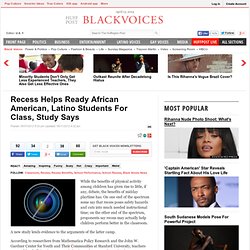 On one end of the spectrum some say that recess poses safety hazards and cuts into much needed instructional time; on the other end of the spectrum, proponents say recess may actually help children perform better in the classroom. A new study lends evidence to the arguments of the latter camp. According to researchers from Mathematica Policy Research and the John W. Gardner Center for Youth and Their Communities at Stanford University, teachers reported less bullying, better recess behavior and more readiness for classes among students who engaged in recess. The Self-Made Myth: Debunking Conservatives' Favorite -- And Most Dangerous -- Fiction | Visions. Photo Credit: Gage Skidmore April 25, 2012 | Like this article?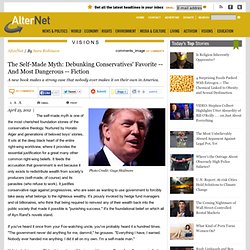 Join our email list: TV Audiences Can Be Color Blind - Room for Debate. Even in 2012, informal rules persist for the consumption of pop culture.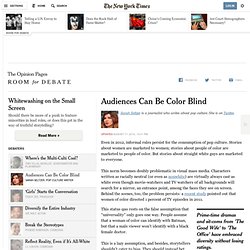 Stories about women are marketed to women; stories about people of color are marketed to people of color. But stories about straight white guys are marketed to everyone. This norm becomes doubly problematic in visual mass media. Prozac: What's Race Got to Do With It? When Prozac first landed on pharmacy shelves in 1987, it immediately hit the jackpot.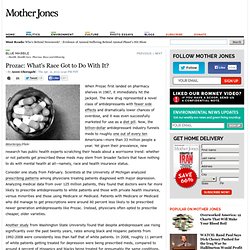 The new drug represented a novel class of antidepressants with fewer side effects and dramatically lower chances of overdose, and it was even successfully marketed for use as a diet pill. Now, the billion-dollar antidepressant industry funnels meds to roughly one out of every ten Americans—more than 33 million people a year. Yet given their prevalence, new research has public health experts scratching their heads about a worrisome trend: whether or not patients get prescribed these meds may stem from broader factors that have nothing to do with mental health at all—namely, race and health insurance status. Consider one study from February. Scientists at the University of Michigan analyzed prescribing patterns among physicians treating patients diagnosed with major depression. Welfare queen. Since then, it has become a stigmatizing label placed on recidivist poor mothers, with studies showing that it often carries gendered and racial connotations.[2][3] Although American women can no longer stay on welfare indefinitely due to the Personal Responsibility and Work Opportunity Act, the term continues to shape American dialogue on poverty.[3] Origin[edit] The term was coined in 1974, either by George Bliss of the Chicago Tribune in his articles about Linda Taylor, or by Jet Magazine.[4] Neither publication credits the other in their "Welfare Queen" stories of that year.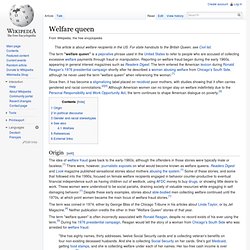 Critics Paul Krugman and Mark J. Green have argued that the story grossly exaggerates minor cases of welfare fraud.[7][8] The Washington Post reported that Linda Taylor, may have been the women who inspired Reagan's story. White People, You Will Never Look Suspicious Like Trayvon Martin by Michael Skolnik. View Gallery.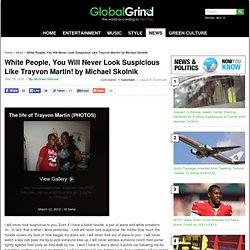 Randi Weingarten: Education by the Numbers. Since some people think that everything in education can be reduced to a number, let's follow their lead. 76: The percentage of teachers who report that their school's budget decreased in the last year (after the recession officially ended). 63: The percentage of teachers who say that their class sizes increased in the last year.16.4 million: The number of children in America living in poverty.64: The percentage of teachers who report that in the last year, the number of students and families needing health and social support services increased.28: The percentage of teachers who say that health or social services have been reduced or eliminated in their schools.50: The approximate percent of teachers who leave the profession within the first five years.$7.3 billion: The cost to American school systems each year as a result of teacher turnover.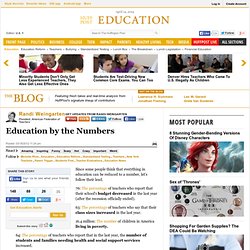 Young, Black and Male in America - Room for Debate. Brown v. Board of Education of Topeka, Kansas - "With an Even Hand": Brown v. Board at Fifty (Library of Congress Exhibition) Three lawyers confer at the Supreme Court, 1953.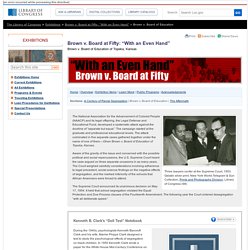 Gelatin silver print. New York World-Telegram & Sun Collection, Prints and Photographs Division, Library of Congress (98) The National Association for the Advancement of Colored People (NAACP) and its legal offspring, the Legal Defense and Educational Fund, developed a systematic attack against the doctrine of "separate but equal." The campaign started at the graduate and professional educational levels. Black at Stuyvesant High — One Girl's Experience.
---