Useful Ideas!!
Digital Differentiation. Technology is a tool that can be used to help teachers facilitate learning experiences that address the diverse learning needs of all students and help them develop 21st Century Skills.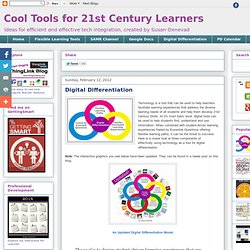 At it's most basic level, digital tools can be used to help students find, understand and use information. When combined with student-driven learning experiences fueled by Essential Questions offering flexible learning paths, it can be the ticket to success. Here is a closer look at three components of effectively using technology as a tool for digital differentiation. Note: The interactive graphics you see below have been updated. They can be found in a newer post on this blog. Internet Buttons | Welcome. Here's An Easy Way to Create Whiteboard Lectures for Your E-Learning Courses. I'm a doodler.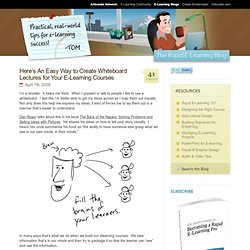 It helps me think. When I present or talk to people I like to use a whiteboard. I feel like I'm better able to get my ideas across as I map them out visually. Not only does this help me express my ideas, it kind of forces me to lay them out in a manner that's easier to understand. Dan Roam talks about this in his book The Back of the Napkin: Solving Problems and Selling Ideas with Pictures.
---