Design
36 High-Quality Flat Design Resources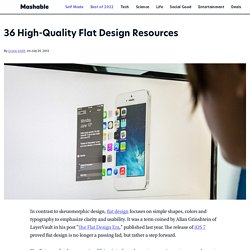 In contrast to skeuomorphic design, flat design focuses on simple shapes, colors and typography to emphasize clarity and usability.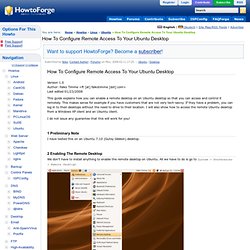 How To Configure Remote Access To Your Ubuntu Desktop
Version 1.0 Author: Falko Timme <ft [at] falkotimme [dot] com> Last edited 01/23/2008 This guide explains how you can enable a remote desktop on an Ubuntu desktop so that you can access and control it remotely. This makes sense for example if you have customers that are not very tech-savvy.
Learn HTML5 in 5 Minutes | the HTML5 Center
HTML5 Starter Pack by Radu Chelariu | Sickdesigner.com
Download the pack Latest version: 3.1 (July, 2013) Whenever I start a new project, I really hate doing all those repetitive bits over & over again. And I'm betting that, since you're here, you do too.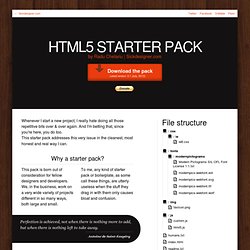 Tutorials | Layouts with CSS in Dreamweaver
Masonry CSS or Getting awesome with CSS3