Typeface
Welcome to Cloud.typography | Webfonts by H&FJ. Webfonts remove the barriers between your text and your readers.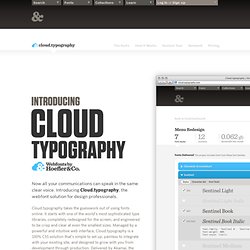 Unlike type in an image, type in a webfont is real text: it's searchable and selectable by readers, it magnifies crisply to any size, it works with in-browser translation services, it's clear at any resolution, and it can be used in dynamic page elements such as searchbars and forms. Machines can read webfonts, too, and the more of your site a search engine can see, the better. Webfonts make it possible to use real text for every part of your site, from text to logos. And search robots aren't the only technologies that can read webfonts: users with disabilities can finally use assistive devices to read all of your site's content. Meet the designer behind some of the web's newest killer fonts. Founders of Hoefler & Frere-Jones Jonathan Hoefler (left) and Tobias Frere-Jones (right) The font world is being revolutionized.
Thanks to newer browsers and greater bandwidth, there's been an explosion of new web fonts — tens of thousands of them over the last decade. We used to be stuck with Helvetica, Times New Roman or Comic Sans. New we've got hot new fonts like Mercury, Helvetica Neue and Museo Slab. Chunk. The 100 Best Fonts (in a Huge Sortable Table) The League of Moveable Type. MyFonts. "What Font Should I Use?". Advertisement For many beginners, the task of picking fonts is a mystifying process.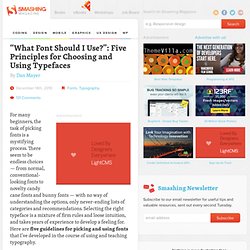 There seem to be endless choices — from normal, conventional-looking fonts to novelty candy cane fonts and bunny fonts — with no way of understanding the options, only never-ending lists of categories and recommendations. Selecting the right typeface is a mixture of firm rules and loose intuition, and takes years of experience to develop a feeling for. Here are five guidelines for picking and using fonts that I've developed in the course of using and teaching typography. 1. Free Fonts (2012 Edition) Advertisement Every now and then, we look around, select fresh free high-quality fonts and present them to you in a brief overview.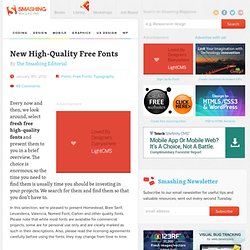 The choice is enormous, so the time you need to find them is usually time you should be investing in your projects. We search for them and find them so that you don't have to. In this selection, we're pleased to present Homestead, Bree Serif, Levanderia, Valencia, Nomed Font, Carton and other quality fonts. Dafont.com. Abstract Fonts.
---