Inspirational
I'll Show You How Great I AM - Be Inspired!!.rv
In this special year-end collaboration, TED and The Huffington Post are excited to count down 18 great ideas of 2011, featuring the full TEDTalk with original blog posts that we think will shape 2012. Watch, engage and share these groundbreaking ideas as they are unveiled one-by-one, including never-seen-before TEDTalk premieres. Standby, the countdown is underway!
Graham Hill: Less Stuff, More Happiness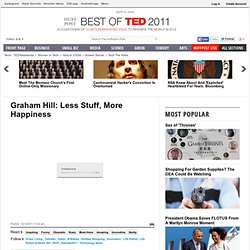 By: Maria Popova What a 13,000-year-old eucalyptus tree reveals about the meaning of human life. "Our overblown intellectual faculties seem to be telling us both that we are eternal and that we are not," philosopher Stephen Cave observed in his poignant meditation on our mortality paradox And yet we continue to long for the secrets of that ever-elusive eternity.