Inspirational
MOTIVATION - PAIN IS TEMPORARY. I'll Show You How Great I AM - Be Inspired!!.rv. How Bad Do You Want It. Vimeo, Video Sharing For You. How willpower works - Health & wellness.
Graham Hill: Less Stuff, More Happiness. In this special year-end collaboration, TED and The Huffington Post are excited to count down 18 great ideas of 2011, featuring the full TEDTalk with original blog posts that we think will shape 2012.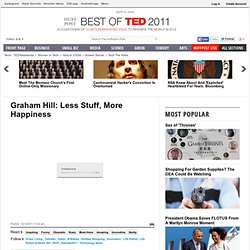 Watch, engage and share these groundbreaking ideas as they are unveiled one-by-one, including never-seen-before TEDTalk premieres. Standby, the countdown is underway! Redux. Brain Pickings.
Sugar Free Life
Videojug - Get Good At Life. The world's best how to videos plus free expert advice and tutorials. Art. Entrepreneurs.
---