Recipes
One Pot Chili Casserole
Method: Preheat oven to 350°F. Coat the inside of a 9-inch square baking dish with olive oil. Crumble half of the cornbread into the baking dish. In a large bowl, combine the chili, beans and salsa. Spoon the chili mixture evenly over the cornbread.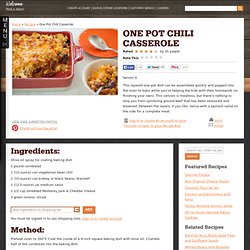 Campbell's Kitchen - One Dish Chicken & Rice Bake
Please enter an email. This is not a valid email address. The e-mail address you have entered is already in use.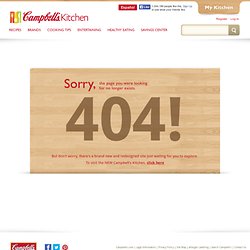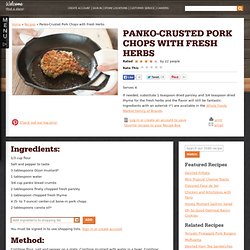 Panko-Crusted Pork Chops
Nutritional Info: Per Serving:410 calories (160 from fat), 17g total fat, 3.5g saturated fat, 90mg cholesterol, 660mg sodium, 24g carbohydrate (1g dietary fiber, 1g sugar), 35g protein Special Diets: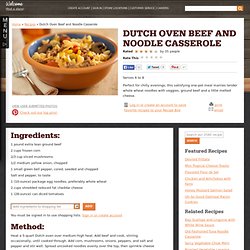 Dutch Oven Beef and Noodle Casserole
Method: Heat a 5-quart Dutch oven over medium-high heat. Add beef and cook, stirring occasionally, until cooked through. Add corn, mushrooms, onions, peppers, and salt and pepper and stir well.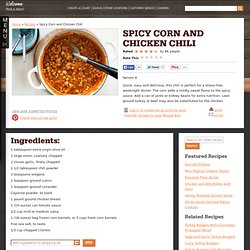 Spicy Corn and Chicken Chili
Method: In a large soup pot or Dutch oven, heat oil over medium heat. Add onions and garlic and cook 5 minutes, stirring frequently until onions are translucent. Stir in chili powder, oregano, cumin, coriander and cayenne and cook 1 minute, stirring constantly. Add chicken.
Mixed Fruit Smoothie
Method: For the beans, soak overnight in water to cover. The next morning, discard soaking liquid and rinse beans. For crock pot preparation: Place beans and 2 cups chicken broth along with bay leaves in a crock pot set on high for 3 hours, stirring occasionally. Sauté green and red pepper, garlic, and jalapeño in olive oil for 5 minutes.
Black Beans with Canadian Bacon over Rice
Method: On a plate, combine flour, salt, pepper and thyme. Dredge meat in flour, coating all sides. Heat oil in a large saucepan and brown meat on both sides, turning once, about 7 minutes total. Meanwhile, place carrots, potatoes, onions and garlic in a 5 or 6-quart slow cooker. Top with browned roast.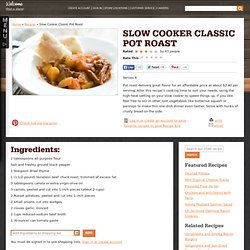 Classic Pot Roast
Manly Chili - 326341 - Recipezaar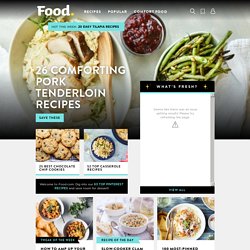 Food.com: The most complete collection of free recipes on the Internet, trusted by home chefs throughout the world. Sign In Register Recipe Sifter Start Here Course Main Ingredient Cuisine Preparation Occasion Diet Filter by Ingredient Nutrition Select () or exclude () categories to narrow your recipe search.
Pork Chops with Mustard Sauce Recipe at Epicurious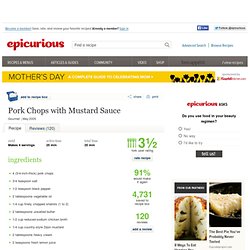 yield Makes 4 servings active time 25 min total time 25 min Preparation Put oven rack in middle position and preheat oven to 325°F. Heat a dry 12-inch heavy skillet over moderately high heat until hot.
Method: Arrange an oven rack about 6 inches from the heating element and preheat the broiler. Line a large baking sheet with foil and spray with spray oil; set aside.
Orange and Ginger Pork Chops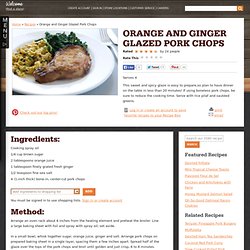 Nutritional Info: Per Serving:500 calories (140 from fat), 16g total fat, 4.5g saturated fat, 105mg cholesterol, 590mg sodium, 48g carbohydrate (3g dietary fiber, 9g sugar), 37g protein Special Diets:
Slow-Cooked Pulled Pork Sandwiches
Spiced Iced Tea Punch