Recipes
One Pot Chili Casserole. Method: Preheat oven to 350°F.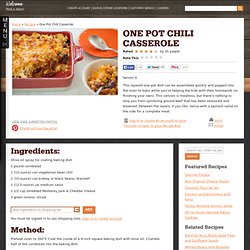 Coat the inside of a 9-inch square baking dish with olive oil. Crumble half of the cornbread into the baking dish. In a large bowl, combine the chili, beans and salsa. Spoon the chili mixture evenly over the cornbread. Campbell's Kitchen - One Dish Chicken & Rice Bake. Please enter an email.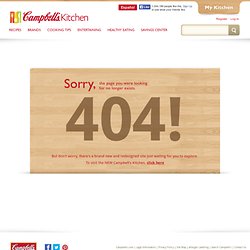 This is not a valid email address. The e-mail address you have entered is already in use. Panko-Crusted Pork Chops. Nutritional Info: Per Serving:410 calories (160 from fat), 17g total fat, 3.5g saturated fat, 90mg cholesterol, 660mg sodium, 24g carbohydrate (1g dietary fiber, 1g sugar), 35g protein Special Diets: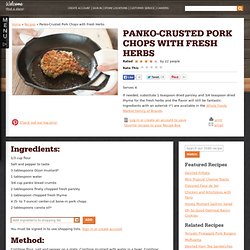 Dutch Oven Beef and Noodle Casserole. Method: Heat a 5-quart Dutch oven over medium-high heat.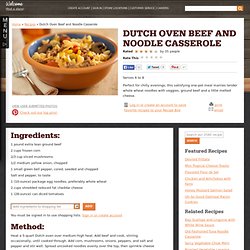 Add beef and cook, stirring occasionally, until cooked through. Add corn, mushrooms, onions, peppers, and salt and pepper and stir well. Spicy Corn and Chicken Chili. Method: In a large soup pot or Dutch oven, heat oil over medium heat.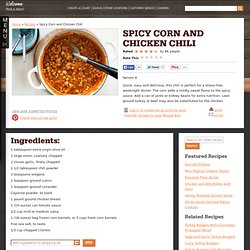 Add onions and garlic and cook 5 minutes, stirring frequently until onions are translucent. Stir in chili powder, oregano, cumin, coriander and cayenne and cook 1 minute, stirring constantly. Add chicken. Mixed Fruit Smoothie. Black Beans with Canadian Bacon over Rice. Method: For the beans, soak overnight in water to cover.
The next morning, discard soaking liquid and rinse beans. For crock pot preparation: Place beans and 2 cups chicken broth along with bay leaves in a crock pot set on high for 3 hours, stirring occasionally. Sauté green and red pepper, garlic, and jalapeño in olive oil for 5 minutes. Classic Pot Roast. Method: On a plate, combine flour, salt, pepper and thyme.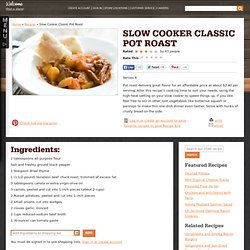 Dredge meat in flour, coating all sides. Heat oil in a large saucepan and brown meat on both sides, turning once, about 7 minutes total. Meanwhile, place carrots, potatoes, onions and garlic in a 5 or 6-quart slow cooker. Top with browned roast. Manly Chili - 326341 - Recipezaar. Homemade Ice Cream - Recipezaar: Where the World's Recipes Are. Pork Chops with Mustard Sauce Recipe at Epicurious. Yield Makes 4 servings active time 25 min total time 25 min Preparation Put oven rack in middle position and preheat oven to 325°F.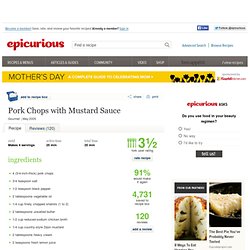 Heat a dry 12-inch heavy skillet over moderately high heat until hot. Orange and Ginger Pork Chops. Method: Arrange an oven rack about 6 inches from the heating element and preheat the broiler.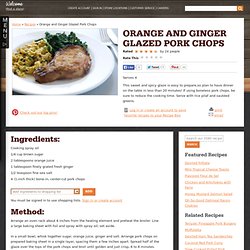 Line a large baking sheet with foil and spray with spray oil; set aside. Slow-Cooked Pulled Pork Sandwiches. Nutritional Info: Per Serving:500 calories (140 from fat), 16g total fat, 4.5g saturated fat, 105mg cholesterol, 590mg sodium, 48g carbohydrate (3g dietary fiber, 9g sugar), 37g protein Special Diets: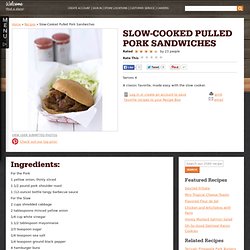 Spiced Iced Tea Punch.
---