Interesting/Stuff
Genetic Altruism and Eusociality Challenge Darwin.
Internet of Things
Photography. Lapham's Quarterly. If I Were A Poor Black Kid. 5 Old-Timey Prejudices That Still Show Up in Every Movie. We think of Hollywood as a liberal and socially progressive land of hippies, what with its endless fundraisers and giving awards to movies that teach us that intolerance is wrong.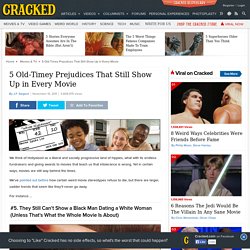 Yet in certain ways, movies are still way behind the times. We've pointed out before how certain weird movie stereotypes refuse to die, but there are larger, sadder trends that seem like they'll never go away. For instance ... #5. They Still Can't Show a Black Man Dating a White Woman (Unless That's What the Whole Movie Is About)
Email : Webview. Each February 14 you can always choose to show your affection with flowers, chocolates and a nice dinner.
And while there's nothing wrong with those options, we have a hunch that's not what really counts. We asked six notable women of the South to give us their perspective on what truly matters to a woman on Valentine's Day. "The surprise extravagance is always appreciated, but what goes further in my book is knowing I'm being considered. Inbox (19) - michael.pulfer.
---