Pasta
baked penne with pesto and tomato sauce
From "Quick from Scratch Pasta from Food and Wine Books" (If you can find a copy of this cookbook, snatch it up. I think it's out of print.) I love pasta all year round. I love a simple pasta with warmed cherry tomatoes and basil in the late summer, pasta salad with lots of fresh veggies in the spring… but when the weather turns cold, I love baked pasta. I love to scoop some up and watch the cheese stretch from the pan to my plate.
With all of the craziness of my schedule, it's nice to still be able to do Secret Recipe Club . To not think about school, or work, or anything. Anything except exploring another blogger's site and making something delicious!
Secret Recipe Club: Creamy Mac n' Cheese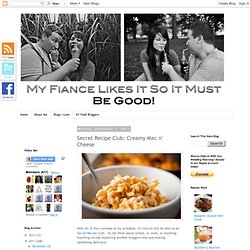 Pappardelle Pasta with a Roasted Cherry Tomato Sauce Recipe
Simple delicious pasta. This pasta dish is really beautiful. I feel like this is one of those recipes where you make it the first time you have a boy over at your house and you cook. Simple, no fuss, no screw up, delicious recipes. I feel like cooking for a boy for the first time, you don't want to do anything that could totally bomb. So this is one of those recipes. ♥ Teri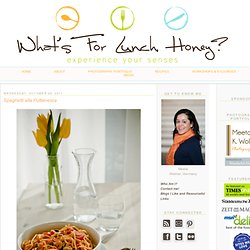 I'm packing again! This time I'm off to Florence and as much as I would love to say it's for play and shopping, it's not. I am afraid I won't be able to take in much of the sights of my beloved city this time. I've always had somewhat of a love affair with this city.
What's For Lunch Honey? | Experience Your Senses: Spaghetti alla Puttanesca
Creamy Stovetop Mac and Cheese » Annie's Eats
My mac and cheese obsession continues to grow every day. Well okay, not every day, but at least every day that I make it, and some days when I just think about it a whole lot. This recipe took the obsession to a whole new level. Why?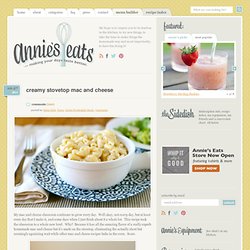 Gluten-Free Baked Mac and Cheese with Cauliflower « Roti n Rice
51 Email Share Life has many surprises and I was stumped last weekend while grocery shopping with Ro-Ri San. As we entered the store, he said it would be nice to have some of the Baked Mac and Cheese I made the last time. "Seriously? With bacon bits?", I asked.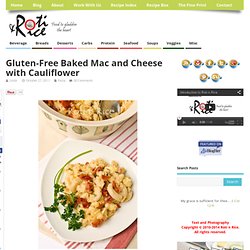 Pasta a la Vodka | Life and Kitchen
I know it's been a while since I've posted. As much as I like staring at Oreos engulfed in peanut butter cookies, I'm sick of staring at those things. But since it's been almost two weeks since I've posted, I feel like I need to break the silence.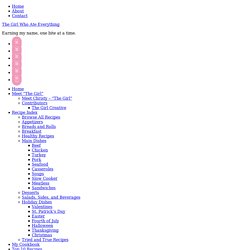 Baked Manicotti with Meat Sauce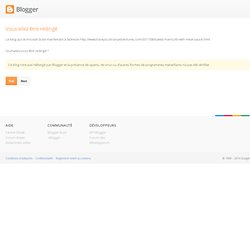 Even though there's still technically another month of summer left, I am already mourning its end. The once gorgeous summer produce is starting to look questionable at the store. If I'm up early or outside in the evening, I can feel the crisp fall air starting to creep in. The days are getting shorter too. Have I told you guys my least favorite part of fall/winter?
Pasta with Tomato and Almond Pesto
Creamy Pesto & Tomato Pasta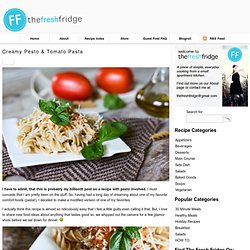 I have to admit, that this is probably my billionth post on a recipe with pesto involved. I must concede that I am pretty keen on the stuff. So, having had a long day of dreaming about one of my favorite comfort foods (pasta!)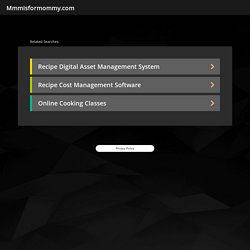 AKA Spaghetti with Pesto White Sauce & Chicken Meatballs... which is a mouthful, so 'Sueghetti' it is. Yesterday afternoon I was in a bit of a food funk and had no idea what was going to be for dinner except that it should include ground chicken as it was thawed in the refrigerator. I was chatting with my sister Sue on Facebook and she suggested something she had made which was small chicken meatballs with a white sauce on pasta. I took that idea and ran with it, and when I noticed the pesto in the freezer I knew that this was going to be a winner. My husband absolutely loved this and it is now going to be a pasta regular around here.
Sueghetti & Meatballs
Risotto : gourmadeathome.com
This weekend I visited Napa for the first time. It was glorious: beautiful blue sky, ideal warm weather, rolling fields of grapevines, and pristine wineries. Once again I was reminded of how much I love living in the bay area. Drinking wine in an environment like that makes me feel a little bit like a child pretending to be an adult. I enjoy a glass of wine a couple of times a week, but I am certainly no wine connoisseur (point in case, it just took me about five minutes to figure out how to spell connoisseur).
I frequently get requests for toddler- and kid-friendly food ideas and I struggle with how to respond. I know how other family and friends have struggled with picky eaters and I don't want to meet that frustration with a smug, "my kid eats every thing," response. But the truth is, we lucked out. Our toddler eats just about everything that we do. Her dinner plate is mostly just a smaller version of ours.
Penne with Roasted Tomatoes and Mozzarella Recipe
Sometimes I want macaroni. Certainly in the sauce, certainly in the creamy one, with flakes of aromatic Parmesan and sweet-scented basil. If I want something very much I'll exactly do it.
Spaghetti alla vodka
HOKKIEN MEE
I had planned to do a Hokkien Mee for dinner and then decided that I might as well blog about it. This is one of my favourite noodle dishes apart from a hearty and spicy mee mamak. To be honest I didn't know that there were variations of this dish until I googled it. I had always thought of Hokkien mee as the dark, thick sauced, fat noodle dish. Period. Now I know that Penang has it's own version as does Singapore.
Cooking with PastaPrima: Grilled Chicken Ravioli with Vegetables & Blue Cheese
A few weeks ago I received a package from PastaPrima with several varieties of ravioli and was asked to come up with a fun recipe that would not be your typical ravioli with sauce dish . I was up for the challenge! Who knows, maybe I'll even win the grand prize of $1,000 worth of must-have kitchen tools? One can dream, right?
Apron and Sneakers - Cooking & Traveling in Italy: Grilled Pepper & Mozzarella Pasta Salad
Pasta Caprese
Sos de rosii cu piept de pui si busuioc | PAPA BUN
Spaghetti with Fresh Tomato Sauce
Mushroom Ragoût with Fettuccine Rigate « The Culinary Chronicles
Chicken Heart Gravy Pasta
Buffalo Chicken Pasta Salad | Snappy Gourmet
Roasted Tomato Sauce
Stir Fried Noodles with Thai Peanut Sauce | Love Food Eat
Pasta in white sauce
Ricotta Stuffed Shells with Roasted Tomato Sauce « Naturally Ella
Rags to Riches
Farmer's Market Pasta
Sformatini di tagliatelle al ragù con salsiccia e mozzarella di bufala
Taco Pasta
Savory Sitter: Ravioli Lasagna
Tomato and goat cheese risotto
Broccolini rigatoni - delicious food in almost no time at all