Mixed
Jeanette's Healthy Living: Korean Spicy Cucumber Salad "Banchan" When it gets really hot outside like it has been lately, I crave the little cold Korean side dishes called banchan.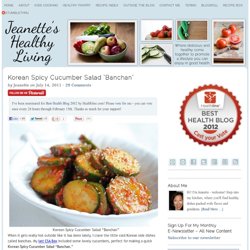 My last CSA Box included some lovely cucumbers, perfect for making a quick ." Lately, I've been making a lot of little Korean side dishes using the fresh vegetables in my CSA Boxes , including a Quick Kohlrabi "Kim Chi" Salad , Korean Spinach Salad "Banchan," and a Quick Vegetarian Napa Cabbage Kim Chi . C+C Marriage Factory: Summer Vegetable Skillet Lasagna. This recipe was so delicious, definitely a keeper!
I haven't been eating a lot of pasta recently so that might have made me love it all the more. Mmmm, carbs... But, Casey loved this too, and for once didn't even suggest that it could use some meat like he usually does when I serve him meatless meals. No, this is so chock full of veggies that you won't miss the meat. It is summery, fresh, and creamy. Plain Jane Rut? Spice Up Your Sides | | Julie Anne RhodesJulie Anne Rhodes. I think one of the easiest menu planning ruts to fall into is relying on the same old side dishes over and over.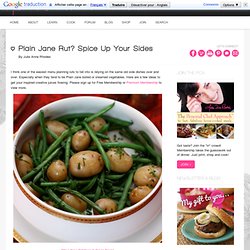 Especially when they tend to be Plain Jane boiled or steamed vegetables. Here are a few ideas to get your inspired creative juices flowing. Please sign up for Free Membership or Premium Membership to view more. Chive New Potatoes & Green Beans. Paneer Tikka Masala. Panneer tikka masala served with vegetable biryani and raita (Indian salad) is one my favorite comfort food.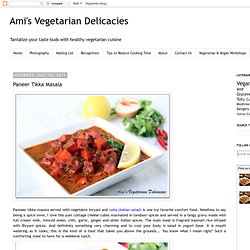 Needless to say being a spice lover, I love this yum cottage cheese cubes marinated in tandoori spices and served in a tangy gravy made with full cream milk, minced onion, chili, garlic, ginger and other Indian spices. The main meal is fragrant basmati rice infused with Biryani spices. Vegetable loaded Sloppy Joe's. Yet again, my obsession with America and it's food got the better of me last night and I just had to make Sloppy Joe's.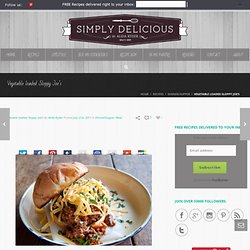 I'll never forget once watching Adam Sandler's "Billy Madison", I was probably about 13 and I thought this movie was the funniest thing I had ever seen. One thing I'll never forget was Billy and his primary school friends eating Sloppy Joe's in the cafeteria. They didn't look advertising at all and were served by a disturbing lunch lady, but I was intrigued. I begged my mom to allow me to make them. Vegetable Eggs | 4th Sense Cooking. Vegetable Eggs????!!!!!!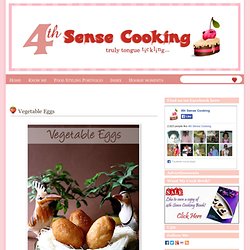 Yes, don't they sound and look interesting?! :) Vegetables are very essential intake in everyday food. But I am sure you would agree that its hard to make kids eat them. All you can do is to make something interesting out of them and give it a very attractive name as well, so that the kids would be excited to eat them :) Oh Versatile Calzones – Cheezy Spinach Version. I was initially going to make these on the grill, but then I remembered my Grilled Peaches Pizza and I sort of chickened out… so I decided to make abstraction of the intense summer heat and fired up the oven instead.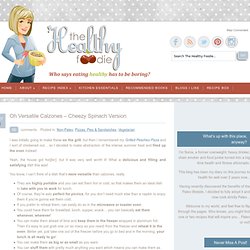 Yeah, the house got hot[ter], but it was very well worth it! What a delicious and filling and satisfying dish this was! You know, I can't think of a dish that's more versatile than calzones, really. They are highly portable and you can eat them hot or cold, so that makes them an ideal dish to take with you to work for lunch;Of course, they're aslo perfect for picnics, for you don't need much else than a napkin to enjoy them if you're gonna eat them cold;If you prefer to reheat them, can easily do so in the microwave or toaster oven;You could have them for breakfast, lunch, supper, snack… you can basically eat them whenever, wherever! You can make them ahead of time and keep them in the freezer wrapped in aluminum foil.
Spicy Tortila Stir Fry Loaded With Vegetables. Spicy Tortila Stir Fry Loaded With Vegetables Today's recipe comes from inspiration of our visit to my beloved restaurant Sarvana Bhavan, love the fact that taste is always consistent and you get what you expect with no surprises, love the kottu parata, it's a spicy concoction of roti's made with Maida ,vegetables and spices served with a side of raita, portion size is so huge that its hard for one person to polish off the whole plate and not go to sleep the next moment.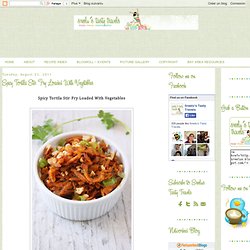 Had tortilla lying in my refrigerator for a while, decided to make the same with tortilla's and taco seasoning must say it was as tastier in comparison to its original and since I added tons of veggies made for an healthy dish as well. On a personal note mom left few days ago, seems like she left abruptly wish she stayed so more time or wish I lived close to her, had a ball of time with her. Miss the tea time sessions, her advice and above all just her presence added so much fun this summer, miss you mom !! Vegetable Cutlet. Vegetable cutlet is my favourite from my childhood days.
I'm sure this is the best way to make kids eat veggies. I got the recipe from amma and here it is for you....Whan I was in the middle of clicking my daughter came running to me with the pizzahut stand(in the 2nd pic) and asked to keep it so she was the sole reason for that idea :) Preparation Time : 20 mins | Cooking Time : 20 mins | Makes : 14 cutletsRecipe Category: Snack | Recipe Cuisine: South Indian. COURGETTE FRITTERS WITH GINGER SOY DIP. I only got to eat courgettes (zucchini) when I came to London.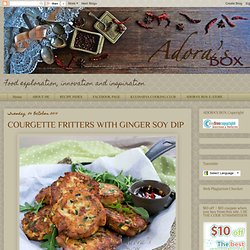 It is not a strange taste to me as it is similar to some vegetables we have back home. I love courgettes but only when it is done just right. Underdone or overcooked courgettes taste equally bad to me. If made into fritters they always come out just right.There are a lot of versions of courgette fritters. Roasted Summer Panzanella. After taking a bite of this salad, my first words were literally "this is like summer in a bowl"...And just like summer, I didn't want this bowl to end!
This was the year that I discovered panzanella, and it has become one of my favourite summertime meals. It's easy to make and very customizable – perfect for highlighting the best produce and herbs of the season! Recipe: Summer Veggie Medley | The Frugal Flambe.
---