Cupcakes
I think Halloween is soon. I can't tell since stores started selling candy corn in July. Ju-ly.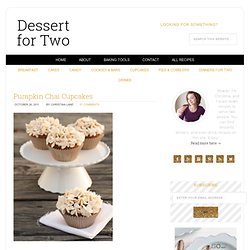 Dessert For Two » Pumpkin Chai Cupcakes » Dessert For Two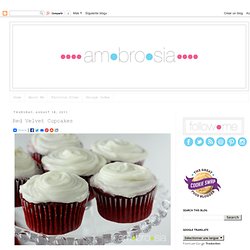 ambrosia: Red Velvet Cupcakes
It took me a while to finally get around to trying what seems to be everyone ever's favorite cupcake flavor, red velvet. I'm not really sure why it took me so long...I'm pretty sure the fact that red velvet cupcakes are well... bright red that just turned me off...or made me a bit apprehensive and weary about trying them at least. Don't get me wrong, I think food coloring is great and all in certain instances, but there's something about making food itself a really bright color that just seems weird to me. Maybe it's just me, but I'll always think that food that has been turned bright blue, red, green, or any color is weird. Sorry if this offends anyone. However.
Pumpkin Spice HippieCakes | The Pursuit of Hippieness
Vegan and Gluten Free! These babies are less than 100 calories per muffin and have no added sugar, but are packed with protein, fiber, and Vitamin A. Not to mention that they are ABSOLUTELY DELICIOUS. Moist, and like a taste of fall. Breakfast, snack, or dessert.
Irish Car Bomb Cupcakes | Formal Fringe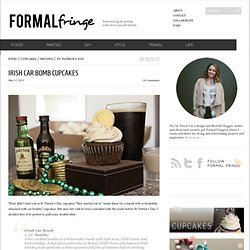 These didn't start out as St. Patrick's Day cupcakes. They started out as "make these for a friend who is freakishly obsessed with car bombs"-cupcakes. But since her visit in town coincided with the week before St. Patrick's Day, I decided they'd be perfect to pull some double-duty. So what's Irish about these beauties?
Banana Chocolate Chip Muffins
Lemon Raspberry Cupcakes How cute are these cupcakes? They're summery and pretty, and I smile every time I look at them. I made these lemon raspberry cupcakes for a wedding a few weeks ago and from what I heard, they were a big hit!
Lemon Raspberry Cupcakes - What Megan's Making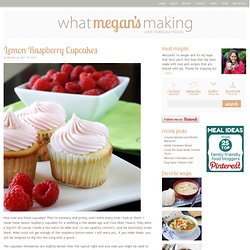 cupcake recipe from tastespotting the blog / frosting adapted from treats ingredients / zutaten: 1 1/4 cups flour / 150 g mehl 1 ts cinnamon / 1 tl zimt 1 ts baking soda / 1 tl backsoda 1/4 ts salt / 1/4 tl salz 2 eggs / 2 eier 1 cup demerara sugar / 220 g vollrohrzucker 3/4 cup corn oil (or other vegetable oil) / 187 ml maiskeimöl (oder ein anderes pflanzenöl) 6 ounces baby carrot food / 170 g karotten babynahrung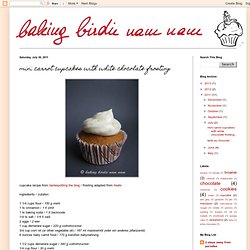 mini carrot cupcakes with white chocolate frosting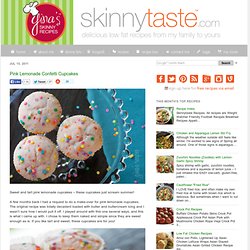 Pink Lemonade Confetti Cupcakes | Ginas Skinny Recipes
Sweet and tart pink lemonade cupcakes – these cupcakes just scream summer! A few months back I had a request to do a make-over for pink lemonade cupcakes. The original recipe was totally decadent loaded with butter and buttercream icing and I wasn't sure how I would pull it off. I played around with this one several ways, and this is what I came up with. I chose to keep them naked and simple since they are sweet enough as is. If you like tart and sweet, these cupcakes are for you!