Choc chip
Potato chip cookies. When I was in the 4th grade, my lunch table mates had a habit of taking the peanut butter and jelly sandwiches that their mothers had lovingly prepared, (trimmed of crusts, devoid of frights like gloppy grape jelly) opening them up, arranging some potato chips over the filling and smooshing the sides back together again before eating them.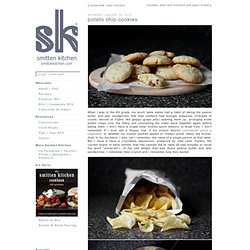 I don't have a single other school lunch memory to draw from. I don't remember if I ever ate a Sloppy Joe, if my school district considered pizza a vegetable, or whether my mother packed apples or cheesy poofs (likely the former, drat) in my lunchbox; I also can't remember the name of a single person at that table. But I have a have a crystalline impression, unmarred by time (and, frankly, the current brand of early senility that has caused me to need 20-odd minutes to recall the word "unmarred"), of the odd delight that was those peanut butter and jelly sandwiches; I remember their crunch and I remember how they tasted. White Chocolate Pumpkin Spice Cookies.
Pumpkin Spice Cookies studded with White Chocolate Chips!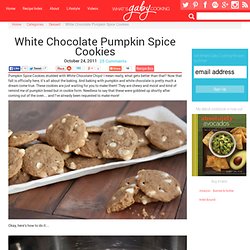 I mean really, what gets better than that? Now that fall is officially here, it's all about the baking. And baking with pumpkin and white chocolate is pretty much a dream come true. Banana Bread Cookies with Chocolate and Toffee Chips. Banana bread bites-almost, well close enough, minus the dense texture.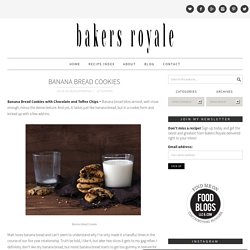 And yes, it tastes just like banana bread, but in a cookie form and kicked up with a few add-ins. Banana Bread Cookies Matt loves banana bread and can't seem to understand why I've only made it a handful times in the course of our five year relationship. Chewy Chocolate Chip Cookies « Craftie Cookie. One of my food highlights when growing up was Famous Amos chocolate chip cookies – the crunchy type!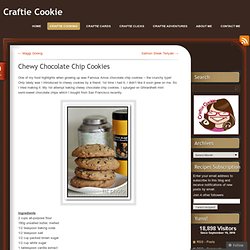 Only lately was I introduced to chewy cookies by a friend. 1st time I had it, I didn't like it soon grew on me. So I tried making it. My 1st attempt baking chewy chocolate chip cookies. I splurged on Ghirardhelli mini semi-sweet chocolate chips which I bought from San Francisco recently. Ingredients 2 cups all-purpose flour 180g unsalted butter, melted 1/2 teaspoon baking soda 1/2 teaspoon salt 1/2 cup packed brown sugar 1/2 cup white sugar 1 tablespoon vanilla extract 1 egg 1 egg yolk 1.5 cups Ghirardhelli mini semi-sweet chocolate chips.
Best Egg-Free Chocolate Chip Cookie EVER...really. Chocolate chip cookies are a good recipe to have up your sleeve.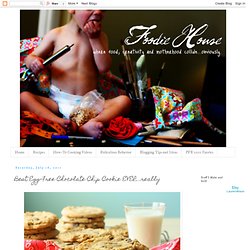 You never know when a C.C.C.E. (that's Chocolate Chip Cookie Emergency, for the lay person), may hit. I've got the rundown for you on what qualifies as a C.C.C.E. 1. One-Bowl Chocolate Chip Cookies for Two. I know.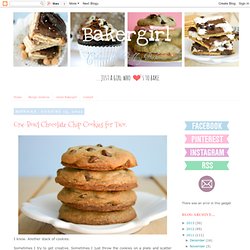 Another stack of cookies. Sometimes I try to get creative. Sometimes I just throw the cookies on a plate and scatter some flour and chocolate chips and things in the background like some kind of artistic baking explosion just naturally happened in my kitchen... but I'm too type A for that. When I get behind the camera, the next thing I know my hand's sneaking into the frame, organizing everything into pretty little piles. I can't help it. Best Low-fat Chocolate Chip Cookies Ever. I am SO excited to share this Skinny Chocolate Chip Cookie recipe with all of you!!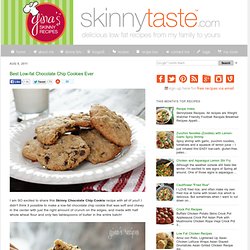 I didn't think it possible to make a low-fat chocolate chip cookie that was soft and chewy in the center with just the right amount of crunch on the edges, and made with half whole wheat flour and only two tablespoons of butter in the entire batch! Trust me, I've tried many recipes and the results were just ok, some were cake-y which I don't particularly care for in a cookie, and sometimes too crispy.
Mississippi Kitchen: "I Want To Marry You" Cookies. This morning I baked some cookies that I've had my eye on for a few weeks.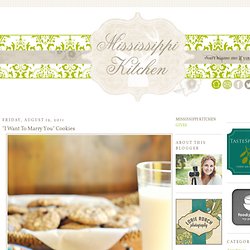 I often glance at a recipe and think "meh", then pass over it without ever taking a second look because there are SO many sources of recipes out there, I am on overload most of the time. I am so glad I read the recipe all the way through before I wrote this off as just another chocolate chip cookie. Chrysanthemum: DoubleTree Cookie CAREavan Tour - San Francisco. Chocolate Chip and Walnut Cookies DoubleTree by Hilton is celebrating their Silver Anniversary by driving the CAREavan across the country and handing out their signature cookies at every stop.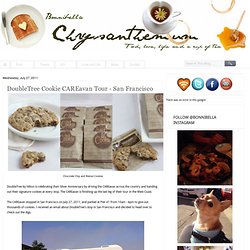 The CAREavan is finishing up the last leg of their tour in the West Coast. The CAREavan stopped in San Francisco on July 27, 2011, and parked at Pier 41 from 10am - 4pm to give out thousands of cookies. I received an email about DoubleTree's stop in San Francisco and decided to head over to check out the digs. Chocolate Chip Banana Bread Cookies. Chunky Chocolate Chips Cookies. This is so far the best, I repeat, the BEST chocolate chips cookies I ever bake!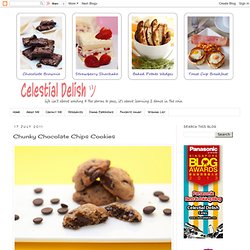 These are the real deal, I highly recommend you to give these a try. The strange combination of cake flour and bread flour is extraordinary. Salted Chocolate Chip Cookies - Citrus and Candy » Citrus and Candy. Ok so I may not be the biggest cookie girl in the world but I do have a soft spot for certain kinds. In particular, cornflake cookies with a whole lot of chewy plump raisins (hai Suze!). And of course choc chip. Beautiful, classic choc chip; traditional, homely and will never go out of style. I don't really enjoy making biscuits or cookies as much as other things but I really needed to get a hot batch in me pronto.
Snickers Bar Stuffed Chocolate Chip Cookies. I broke in my new Silpat! I think it was only fitting that the first type of cookies I made on it were chocolate chip. But these aren't just any old chocolate chip cookies. They're stuffed. With even more sugar and chocolate With Snickers bar pieces.
---