Chicken
Juicy Roasted Chicken Recipe. Ginger Sesame Chicken Wrap …For One. Taking the $5 Challenge with Bobby Flay's Throwdown Adobo-Seasoned Chicken and Rice. Thanks to Nina's orchestration, our little culinary group gathered in the park on Sunday for a $5 Slow Food Challenge.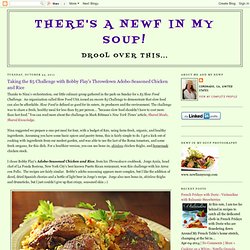 An organization called Slow Food USA issued an encore $5 Challenge to demonstrate that slow food can also be affordable. Slow Food is defined as good for its eaters, its producers and the environment. The challenge was to share a fresh, healthy meal for less than $5 per person... "because slow food shouldn't have to cost more than fast food. " Slow Cooker Pulled Chicken Cherry Molé, Olé! In that it has many flavor building spices and ingredients, it contains chili pepper and chocolate, and it is dark and robust.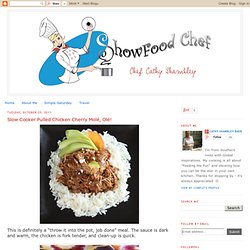 It is also EXTRA SIMPLE to make, and once you put it all into the Slow Cooker and stir, the only job you have is waiting to eat. Molé (or mulli) means "sauce". The history of this concoction includes Spain and Mexico, with influences from Africa and beyond. Today, it is considered one of Mexico's culinary prides. In its most original form, a paste from blended and ground spices is made and cooked into a very fragrant and dark starter. Chicken a la Diable. Claypot Chicken Rice Recipe. Check Out: Claypot Recipes I really love claypot chicken rice (沙锅/煲仔鸡饭) and it is the main reason why I recently added a claypot to my growing list of cookware.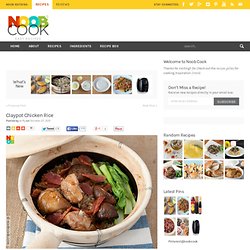 Before I bought a claypot, I cooked claypot rice using a rice cooker, and I just have to say that the taste of this dish cooked in a claypot is just unbeatable. The rice cooked using a claypot has a wonderful smoky flavour and a nice crust which I just can't achieve using a rice cooker. This is a great one-dish and balanced meal with meat, mushrooms and vegetables. Like Us on Facebook. Lemon Rosemary Chicken Recipe. My cousin Tri recently got married and his wife Tran just started a new job at a nail salon.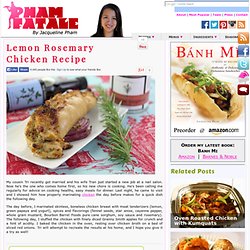 Now he's the one who comes home first, so his new chore is cooking. He's been calling me regularly for advice on cooking healthy, easy meals for dinner. How to Make Chicken Stock. Method 1.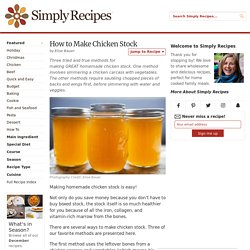 Leftover Chicken Bones Leftover bones and skin from a cooked or raw chicken carcassCeleryOnionsCarrotParsleySaltPepper 1 Put the leftover bones and skin from a chicken carcass into a large stock pot and cover with cold water. Add veggies like celery, onion, carrots, parsley. Chicken Stock Recipe : Alton Brown.
Barbecue
Honey Dijon Chicken + Roasted Broccoli. Honey and Dijon Mustard are two condiments that seem to always be in high demand around here.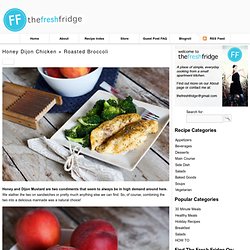 We slather the two on sandwiches or pretty much anything else we can find. So, of course, combining the two into a delicious marinade was a natural choice! The Pastry Affair - Home - Sweet & Spicy Peanut Chili Chicken Wings. Growing up in the Midwest, spices weren't necessarily used frequently and with great abandon.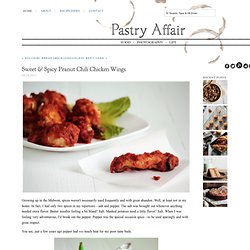 Well, at least not in my home. In fact, I had only two spices in my repertoire—salt and pepper. The salt was brought out whenever anything needed extra flavor. Butter noodles feeling a bit bland? Salt. Roast Sticky Chicken-Rotisserie Style Recipe. CHICKEN SHAWARMA. IngredientsChicken breasts- 2 medium sizedOnion (chopped)-1 noCucumber (chopped)-1/2 noTomato(chopped)-1 noLettuce(chopped)-1 cupPita bread -3 or 4 nosOil MarinadeGarlic paste-1 tspTurmeric powder-1/2 tspCumin powder- 1tspPepper powder-1 1/2 tsp (or to taste)Yogurt-3 tbspSalt to taste For Tahini sauceSesame seeds-1cup( or use tahini)Olive oil-1/4 cupGarlic(paste) - 2 clovesCumin powder- 1/4 tspYogurt- 2tbsplemon juice-2 to 3 tspWaterSalt to taste.
Buffalo Chicken Sandwich « clookbook. Earlier this summer, I had one of the best sandwiches of my life.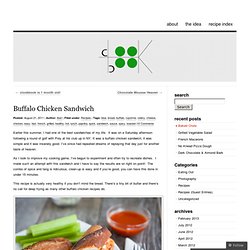 It was on a Saturday afternoon following a round of golf with Poly at his club up in NY. It was a buffalo chicken sandwich, it was simple and it was insanely good. I've since had repeated dreams of replaying that day just for another taste of heaven. Roast poussins recipe. A couple of days ago, I went to a farmers' market to buy some chicken meat.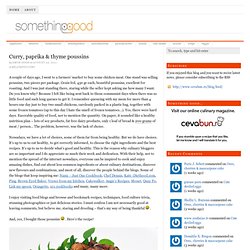 One stand was selling poussins, two pieces per package. Grain fed, 450 gr each, beautiful poussins, excellent for roasting. And I was just standing there, staring while the seller kept asking me how many I want. Cashew Panko Chicken Tenders with Polynesian Sauce. Saturday, August 13, 2011 Cashew Panko Chicken Tenders with Polynesian Sauce My very first job was working at the brand-spankin' new (at the time) Chik-fil-a in the Boca Mall. Yes. I thought I was big. time. Free chicken nuggets and chicken sandwiches? Mag's Spiced Tomato Chicken and a Quick Olive Oil Biryani. During the month of Ramadan, those of you who're fasting would probably be cooking up something special every other night (or two) at home, whipping up dishes leaning on the festive side yet restrained and nourishing. I know I would definitely want my ayam percik during this month while another friend announced to me the other night that this spicy chicken rendang was for the win during Iftar.
After some dates, a glass of cold fruit juice and perhaps an assortment of kuih from the Ramadan bazaar, nothing beats the comfort and blessings of a warm, home-cooked meal. On other days though, after having spent more than a few tough hours between sunrise and sunset, an inspiring home-cooked meal would not only have to be simple and also achievable, preferably in one pot.
Spanish. Kabobs. Asian. Chicken pot pie. Honey Garlic Chicken | I have admitted in the past that I'm not always the biggest fan of slow cooker meals. I love the concept, but the results are usually hit or miss for me.
I think that slow cooking sometimes gives meat a strange texture, everything gets watery, and a lot of times, the flavor comes out pretty muted for me. But this recipe, right here, made me fall in love with the slow cooker all over again!! Cheri on Ice » Blog Archive » Freezer Friendly Jamaican Jerk Chicken. Home » Featured, Recipes 1 August 201110 Comments This chicken is so good, it had my business partner contemplating the possibility of us opening a chicken restaurant! Spiced Flattened Chicken with Potatoes - Julie Goodwin recipe. Preheat oven to 180°C. To butterfly the chicken, us a sharp knife or kitchen scissors to cut down either side of the backbone. Remove the backbone. Open the chicken outwards and using a sharp knife, remove the rib bones.
Wipe out the bird with paper towel. Little chicken baskets - by Carina. Пилешки сърчица. Spicy Lemongrass Tofu. Chicken Tortilla Soup. Golden Grilled Chicken Thighs with Apricots. Chicken Noodles | Chicken Noodles Recipe.
---