Chicken
Juicy Roasted Chicken Recipe
Ginger Sesame Chicken Wrap …For One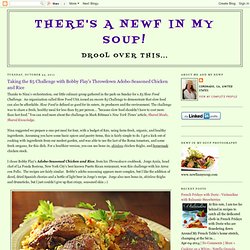 Taking the $5 Challenge with Bobby Flay's Throwdown Adobo-Seasoned Chicken and Rice
Thanks to Nina's orchestration, our little culinary group gathered in the park on Sunday for a $5 Slow Food Challenge. An organization called Slow Food USA issued an encore $5 Challenge to demonstrate that slow food can also be affordable. Slow Food is defined as good for its eaters, its producers and the environment. The challenge was to share a fresh, healthy meal for less than $5 per person... "because slow food shouldn't have to cost more than fast food."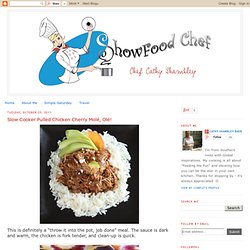 in that it has many flavor building spices and ingredients, it contains chili pepper and chocolate, and it is dark and robust. It is also EXTRA SIMPLE to make, and once you put it all into the Slow Cooker and stir, the only job you have is waiting to eat. Molé (or mulli) means "sauce". The history of this concoction includes Spain and Mexico, with influences from Africa and beyond. Today, it is considered one of Mexico's culinary prides. In its most original form, a paste from blended and ground spices is made and cooked into a very fragrant and dark starter.
Slow Cooker Pulled Chicken Cherry Molé, Olé!
Today's very special guest poster is none other than my husband, Shane! I took the photos of the finished dish for this post, but otherwise he did all the heavy lifting. I may be a bit biased, but I think he did a great job :) I'll be back tomorrow, but hope you all enjoy the change of pace today! As you may know from Tracey's recent blog posts, for the past few weeks she's been working full-time at a law firm in Boston.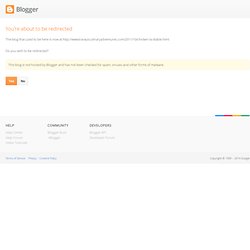 Chicken a la Diable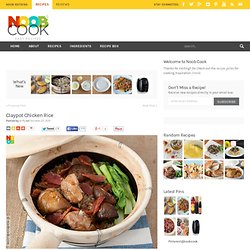 Claypot Rice with Chicken, Lup Cheong, Mushrooms and Baby Bok Choy I really love claypot chicken rice (沙锅/煲仔鸡饭) and it is the main reason why I recently added a claypot to my growing list of cookware. Before I bought a claypot, I cooked claypot rice using a rice cooker , and I just have to say that the taste of this dish cooked in a claypot is just unbeatable. The rice cooked using a claypot has a wonderful smoky flavour and a nice crust which I just can't achieve using a rice cooker. This is a great one-dish meal to cook even on busy days, taking about 30 minutes to cook, and it has a bit of everything in it – meat, mushrooms and vegetables. Claypot cooking is growing on me and I can't wait to experiment with more types of claypot rice.
Claypot Chicken Rice Recipe
My cousin Tri recently got married and his wife Tran just started a new job at a nail salon. Now he's the one who comes home first, so his new chore is cooking. He's been calling me regularly for advice on cooking healthy, easy meals for dinner.
Lemon Rosemary Chicken Recipe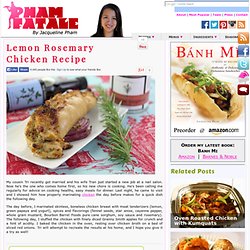 Method 1. Leftover Chicken Bones Leftover bones and skin from a cooked or raw chicken carcass Celery Onions Carrot Parsley Salt Pepper 1 Put the leftover bones and skin from a chicken carcass into a large stock pot and cover with cold water. Add veggies like celery, onion, carrots, parsley.
How to Make Chicken Stock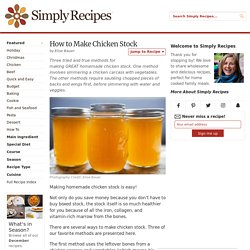 Chicken Stock Recipe : Alton Brown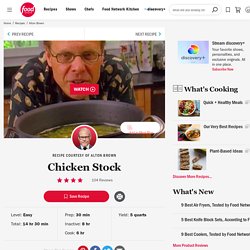 Ingredients 4 pounds chicken carcasses, including necks and backs 1 large onion, quartered 4 carrots, peeled and cut in 1/2 4 ribs celery, cut in 1/2 1 leek, white part only, cut in 1/2 lengthwise 10 sprigs fresh thyme 10 sprigs fresh parsley with stems 2 bay leaves 8 to 10 peppercorns 2 whole cloves garlic, peeled 2 gallons cold water Directions Place chicken, vegetables, and herbs and spices in 12-quart stockpot. Set opened steamer basket directly on ingredients in pot and pour over water. Cook on high heat until you begin to see bubbles break through the surface of the liquid.
Honey Dijon Chicken + Roasted Broccoli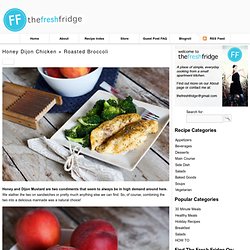 Honey and Dijon Mustard are two condiments that seem to always be in high demand around here. We slather the two on sandwiches or pretty much anything else we can find. So, of course, combining the two into a delicious marinade was a natural choice!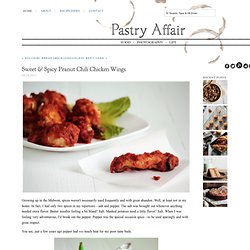 Growing up in the Midwest, spices weren't necessarily used frequently and with great abandon. Well, at least not in my home. In fact, I had only two spices in my repertoire—salt and pepper. The salt was brought out whenever anything needed extra flavor. Butter noodles feeling a bit bland? Salt.
The Pastry Affair - Home - Sweet & Spicy Peanut Chili Chicken Wings
Chef Jenn: garlic chicken katsu, grilled spring onions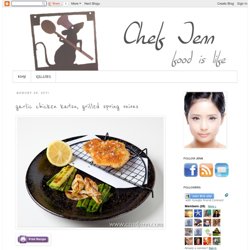 ingredients: chicken thigh meat spring onions chives lemon egg flour panko kosher salt maldon sea salt (the flaky kind) freshly cracked black pepper garlic powder canola oil tonkatsu sauce (optional) directions: 1. prepare three trays. one with egg wash (by beating an egg with some water), one with flour, and one with panko. season panko with salt and cracked black pepper. 2. de-bone the chicken thigh meat and remove the skin. lay flat and season both sides with salt, garlic powder, and cracked black pepper. dredge chicken in a light coating of flour, then give it a bath in the egg wash, and lastly coat with panko. 3. add enough canola oil to a heated flat pan so that bottom is completely covered. pan-fry chicken pieces until both sides are golden and crispy. set on a rack (as shown) to drain excess oil. finish with sprinkle of maldon sea salt. note: I don't recommend draining the chicken on a paper towel, as bottom gets soggy.
Roast Sticky Chicken-Rotisserie Style Recipe
Ingredients Chicken breasts- 2 medium sized Onion (chopped)-1 no Cucumber (chopped)-1/2 no Tomato(chopped)-1 no Lettuce(chopped)-1 cup Pita bread -3 or 4 nos Oil Marinade Garlic paste-1 tsp Turmeric powder-1/2 tsp Cumin powder- 1tsp Pepper powder-1 1/2 tsp (or to taste) Yogurt-3 tbsp Salt to taste For Tahini sauce Sesame seeds-1cup( or use tahini ) Olive oil-1/4 cup Garlic(paste) - 2 cloves Cumin powder- 1/4 tsp Yogurt- 2tbsp lemon juice-2 to 3 tsp Water Salt to taste Method Combine all the ingredients for marination and rub it on to the chicken pieces.Refrigerate for at least 2 hrs. Heat 1 tbsp oil in a pan and fry the chicken pieces until cooked (or you can bake the chicken pieces for 20 minutes or until it turns golden brown ,turning sides once in between.) Slice the cooked chicken pieces into thin strips or bite sized pieces and keep aside. To prepare Tahini sauce,dry roast the sesame seeds for few minutes.Let it cool.
CHICKEN SHAWARMA
chili-crusted chicken or how to juice up a breast « The Subjectivist
Earlier this summer, I had one of the best sandwiches of my life. It was on a Saturday afternoon following a round of golf with Poly at his club up in NY. It was a buffalo chicken sandwich, it was simple and it was insanely good. I've since had repeated dreams of replaying that day just for another taste of heaven.
Buffalo Chicken Sandwich « clookbook
Roast poussins recipe
A couple of days ago, I went to a farmers' market to buy some chicken meat. One stand was selling poussins, two pieces per package. Grain fed, 450 gr each, beautiful poussins, excellent for roasting. And I was just standing there, staring while the seller kept asking me how many I want.
Saturday, August 13, 2011 Cashew Panko Chicken Tenders with Polynesian Sauce My very first job was working at the brand-spankin' new (at the time) Chik-fil-a in the Boca Mall. Yes. I thought I was big. time. Free chicken nuggets and chicken sandwiches?
Cashew Panko Chicken Tenders with Polynesian Sauce
Mag's Spiced Tomato Chicken and a Quick Olive Oil Biryani
During the month of Ramadan, those of you who're fasting would probably be cooking up something special every other night (or two) at home, whipping up dishes leaning on the festive side yet restrained and nourishing. I know I would definitely want my ayam percik during this month while another friend announced to me the other night that this spicy chicken rendang was for the win during Iftar . After some dates, a glass of cold fruit juice and perhaps an assortment of kuih from the Ramadan bazaar, nothing beats the comfort and blessings of a warm, home-cooked meal. On other days though, after having spent more than a few tough hours between sunrise and sunset, an inspiring home-cooked meal would not only have to be simple and also achievable, preferably in one pot.
Honey Garlic Chicken |
Cheri on Ice » Blog Archive » Freezer Friendly Jamaican Jerk Chicken
Spiced Flattened Chicken with Potatoes - Julie Goodwin recipe
Little chicken baskets - by Carina
Пилешки сърчица
Spicy Lemongrass Tofu
Chicken Tortilla Soup
Golden Grilled Chicken Thighs with Apricots
Chicken Noodles | Chicken Noodles Recipe