Cakes
Cinnamon mini-cheesecakes with pumpkin pie frosting. I've always said that I like a good balance of cooking and baking in my life.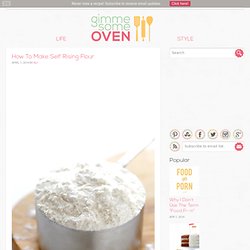 But man oh man, somehow I have gotten on a mega baking kick lately. And since I tend to prefer savory to sweet, the object of my affection as of late has been this epic 3-ingredient biscuit recipe that has pretty much changed my life. Ok, at least it has changed my breakfast. I have already made it 3 times since and counting! That recipe is coming on the blog tomorrow. Pumpkin Gingersnap Cheesecake. Week of Thanksgiving Favorites!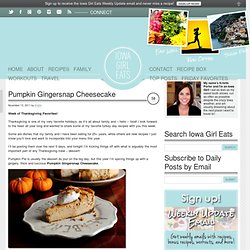 Thanksgiving is one of my very favorite holidays, as it's all about family and – hello – food! I look forward to the feast all year long and wanted to share some of my favorite turkey day recipes with you this week. Some are dishes that my family and I have been eating for 25+ years, while others are new recipes I just know you'll love and want to incorporate into your menu this year. I'll be posting them over the next 5 days, and tonight I'm kicking things off with what is arguably the most important part of any Thanksgiving meal – dessert! Pumpkin Pie is usually the dessert du jour on the big day, but this year I'm spicing things up with a gingery, thick and luscious Pumpkin Gingersnap Cheesecake. Pumpkin Streusel Coffee Cake with Brown Sugar Espresso Glaze. Tort de ciocolata si caramel | Dulcegarii culinare. De la inceput spun ca aceasta postare nu poate fi citita "printre randuri"..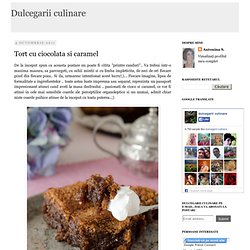 Va trebui intr-o maxima masura, sa parcurgeti, cu ochii mintii si cu limba impleticita, de zeci de ori fiecare pixel din fiecare poza.. Si da, urmaresc intentionat acest lucru! ;)... Fiecare imagine, lipsa de formalitate a ingredientelor .. toate astea luate impreuna sau separat, reprezinta un pasaport impresionant atunci cand aveti la masa desfraului .. pasionati de cioco si caramel, ce vor fi atinsi in cele mai sensibile coarde ale perceptiilor organoleptice si nu numai, admit chiar niste coarde psihice atinse de la inceput cu toata puterea..;) New York Cheesecake. If you read my blog regularly then you know I always bake cheesecakes.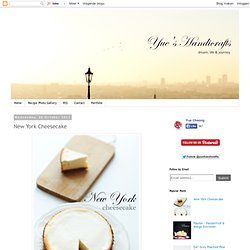 I've been adventurous & tried to make various desserts & cakes in the past two months. I've enjoyed baking & eating, also taking nice food photos. I then left the cakes & food to my family & friends, my mum didn't like some of them unfortunately. Salted caramel & vanilla baked cheesecake. It was 'drool' at first sight for me and this recipe.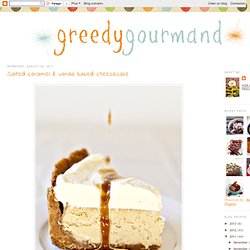 As soon as I spied its glorious butterscotch-coloured center with its cloudlike topping and ooozy caramel dripping on the cover of the latest Donna Hay magazine I knew I had to make it. In fact I ended up making this a day early as I just couldn't wait another moment to dive into it with a side -turned spoon. Mendocino Coffee Cake. If you love a piping hot cup of good coffee, somewhere along the way you've undoubtedly had the pleasure of enjoying a nibble or two of coffee cake, the centerpiece of cafes, coffee shops and home brunch tables in little towns and great cities throughout the world.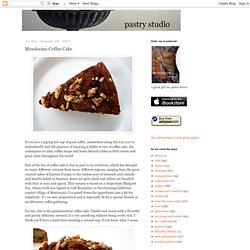 Part of the fun of coffee cake is due in part to its evolution, which has brought us many different versions from many different regions, ranging from the great yeasted cakes of Eastern Europe to the various joys of streusels and crumbs and bundts baked in America. Some are quite plain and others are bundled with fruit or nuts and spices. Red Velvet Cheesecake. August 11, 2011 at 6:07 pm Red Velvet cake, a layer of cheesecake, and cream cheese frosting.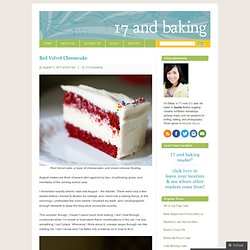 August makes me think of peach skin against my lips, of yellowing grass, and inevitably of the coming school year. I remember exactly where I was last August – the kitchen. Almond and pistachio cake. Two posts in a week, yaaay!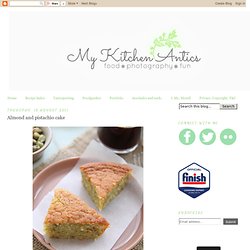 Its an achievement for me to be honest. What with the weather being so shitty, my pictures never come out well and I hate doing a blog post with horrid pictures. This ones not too great either, but then the recipe is definitely a keeper and since I couldn't anticipate when I'd make it again, I had to pen it down for posterity. I hadn't baked in ages (well, a month to be precise) and somehow that urge to eat a freshly baked cake right out of the oven passed along with a lot of other urges and so baking has been kept to a minimum. We have turned religiously to eating fruit after meals, trying to make the most of summer bounty before the bloody autumn sets in (which by the looks of it, has already set in UK- Its 12pm here in London but looks more like 7pm). Mini Carrot Cake Cheesecakes. When I was conceptualizing this dessert in my head I asked myself "Are you really going to cheesecake and top it with a cream cheese frosting?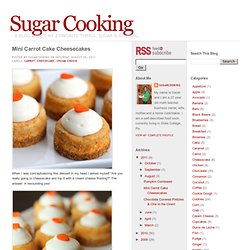 " The answer: A resounding yes! I don't know if I should be ashamed of this cream cheese on top of cream cheese concoction or proud of it, but I do know that I am very glad I made it! Pomegranate Soaked Almond and Hazelnut Cake « Just Eat Love. S'more Tart. S'mores are such a quintessential summer dessert.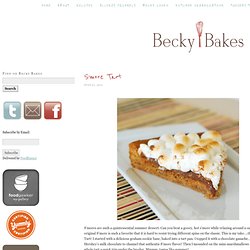 Can you beat a gooey, hot s'more while relaxing around a campfire? The original S'more is such a favorite that it is hard to resist trying different spins on the classic. This is my take….the S'more Tart! I started with a delicious graham cookie base, baked into a tart pan. I topped it with a chocolate ganache…made with Hershey's milk chocolate to channel that authentic S'more flavor! About.com: Rainbow rainbow cake or pie. Creo que en vez de tarta arcoiris debería llamarse tarta de la felicidad. La he llevado al trabajo y ha sido curioso ver la reacción de la gente al verla: ¡asombro y sonrisas!. Es mi segundo layer cake o tarta de pisos. No Bake Chocolate Cake When it is Too Hot to Bake.
The other day I came across Heidi Swanson' recipe for No Bake Chocolate Cake. I was fascinated with the idea of the recipe. I decided to make my own version, omitting the allspice and topping it with heath bits. Jumbo Lemon Coffee Cake Muffins: In this muffin recipe I combine two of my favorite things; lemon and coffee cake! Coffee cake that's topped with a yummy crumble and drizzled with a lemony glaze… and did I mention it's in a jumbo muffin form?! Perfect for on the go eating! These would also make an excellent brunch item, packed along for a picnic or even split one with a friend… not that I would do that, but you could always try it I guess?! I'm not really that good at sharing bake goods.
---