Bars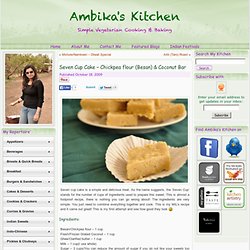 Seven cup cake is a simple and delicious treat. As the name suggests, the 'Seven Cup' stands for the number of cups of ingredients used to prepare this sweet. This is almost a foolproof recipe, there is nothing you can go wrong about! The ingredients are very simple. You just need to combine everything together and cook.
Seven Cup Cake – Chickpea flour (Besan) & Coconut Bar | Ambika's Kitchen
Cookie dough in a bark. Now you can eat cookie dough without worry and it can be yours in less than twenty minutes. I know more bark, but I'm thinking you will really love this one. Chocolate Chip Cookie Dough Bark Don't be mistaken by the quiet look of this bark.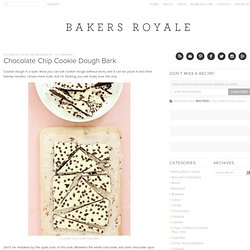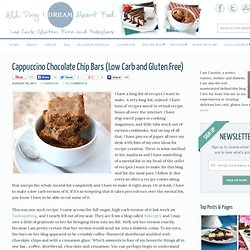 I have a long list of recipes I want to make. A very long list, indeed. I have tons of recipes saved in virtual recipe boxes all over the internet. I have dog-eared pages in cooking magazines, and little tabs stuck out of various cookbooks.
Cappuccino Chocolate Chip Bars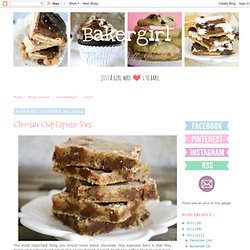 The most important thing you should know about chocolate chip espresso bars is that they make your entire world smell like you're baking a small Starbucks coffee shop in your oven. We're talking cinnamon, sugar, butter, coffee, chocolate... all of my favorite words. Sidenote: They're also dangerously addictive. For the same reasons. ... and for the crackly cinnamon-sugar glaze. They have a super soft, super rich, brown sugar cookie bar base.
Chocolate Chip Espresso Bars.
Chocolate Scotcheroos
Many of you probably know how challenging it is to get kids to eat their veggies, right? Well, with some adults, it can be just as difficult. Someone very close to me--aka, my dad !--has despised veggies for the majority of his life (he even refuses to drink my green monsters because of their green color)
Pistachio Energy Bars & Citrus Glaze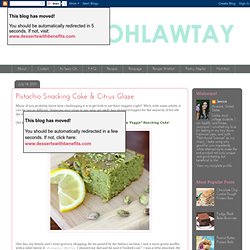 Thank you all for your comments and emails last week – Saturdays with Rachael Ray aren't going anywhere!! I'm so glad there are so many other RR fans out there! I really apologize for the overload on the sweets this week. I usually try to only post 1, or maybe 2 sweet recipes a week, but this week I'm going on 3!! But this one is totally worth it.
Chocolate Chip Peanut Butter Cheesecake Bars |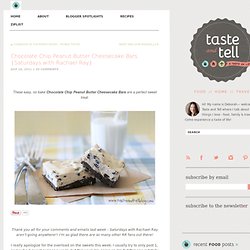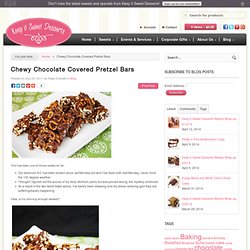 This has been one of those weeks so far: Our bedroom A/C has been broken since last Monday but won't be fixed until next Monday, never mind the 100 degree weather I thought I figured out the source of my daily stomach pains but was proved wrong, the mystery continues As a result of the two items listed above, I've barely been sleeping and my stress-relieving gym trips are suffering/barely happening Okay, is my whining enough already?
Chewy Chocolate Covered Pretzel Bars | Keep It Sweet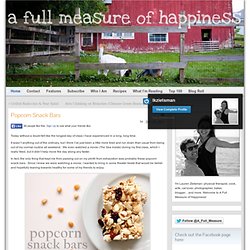 Today without a doubt felt like the longest day of class I have experienced in a long, long time. It wasn't anything out of the ordinary, but I think I've just been a little more tired and run down than usual from being out of my normal routine all weekend. We even watched a movie ( The Sea Inside) during my first class, which I really liked, but it didn't help move the day along any faster.
Popcorn Snack Bars | A Full Measure of Happiness
The last few weeks breakfast has been whatever I can grab while running out the door. At this point, I'm already about 10 min late, sometimes my outfit goes together (most of the time not, then realize what I actually look like the first time I walk into the bathroom and see myself in a full length mirror – YIKES), and everyday I walk out the door, pause, turn around, back inside, up the stairs and have to double-check the iron and flatiron to make sure I turned them off. I think I need to start doing some word puzzles, Sudoku, or mind exercises before too long. The post-it note thing just isn't working anymore.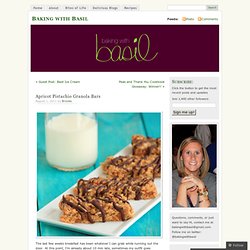 Apricot Pistachio Granola Bars « Baking with Basil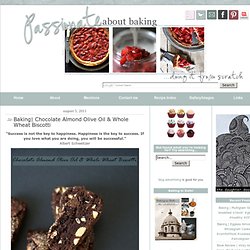 www.passionateaboutbaking.com/2011/08/baking-chocolate-almond-olive-oil-whole-wheat-biscotti.html
"Success is not the key to happiness. Happiness is the key to success. If you love what you are doing, you will be successful." Albert Schweitzer
Pretzel S'mores