Environment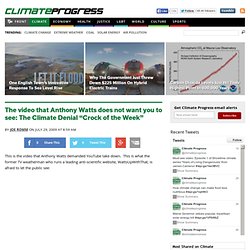 The video that Anthony Watts does not want you to see: The Climate Denial "Crock of the Week" « Climate Progress
By Joe Romm on July 29, 2009 at 8:59 am "The video that Anthony Watts does not want you to see: The Climate Denial "Crock of the Week"" This is the video that Anthony Watts demanded YouTube take down. This is what the former TV weatherman who runs a leading anti-scientific website, WattsUpWithThat, is afraid to let the public see: Fortunately, Anthony Watts knows even less about copyright laws than he does about climate science, if that's possible [see "Diagnosing a victim of anti-science syndrome (ASS)"]. So YouTube has put it back up after temporarily removing it, which is standard practice for them.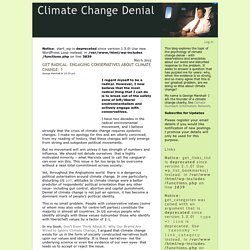 Climate Change Denial
Guest blogger, Terence Blacker decries the 'Ozymandian' stupidity of holding the 2022 World Cup in air conditioned stadiums in Qatar, one of the world's hottest countries and FIFA's feeble greenwashing of its stupendously destructive choice of host country. If the delegates currently attending the global climate conference in Mexico need any reminding of the magnitude of their task in the face of human stupidity and hubris, they do not have far to look. At another meeting of a distinguished international body, the decision has been made to hold the most needlessly energy-wasting sporting event that the planet has ever seen. As a symbol of the confusion and hypocrisy which surrounds the questions of climate change and energy conservation, the Qatar World Cup of 2022 will surely take some beating.
Climate Change blog
Cool Green Science: The Conservation Blog of the Nature Conservancy