Birds
Introduction to Bird Species and Ornithology | birding .com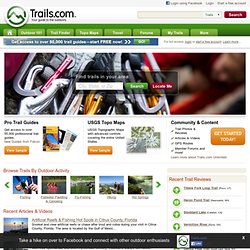 Number of Bird Species in the World: There are over 10,000 species of birds in the world. About 925 have been seen in the U.S. and Canada. About 1,000 have been seen in Europe. By far the largest concentration of bird species are found in South America. Over 3,200 species have been seen there. In Colombia, Bolivia and Peru the species count for each country tops 1,700.
Falcon Information Subfamily "Falco" - True Falcons Falcons The Gyrfalcon (Falco rusticolus) - the largest of the falcon species. Breeds on Arctic coasts and the islands of North America, Europe and Asia.
Falcon Species Index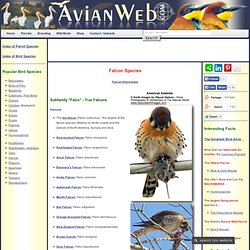 World Bird Guide
BIRD
This website is about birds, nature, conservation and the passion for nature. But before I continue, let me tell you a bit about myself. [site/link_exchange.htm]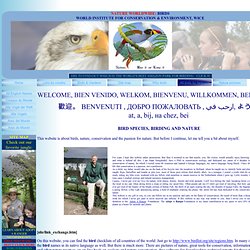 Avibase - The World Bird Database
Bird Species Index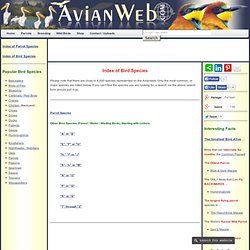 Please note that there are close to 8,000 species represented on the Avianweb. Only the most common, or major species are listed below. If you can't find the species you are looking for, a search via the above search form should pull it up. Parrot Species Other Bird Species (Forest / Water / Wading Birds) Starting with Letters "A" or "B" "E", "F" or "G" "H," "I" or "J" "K", "L" or "M" "N" or "O" "P" or "Q" "R" or "S" "T" through "Z"
Naturesongs Nature Recordings and Photos
Bird Songs & Calls
Arie Ouwerkerk's Photo Galleries at pbase.com
Migration10
As of 1 September 2013 these pages will remain on this server as an archive, but they will not be updated. Please visit my new site at www.ospreytrax.com Home Page - Osprey Main Page - Migration Page - Birds of Prey
Welcome to my cyber-résumé. Browse around to find out about my research and publications on birds of prey, birds of the New World Tropics, habitat fragmentation in the Amazon, ecology, and conservation, as well as my graduate students, courses taught (ornithology and sometimes field ecology), and links to interesting pages on the Web, including a number of local conservation organizations with which I'm involved. Ospreys: I've been studying the Osprey population on Martha's Vineyard, MA, since 1969. Beginning in 2000, in collaboration with Dr. Mark Martell of The Raptor Center at the University of Minnesota, I put satellite transmitters on a total of seven adult birds, six on Martha's Vineyard and one in Charlotte.
UNC Charlotte Biology
WhatBird | identify birds | bird identification guide | north america
Thanks to eBirders, a New App for Beginners We are excited to introduce you to Merlin Bird ID, an app that leverages the power of eBird observations to help beginners identify common birds. Merlin uses eBird data to conjure up a shortlist of birds that match the user's description and are likely to be found at the location and time of the sighting. If you find yourself leading bird walks, working in public outreach, or sharing your love of birds with friends and neighbors, please check out Merlin and help spread the word. eBird & Birds of North America Online In appreciation for all those who have participated in eBird, we are pleased to offer special discounted subscriptions to the acclaimed bird life history resource: Birds of North America Online.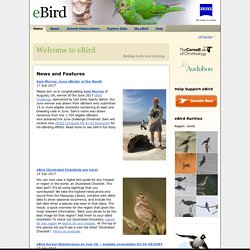 News and Features — eBird
Birds With Child-care Assistance Invest Less In Eggs
Aug. 21, 2007 — An Australian bird has been found to produce smaller, less nourishing eggs when it breeds in the presence of other 'helper' birds that provide child-care assistance. This unique adaptation enables the birds to live longer and breed more often than females without helpers. The research, led by a University of Cambridge academic, was published in Science. In many animal species, parents caring for their offspring are assisted by so-called 'helpers', adults that forego reproduction to help others raise young. Although parents decrease the amount of food they provide to offspring when helpers are present, the additional supply provided by the helpers more than compensates for this reduction.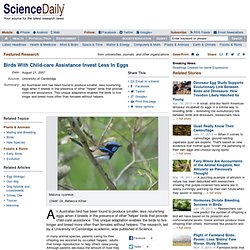 Jan. 18, 2011 — Using a horror film to bring your date closer is a classic move in the teenage playbook. Now, a study of Australian birds finds that other animals use the same "scary movie effect" to attract female attention, by hitchhiking mating signals onto the calls of predators. Male splendid fairy-wrens, a sexually promiscuous small bird native to Australia, are known to sing a special song each time they hear the call of one of their predators, the butcherbirds.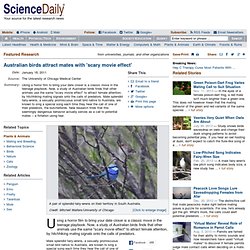 Australian birds attract mates with 'scary movie effect'