Servers
Perlbal
An advanced and secure webserver for Unix Secure Hiawatha has been written with security in mind. This resulted in a highly secure webserver in both code and features.
Homepage - Hiawatha webserver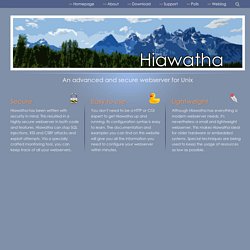 Cherokee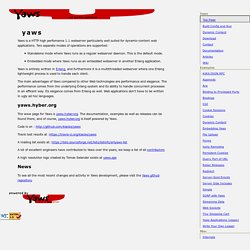 Yaws
Yaws is a HTTP high perfomance 1.1 webserver particularly well suited for dynamic-content web applications. Two separate modes of operations are supported: Standalone mode where Yaws runs as a regular webserver daemon. This is the default mode.Embedded mode where Yaws runs as an embedded webserver in another Erlang application. Yaws is entirely written in Erlang, and furthermore it is a multithreaded webserver where one Erlang lightweight process is used to handle each client.
thttpd
thttpd - tiny/turbo/throttling HTTP server Fetch version 2.25b.Release notes. thttpd is a simple, small, portable, fast, and secure HTTP server. Simple: