Hacks
Desktop app to control an android device remotely using mouse and keyboard. Should work on Windows/Linux/MacOS with any android device. I've created a google groups HERE for support, no direct help request please. Install the android sdk (download here) Connect your device through USB cable and ensure it's detected with "adb devices" Make sure you have Java Runtime Environnement 5 or later installed Click HERE. You can launch it by typing "javaws <jnlp file>" from a command line.
androidscreencast - Desktop app to control an android device remotely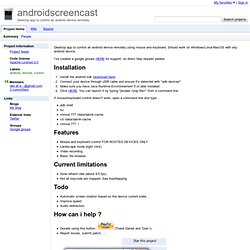 Wiki and more: Reviews: Rave reviews / ★★★★★ - Google Play Store Voted #1 TOP ROOT APP on Twitter by the users - AndroidSU.com Awarded "App of the Year 2011" - mobiFlip.de The Best Backup App for Android - Lifehacker "The most full-featured of the backup apps" - USA Today "Scheduled!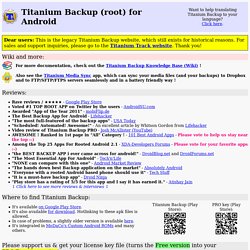 Titanium Backup for Android – Official Site
Android Hacking For The Masses
I have been playing around with a great app for rooting Android handsets. I have shown you before how to 'root ' and 'un-root' Android handsets, especially the HTC Hero. I came across an app made by RelentlessRooter.
Rooting And Flashing An Android Phone – The Easiest Way So Far [RelentlessAppz] | Tech N Life
XPERIA X10 ROM Extracted & Rooted
XPERIA X10 ROM Extracted & Rooted Posted May 17, 2010 at 2:11 pm by Leddy For those users who have been eagerly waiting for the floodgates for custom ROMs to open on their XPERIA X10, xda-devs member jerpelea has good news for you- he has achieved root access on the X10, by patching the boot script and flashing it back to the phone. He already has provided the files for flashing, but unfortunately at this moment the flash process requires the SETool USB dongle and the associated software.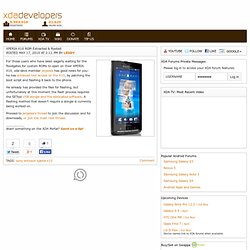 New Simple Technique To Root Sony Ericsson Xperia X10 | Universal Androot
Sony Ericsson's flagship device, the Xperia X10, got rooted a couple of months back. While the root procedure described in our original post isn't complicated, it definitely involves more effort than most iPhone/iPad jailbreak solutions. The good news is that a much simpler technique is now available.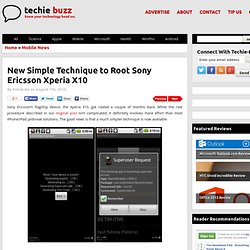 [GUIDE] Root your X10 R2BA026 ! { Update 03.08.2010 R2BA026 Root with 2/3-Steps }
[GUIDE] Root your X10 R2BA026 ! { Update 03.08.2010 R2BA026 Root with 2/3-Steps } Okay here comes FIRST ROOT for X10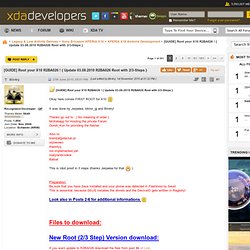 x10 rom
Return