Go
Libgdx - Android/desktop game development framework. Time Management Games 101. Casual games are commonly thought of as much more relaxing experiences when compared with traditional games, and in most cases that's true.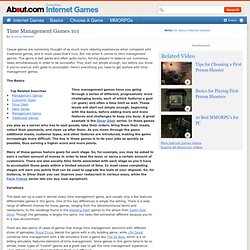 But not when it comes to time management games. This genre is fast paced and often quite hectic, forcing players to balance out numerous tasks simultaneously in order to be successful. They start out simple enough, but before you know it you're overrun with goals to accomplish. Free online Time Management Games. Time Management Games for PC. Sign in or create an account.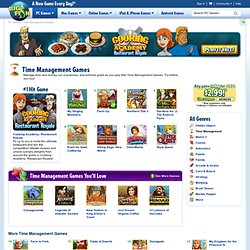 By clicking "Create Account," you agree to the Big Fish Terms of Use and Privacy Policy. We respect your privacy and never sell or share your information. Secure Form Choose your username Your username will be displayed on your review. Time Management Games - Time Management Games Online | Free at Candystand. Zynga - Connecting the world through games. Andengine - AndEngine - Free Android 2D OpenGL Game Engine. AppsGeyser - Create Android App from any web content. AndEngineExamples - Android Game Engine. AndEngine – Fully Featured Box2D Physics Wrapper Hello Community, recently I sent the old Box2D-Wrapper to trash and replaced it with the fully featured Box2D-Wrapper from the libGDX-project created by Mario Zechner.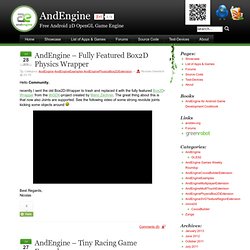 Amateur Android Game Development Tips | KEREBUS. I've been meaning to write a summary about the feedback I got to my post about being an amateur Android game developer.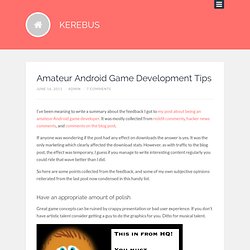 It was mostly collected from reddit comments, hacker news comments, and comments on the blog post. If anyone was wondering if the post had any effect on downloads the answer is yes. It was the only marketing which clearly affected the download stats. HowTo Port iPhone/iOS Games to Android. iPhone/iOS platform is rich for its apps and games and that's why every game developer has atleast developed 2 tittles on the platform.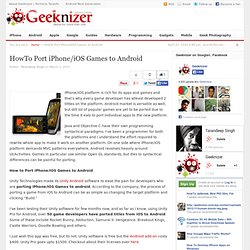 Android market is versatile as well, but still lot of popular games are yet to be ported due to the time it eats to port individual apps to the new platform. Java and Objective C have their own programming syntactical paradigms. I've been a programmer for both the platforms and I understand the effort required to rewrite whole app to make it work on another platform. On one side where iPhone/iOS platform demands MVC patterns everywhere, Android revolves heavily around UI/Activities. Games in particular use similar Open GL standards, but dies to syntactical differences can be painful for porting.
Android Game development Video tutorial. One of the biggest markets in smart phones is games.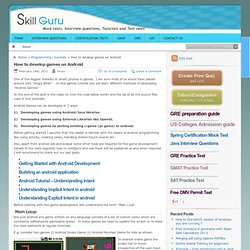 I am sure most of us would have played around with "Angry Birds" . In this games tutorial you will learn different methods of developing "Android Games" At the end of the post is the video on how the code below works and the zip of all the source files used in this example. 5 Popular Mobile Frameworks For Web Developers | Coderbay. 1- Secncha Touch Sencha Touch is the world's first app cross-platform framework aimed at next generation, touch enabled, devices.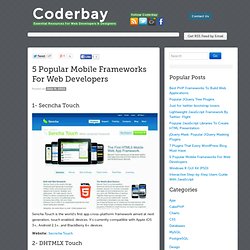 It's currently compatible with Apple iOS 3+, Android 2.1+, and BlackBerry 6+ devices. Website: Secncha Touch 2- DHTMLX Touch. Android Game Development - Moving Images on Screen. In the previous post we've displayed an image and implemented a very simple drag functionality.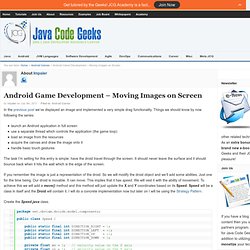 Things we should know by now following the series:launch an Android application in full screenuse a separate thread which controls the application (the game loop)load an image from the resourcesacquire the canvas and draw the image onto ithandle basic touch gestures The task I'm setting for this entry is simple: have the droid travel through the screen. Getting Started in Android Game Development | Robert Green's DIY.
If you're interested in developing a game for the Android platform, there is a lot you need to know.
I'm the developer of Light Racer, Light Racer 3D, Antigen, Deadly Chambers and Wixel, which are currently available on the Android Market. I've also been involved with the development of about 5 other games for Android and iOS and am co-author of Beginning Android Games 2nd Edition. I've developed games before but the original Light Racer was my first Android application and I learned quite a bit about writing Android games that I'd like to share with everyone. I even wrote an online book detailing the development of Light Racer 3D, which is full of how-tos and useful code snippets. Open source physics engines. A physics engine is a simulator used to create a virtual environment that incorporates laws from the physical world.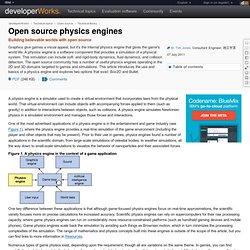 That virtual environment can include objects with accompanying forces applied to them (such as gravity) in addition to interactions between objects, such as collisions. A physics engine simulates Newtonian physics in a simulated environment and manages those forces and interactions. One of the most advertised applications of a physics engine is in the entertainment and game industry (see Figure 1), where the physics engine provides a real-time simulation of the game environment (including the player and other objects that may be present).
Prior to their use in games, physics engines found a number of applications in the scientific domain, from large-scale simulations of celestial bodies, to weather simulations, all the way down to small-scale simulations to visualize the behavior of nanoparticles and their associated forces.
---