Modélisation 3d
blender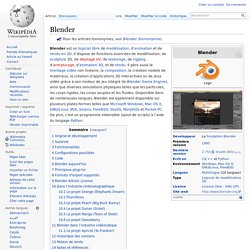 Un article de Wikipédia, l'encyclopédie libre. Origine et développement[modifier | modifier le code] Image créée avec Blender Le , Ton Roosendaal parvint à négocier le rachat des droits d'auteur de Blender contre 100 000 euros, en vue de la création d'une fondation Blender et de la diffusion du logiciel sous la licence libre GPL. En moins d'une semaine, la communauté des utilisateurs avait déjà rassemblé près de la moitié de la somme.
Top 20 developers in 2013 To salute and applaud the developers: here's a 2013 top-20 Blender developers page. Plans for 2014-2015 With the high quality demands users expect nowadays it's needed to involve more full-time developers.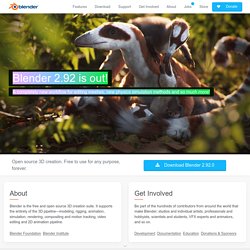 unnamed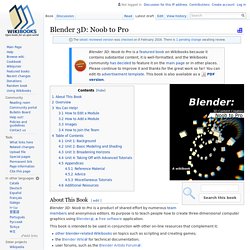 You are strongly encouraged (read as begged) to contribute to this book! There are many things you can do to help: edit existing modules (to correct errors, improve the writing, or make additions)add new modules (tutorials or reference material)upload new images (screen shots or sample renders)join the team responsible for this WikiBook How to Edit a Module To edit any wiki page (including this one): Click on the Edit tab at the top of the page.Make your change in the large text box.Type an explanation of your change in the Edit summary text box below.Click on the Show preview button below the edit summary to preview your change.If you're satisfied with the result, click on the Save page button.
Le site des utilisateurs francophones de Blender Accueil
This program is free software; you can redistribute it and/or modify it under the terms of the PHP License as published by the PHP Group and included in the distribution in the file: LICENSE This program is distributed in the hope that it will be useful, but WITHOUT ANY WARRANTY; without even the implied warranty of MERCHANTABILITY or FITNESS FOR A PARTICULAR PURPOSE. If you did not receive a copy of the PHP license, or have any questions about PHP licensing, please contact license@php.net.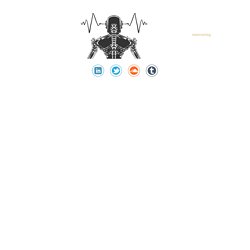 Depuis quelques années maintenant, la 3D a envahi notre quotidien : au cinéma (effets spéciaux, cinéma d'animation) à la télévision (publicité..), dans les jeux vidéo... elle est partout ! Mais alors, comment on fait de la 3D ? Est-ce difficile, réservé aux professionnels ? Je peux en faire moi ?
Blender - Cours - Tutoriels concernant le logiciel Open Source B