Did you know?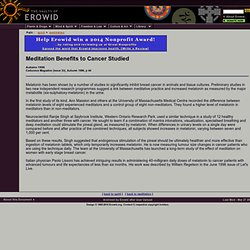 Melatonin has been shown by a number of studies to significantly inhibit breast cancer in animals and tissue cultures. Preliminary studies in two new independent research programmes suggest a link between meditative practice and increased melatonin as measured by the major metabolite (six-sulphatoxy-melatonin) in the urine.
Spirit Vaults : Meditation - Study
Did You Know? "We are living in exponential times" (A Must Watch, Really)
25 Everyday Things You Never Knew Had Names: Pics, Videos, Links, News
The term 'geek', once used to label a circus freak, has morphed in meaning over the years.
70 Things Every Computer Geek Should Know. | Arrow Webzine
In late-2008, I was lucky enough to discover a book called, The Introvert Advantage (How To Thrive in an Extrovert World), by Marti Laney, Psy.D.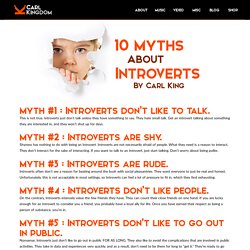 10 Myths About Introverts || CarlKingCreative.com || Los Angeles, CA
This incomplete list is not intended to be exhaustive. This list pertains to current, widely held, erroneous ideas and beliefs about notable topics which have been reported by reliable sources. Each has been discussed in published literature, as has its topic area and the facts concerning it.
List of common misconceptions - Wikipedia, the free encyclopedia