Crafts
Natural Homemade Deodorant | Bonzai Aphrodite - StumbleUpon. I recently reported on dangerous chemicals in cosmetics, and the information I uncovered in writing that article really affected me.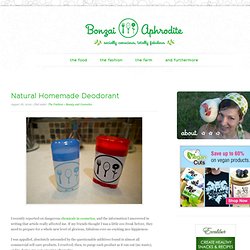 If my friends thought I was a little eco-freak before, they need to prepare for a whole new level of glorious, fabulous ever-so-exciting neo-hippieness. I was appalled, absolutely astounded by the questionable additives found in almost all commercial self-care products. I resolved, then, to purge each product as it ran out (no waste), and to derive my own amazing alternative. Dyed Buttons | Rit Dye. Dyeing buttons and beads is fun and easy to do, enabling you to get the exact color you want whether using the buttons and beads on a coat, a pillow cover or in a necklace.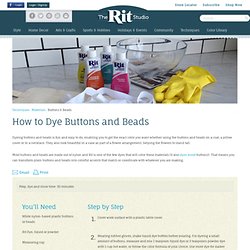 They also look beautiful in a vase as part of a flower arrangement, helping the flowers to stand tall. Most buttons and beads are made out of nylon and Rit is one of the few dyes that will color these materials (it also dyes wood buttons!). That means you can transform plain buttons and beads into colorful accents that match or coordinate with whatever you are making. Suzys Artsy Craftsy Sitcom: Feature Friday- Faux Metal Wall Art. Looking for the Faux Metal Wall Art?
Since this project was originally published on The Sitcom in December 2010, it has been my most popular project by far. Who knew that a bunch of toilet paper tubes and an idea would become so big? You can now find the full tutorial and FREE patterns on Suzys Artsy Craftsy Sitcom here: Faux Metal Wall Art. Bath Fizzies -- Martha Stewart Crafts. Ice-cube trays serve as molds, giving the fizzies their shape.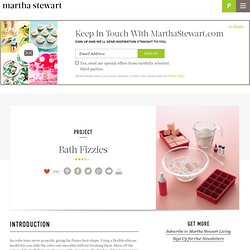 Using a flexible silicone model lets you slide the cubes out smoothly without breaking them. Show off the colors of the bath fizzies in glass jars with screw tops, the kind used for storing sugar and flour. Pack each type of fizzy in a separate jar so the scents won't meld.
Misc. Bride. Bath. Books. Crochet. Cards. Containers. Felt. Frames.
Gift Bags. Lights. Magnets. Napkins. Origami. Sites.
---