Bath
I love salt scrubs, especially this time of year when I want to slough off the dead skin from winter, and I equally love bath salts for the skin softening ingredients in them – but more often than not I find myself in the shower. These pouches are perfect for combining both bath salt and salt scrub into an exfoliating pouch I can bring into the shower, and they are simple to make. You can go a few different routes when making these so play around with your recipes and find your favorite. I made these for my mom for Mother's Day so I added a few things for specific reasons.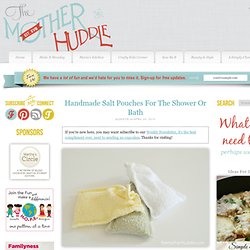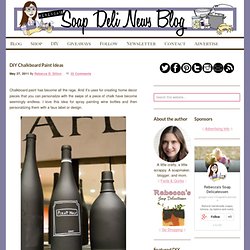 Chalkboard paint has become all the rage. And it's uses for creating home decor pieces that you can personalize with the swipe of a piece of chalk have become seemingly endless. I love this idea for spray painting wine bottles and then personalizing them with a faux label or design.
How to Make Brown Sugar Body Scrub | Skin Care
Soap Making Recipes, Tips & Tutorials Teach Soap is the premier site for soap making tutorials, soap recipes, soap making tips and everything you'd want to know about making soap and other handcrafted products including lip balms, lotions, bath fizzies and much more. From beginners to seasoned soap makers, Teach Soap has something for everyone! We cover everything from soap making recipes for beginners, to more complex cold process soap making recipes and techniques.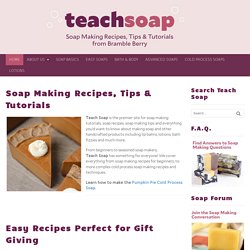 We will keep you updated as we go along. "Like" us on Facebook to stay updated. It's that time of year for spring cleaning and outdoor gardening. While our hands and fingernails are an integral part of these chores, you don't have to ruin your manicure. Consider the following nail care tips and your nails will never show that you have been digging in the dirt or scrubbing that kitchen floor. 1. For spring cleaning and daily household chores that require you to get your hands wet, wear cotton-lined rubber gloves to protect your nails.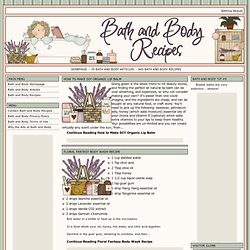 WASH YOUR MOUTH OUT!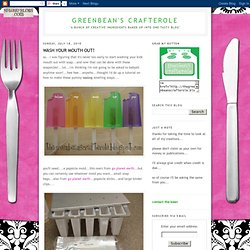 so...i was figuring that it's never too early to start washing your kids mouth out with soap...and now that can be done with these soapsicles!...lol...i'm thinking i'm not going to be asked to babysit anytime soon!...hee hee...anywho...thought i'd do up a tutorial on how to make these yummy tasting smelling soaps.... you'll need....a popsicle mold...this one's from go planet earth...but you can certainly use whatever mold you want...small soap bags...also from go planet earth...popsicle sticks...and large binder clips....