Bath
Handmade Salt Pouches For The Shower Or Bath. I love salt scrubs, especially this time of year when I want to slough off the dead skin from winter, and I equally love bath salts for the skin softening ingredients in them – but more often than not I find myself in the shower.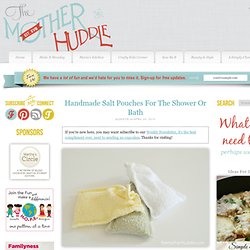 These pouches are perfect for combining both bath salt and salt scrub into an exfoliating pouch I can bring into the shower, and they are simple to make. You can go a few different routes when making these so play around with your recipes and find your favorite. I made these for my mom for Mother's Day so I added a few things for specific reasons. DIY Chalkboard Paint Ideas. Chalkboard paint has become all the rage.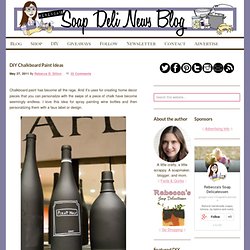 And it's uses for creating home decor pieces that you can personalize with the swipe of a piece of chalk have become seemingly endless. I love this idea for spray painting wine bottles and then personalizing them with a faux label or design. How to Make Brown Sugar Body Scrub | Skin Care. Candle & Soap Making Techniques. Soap Making Instructions | Soap Making Recipes and Tutorials | Teach Soap. Bath and Body Recipes - Index - Bath and Body Recipes You Can Make at Home. WASH YOUR MOUTH OUT! So...i was figuring that it's never too early to start washing your kids mouth out with soap...and now that can be done with these soapsicles!...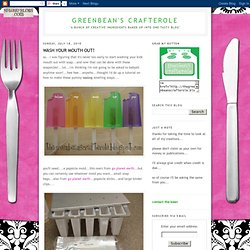 Lol...i'm thinking i'm not going to be asked to babysit anytime soon!... Hee hee...anywho...thought i'd do up a tutorial on how to make these yummy tasting smelling soaps.... you'll need....a popsicle mold...this one's from go planet earth...but you can certainly use whatever mold you want...small soap bags...also from go planet earth...popsicle sticks...and large binder clips....
---