Endocannabinoids
2-Arachidonoylglycerol. 2-Arachidonoylglycerol (2-AG) is an endocannabinoid, an endogenous agonist of the CB1 receptor.[1][2] It is an ester formed from the omega-6 fatty acid arachidonic acid and glycerol.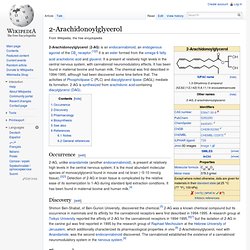 It is present at relatively high levels in the central nervous system, with cannabinoid neuromodulatory effects. It has been found in maternal bovine and human milk. The chemical was first described in 1994-1995, although had been discovered some time before that. Anandamide. Anandamide, also known as N-arachidonoylethanolamine or AEA, is an endogenous cannabinoid neurotransmitter.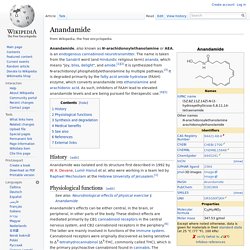 The name is taken from the Sanskrit word ananda, which means "bliss, delight", and amide.[1][2] It is synthesized from N-arachidonoyl phosphatidylethanolamine by multiple pathways.[3] It is degraded primarily by the fatty acid amide hydrolase (FAAH) enzyme, which converts anandamide into ethanolamine and arachidonic acid. As such, inhibitors of FAAH lead to elevated anandamide levels and are being pursued for therapeutic use.[4][5] History[edit]
Arachidonic acid. Arachidonic acid (AA, sometimes ARA) is a polyunsaturated omega-6 fatty acid 20:4(ω-6).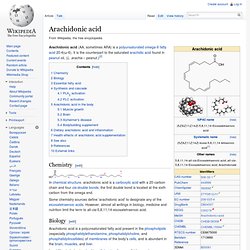 It is the counterpart to the saturated arachidic acid found in peanut oil, (L. arachis – peanut.)[2] Chemistry[edit] In chemical structure, arachidonic acid is a carboxylic acid with a 20-carbon chain and four cis-double bonds; the first double bond is located at the sixth carbon from the omega end.
---