Mobile
Manual for micro dwellings. Manual for Introduction: WALKING HOUSE is a modular dwelling system that enables persons to live a peaceful nomadic life, moving slowly through the landscape or cityscape with minimal impact on the environment.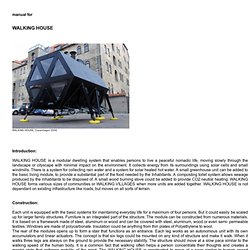 It collects energy from its surroundings using solar cells and small windmills. There is a system for collecting rain water and a system for solar heated hot water. Dre Wapenaar / / Canvas-, Steel, and Wood Projects. Camper Bike : KEVIN CYR. Man (Re)Builds Mexican Island Paradise on 250,000 Recycled Float. If you can't afford to buy your own tropical island paradise, why not build your own?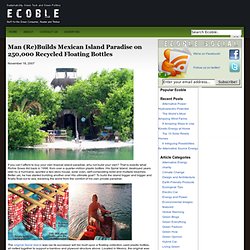 That is exactly what Richie Sowa did back in 1998, from over a quarter-million plastic bottles. His Spiral Island, destroyed years later by a hurricane, sported a two-story house, solar oven, self-composting toilet and multiple beaches. Better yet, he has started building another one! His ultimate goal? Translate.
---