Proyectos asociados
Get flash to fully experience Pearltrees
a rchitects should re-define their social role , accepting the relative truths of the vulnerable sectors, to understand unknown realities that are immersed in the oblivion of the emptiness .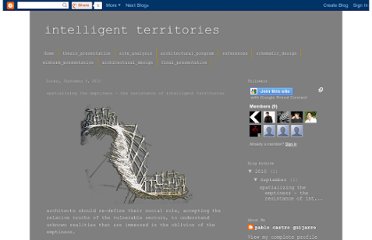 "Al explorar el lenguaje y la sensibilidad poética compartida por todos estos animales, trabajo hacia el redescubrimiento del ámbito común que una vez existió cuando la gente vivía en armonía con los animales. Espero que el efecto final sea una experiencia de asombro y contemplación, de serenidad y esperanza." Gregory Colbert, fotógrafo.
on the Metro Cable (cable car system), Santo Domingo Savio, Medellín (Colombia) The John K.
(above) The Berlin Wall, November 9, 1989. Walls are meant to separate, that is true.
Architects: BCMF Arquitetos / Bruno Campos (Architect in Charge), Marcelo Fontes and Silvio Todeschi Location: Rio de Janeiro, Brazil Project Team: Cláudio Parreiras Reis, Luciana Maciel, Lisiane Melo, Leonardo Fávero, Cristiano Monte-Mór, Ana Kawakami, Fabiana Fortes e Antônio Valadares Program: Shooting, Equestrian, Hockey, Archery and Modern Pentathlon venues Project management and General Coordination: Engesolo Engenharia Ltda Structure: Helio Chumbinho (Misa Engenharia)/ Lino Nunes de Castro (Globsteel) Sports Consultant: Aqualar (Swimming Pool), Forbex (Grass Hockey) and Eduardo Castro Mello Lighting: Godoy Associados Contractor: Construções e Comércio Camargo Corrêa (CCCC) Budget: 40.000.000 EURO (US $53.5 millions) Project year: 2005-2007 Constructed Area: 92,900 sqm Photographs: Bruno Carvalho, Kaká Ramalho, Bruno Campos, Marcelo Fontes, Silvio Todeschi
adjkm i 6 Votes
Le Corbusier, Plan for the Development of Rio de Janeiro, 1929
This post is also available in: Chinese (Traditional) Small Scale, Big Change: New Architectures of Social Engagement – currently running at the Museum of Modern Art in New York – presents eleven architectural projects that explore how the social responsibility of architecture can be realized.