Proyectos Ajenos
Proyecto Fin de Carrera Arquitectura » Escuela de Arquitectura
Te presentamos una selección de los proyectos realizados por los alumnos de esta Facultad. Una selección de los trabajos presentados más originales a lo largo de los últimos años. Trabajos en los que se pueden observar dos aspectos, ambos equivalentes en relevancia. Uno, la solvencia profesional adquirida por los ya titulados que los suscriben. El segundo, la diversidad en cuanto a posiciones y líneas de trabajo, que son muestra de la libertad con que se plantea nuestra enseñanza. Esta delicada alquímia entre solvencia profesional y desarrollo personal es la que cuidamos y perfeccionamos día a día en nuestra Escuela de Arquitectura pero también en el conjunto de la Universidad Europea de Madrid.
Nuevo Parque Monte Igueldo | Proyecto Fin de Carrera de Ander Cia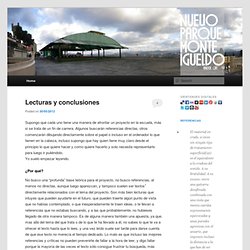 Supongo que cada uno tiene una manera de afrontar un proyecto en la escuela, más si se trata de un fin de carrera. Algunos buscarán referencias directas, otros comenzarán dibujando directamente sobre el papel o incluso en el ordenador lo que tienen en la cabeza, incluso supongo que hay quien tiene muy claro desde el principio lo que quiere hacer y como quiere hacerlo y solo necesita representarlo para luego ir puliéndolo. Yo suelo empezar leyendo.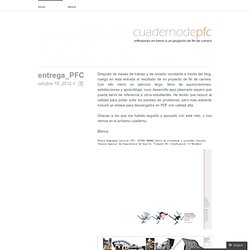 1. ¿Híbrido o Condensador Social? Edificio Hibrido de Viviendas y Centro de Salud en Pantin (Francia)/ Hamonic + Masson Tomo prestada esta pregunta planteada por Aurora Fernández Per en la publicación A+T/ Hybrids para describir mi modelo de proyecto.
cuadernodepfc.wordpress.com
The Presidents Medals: Winners
Find current projects
Horhizon
Horhizon Unit E at Oxford Brookes University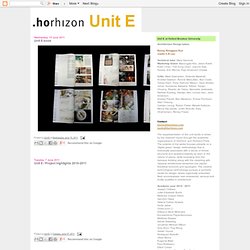 WATER TENSION: DIVINE INTERVENTION / Christos Markides Upon my visit to Venice, I soon came to realise that for all the benefits of being in such a unique watery environment, the aesthetic beauty, the element of romance, and the distinctive character – not to mention the touristic perks – are qualities the town can boast due to the presence of its canals. Yet there seems to exist the islands own set of obscure social effects of living in such a water-surrounded environment; a 'dark side', if you will. Venice's condition has affected the ways in which the public use outdoor spaces. I observed that there seems to be an undercurrent of tension present between man and water. This idea of tension I felt was a key concept in, and main inspiration for, the project.
Colectivo Cuartoymitad
manu-facturas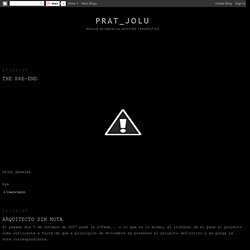 Desde el problema global del agua hasta la situación específica en benimantell. La conclusión más potente, que proviene de aplicar los puntos de vista eco-efectivos frente a los eco-eficientes , es la de separar el consumo de agua en 2 tipos: contributivos y no contributivos con el motor térmico hidrológico. Esta distinción lleva a una gestión que permite una abundancia de agua para consumo humano sin merma de la disponibilidad para el medio natural. Aqui es donde aparece el prat, como una iniciativa pública-privada , donde el Pueblo de Benimantell recibiría una infraestructura de depuración de agua residual,sufragada por el inversor privado,que resolvería los problemas descritos en el E.I.A. del P.G.O.U. respecto a la contaminación aguas abajo por vertidos de agua residual permitiendo al Inversor privado beneficiarse de la abundancia de uso de agua sin merma de la disponibilidad para el medio natural.
PRAT_JOLU
The Cloud Collective
Free Association Design FAD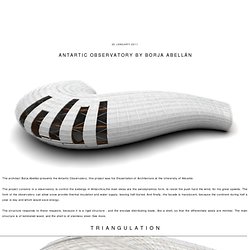 TRIANGULATION BLOG
The architect Borja Abellán presents the Antartic Observatory, this project was his Dissertation of Architecture at the University of Alicante. The project consists in a observatory to control the icebergs in Antarctica,the main ideas are the aerodynamics form, to resist the push hard the wind, for his great speeds. The form of the observatory can allow snow provide thermal insulation and water supply, leaving half-buried.
El BulliFoundation | edgargonzalez.com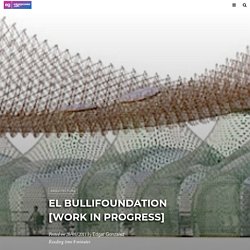 Como ya lo sabes ayer se presentó en MadridFusión los planes de Ferrán Adriá para el mejor restaurante del mundo. El Bulli deja de servir comidas para convertirse en El Bulli Fundación. El arquitecto elegido para la transformación del precioso entorno en Roses, al norte de Cataluña es Enric Ruiz-Geli Todo el proceso del proyecto se ha acelerado, ya que se presentaría en Junio de este año, pero dado que la cita de Madrid Fusión estaba a tiro de piedra se quizo aprovechar el foro elBullifoundation©Cloud 9 1. nos encontramos en el PARQUE NATURAL DEL CAP DE CREUS.
Weak Monuments: un álbum de Flickr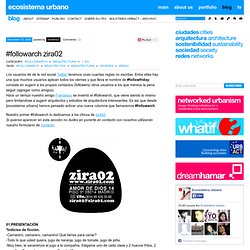 Los usuarios de de la red social Twitter tenemos unas cuantas reglas no escritas. Entre ellas hay una que muchos usuarios aplican todos los viernes y que lleva el nombre de #followfriday: consiste en sugerir a los propios contactos (followers) otros usuarios a los que merece la pena seguir (agregar como amigos). Hace un tiempo nuestro amigo Francesco se inventó el #followarch, que viene siendo lo mismo pero limitandose a sugerir arquitectos y estudios de arquitectura interesantes. Es así que desde [ecosistema urbano] hemos pensado activar una nueva columna que llamaremos #followarch. Nuestro primer #followarch lo dedicamos a los chicos de zira02.Si quieres aparecer en esta sección no dudes en ponerte en contacto con nosotros utilizando nuestro formulario de contacto.
#followarch: zira02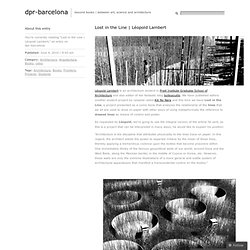 Lost in the Line | Léopold Lambert
Léopold Lambert is an architecture student in Pratt Institute Graduate School of Architecture and also editor of the fantastic blog boiteaoutils. We have published before onother student project by Léopold called Kili No Nara and this time we have Lost in the Line, a project presented as a comic book that analyzes the relationship of the lines that we all are used to draw on paper with other ways of using metaphorically the reference to drawed lines as means of control and power. As requested by Léopold, we're going to use the integral version of the article he sent, as this is a project that can be interpreted in many ways, he would like to explain his position:
borderline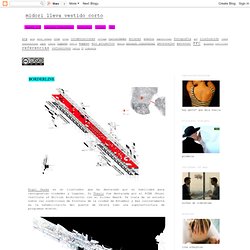 Nigel Peake es un ilustrador que ha destacado por su habilidad para cartografiar ciudades y lugares. Su Thesis fue destacada por el RIBA (Royal Institute of British Architects) con el Silver Award. Se trata de un estudio sobre las condiciones de frontera de la ciudad de Estambul y más concretamente en la rehabilitación del puente de Gálata como una superestructura de programas mixtos.
Utopia London
"Have no fear that our energetic London children will let themselves be railroaded into a conveyor-belt, computerized uniformity". Ashley Bramall, Leader, Inner London Education Authority, October 1970 Photo: Pimlico School before demolition. © Utopia London/Tom Cordell
London as Venice © Robert Graves and Didier Madoc-Jones, aerial photograph by Jason Hawkes Like a modern day Canaletto, this disturbing yet strangely peaceful aerial view of a flooded Thames was inspired by shots of New Orleans submerged under the floodwaters of Hurricane Katrina. Curious to know how London would appear under similar conditions, Graves and Madoc-Jones transposed projection of a 7.2 metre flooded river on to their digital 3D model of London and aligned with a photograph of the Thames shot by Jason Hawkes. 7.2 metres is the level at which flood waters would breach the Thames Barrier. The low light of the photograph creates an evocative sense of dimension to the view, forming the impression that we are looking at a partially submerged stage-set. Posters & Postcard Books on sale here.
london futures | images that bring ideas to life and frame the climate change debate in a way that everyone can understand
"When the earth was last four degrees warmer, there was no ice at either pole." Mark Lynas, Six Degrees Both the intergovernmental panel of climate change and the Met Office Hadley Centre predict a possible temperature rise of four degrees in the next millennium.
Port of London Authority (The Rise and Fall of the Icon)
Architectural Association School of Architecture Projects Review 2010
Colours In Cultures
** Nigel Peake - Thesis Project **
Laboratorio de Técnicas y Paisajes Contemporáneos
Traductor
SISA – Social Impact Sustainable Architecture
AA Prize for Unbuilt Work | 2009 AA Prize for Unbuilt Entrants
abril 2009
Rietveld Landscape - Projects
zuloark. eco boulevard . ensanche vallecas. concurso emv.
pH07 paisajes Habitados
pfc exhibicionista
LEON 11
III Congreso internacional de arquitectura CONSTRUTEC COAM
dip-6_040927
AA Visiting School en Chile – Parte 2