Proyectos Ajenos
Proyecto Fin de Carrera Arquitectura » Escuela de Arquitectura. Te presentamos una selección de los proyectos realizados por los alumnos de esta Facultad.
Una selección de los trabajos presentados más originales a lo largo de los últimos años. Trabajos en los que se pueden observar dos aspectos, ambos equivalentes en relevancia. Uno, la solvencia profesional adquirida por los ya titulados que los suscriben. El segundo, la diversidad en cuanto a posiciones y líneas de trabajo, que son muestra de la libertad con que se plantea nuestra enseñanza. Esta delicada alquímia entre solvencia profesional y desarrollo personal es la que cuidamos y perfeccionamos día a día en nuestra Escuela de Arquitectura pero también en el conjunto de la Universidad Europea de Madrid.
Nuevo Parque Monte Igueldo | Proyecto Fin de Carrera de Ander Cia. Supongo que cada uno tiene una manera de afrontar un proyecto en la escuela, más si se trata de un fin de carrera.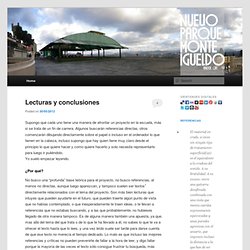 Algunos buscarán referencias directas, otros comenzarán dibujando directamente sobre el papel o incluso en el ordenador lo que tienen en la cabeza, incluso supongo que hay quien tiene muy claro desde el principio lo que quiere hacer y como quiere hacerlo y solo necesita representarlo para luego ir puliéndolo. Yo suelo empezar leyendo. Cuadernodepfc.wordpress.com. The Presidents Medals: Winners. Find current projects. Horhizon. Horhizon Unit E at Oxford Brookes University. Colectivo Cuartoymitad. Manu-facturas. PRAT_JOLU. The Cloud Collective.
TRIANGULATION BLOG. The architect Borja Abellán presents the Antartic Observatory, this project was his Dissertation of Architecture at the University of Alicante.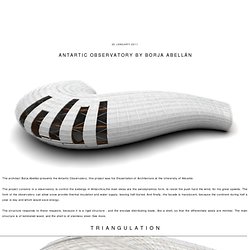 The project consists in a observatory to control the icebergs in Antarctica,the main ideas are the aerodynamics form, to resist the push hard the wind, for his great speeds. The form of the observatory can allow snow provide thermal insulation and water supply, leaving half-buried. El BulliFoundation | edgargonzalez.com. Como ya lo sabes ayer se presentó en MadridFusión los planes de Ferrán Adriá para el mejor restaurante del mundo.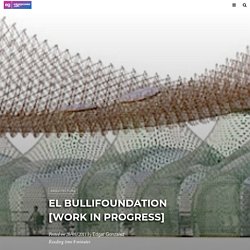 El Bulli deja de servir comidas para convertirse en El Bulli Fundación. El arquitecto elegido para la transformación del precioso entorno en Roses, al norte de Cataluña es Enric Ruiz-Geli Todo el proceso del proyecto se ha acelerado, ya que se presentaría en Junio de este año, pero dado que la cita de Madrid Fusión estaba a tiro de piedra se quizo aprovechar el foro elBullifoundation©Cloud 9 1. nos encontramos en el PARQUE NATURAL DEL CAP DE CREUS.
Weak Monuments: un álbum de Flickr. #followarch: zira02. Los usuarios de de la red social Twitter tenemos unas cuantas reglas no escritas.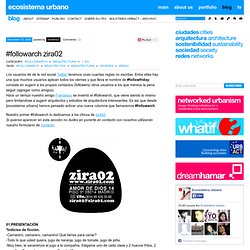 Entre ellas hay una que muchos usuarios aplican todos los viernes y que lleva el nombre de #followfriday: consiste en sugerir a los propios contactos (followers) otros usuarios a los que merece la pena seguir (agregar como amigos). Hace un tiempo nuestro amigo Francesco se inventó el #followarch, que viene siendo lo mismo pero limitandose a sugerir arquitectos y estudios de arquitectura interesantes. Es así que desde [ecosistema urbano] hemos pensado activar una nueva columna que llamaremos #followarch.
Nuestro primer #followarch lo dedicamos a los chicos de zira02.Si quieres aparecer en esta sección no dudes en ponerte en contacto con nosotros utilizando nuestro formulario de contacto. Lost in the Line | Léopold Lambert. Léopold Lambert is an architecture student in Pratt Institute Graduate School of Architecture and also editor of the fantastic blog boiteaoutils.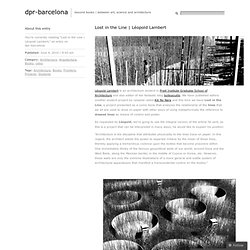 We have published before onother student project by Léopold called Kili No Nara and this time we have Lost in the Line, a project presented as a comic book that analyzes the relationship of the lines that we all are used to draw on paper with other ways of using metaphorically the reference to drawed lines as means of control and power. As requested by Léopold, we're going to use the integral version of the article he sent, as this is a project that can be interpreted in many ways, he would like to explain his position: Borderline. Nigel Peake es un ilustrador que ha destacado por su habilidad para cartografiar ciudades y lugares.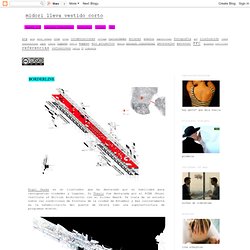 Su Thesis fue destacada por el RIBA (Royal Institute of British Architects) con el Silver Award. Se trata de un estudio sobre las condiciones de frontera de la ciudad de Estambul y más concretamente en la rehabilitación del puente de Gálata como una superestructura de programas mixtos. Utopia London. "Have no fear that our energetic London children will let themselves be railroaded into a conveyor-belt, computerized uniformity".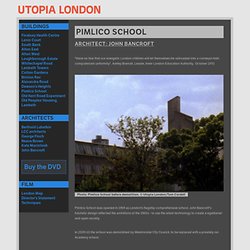 Ashley Bramall, Leader, Inner London Education Authority, October 1970 Photo: Pimlico School before demolition. © Utopia London/Tom Cordell. London futures | images that bring ideas to life and frame the climate change debate in a way that everyone can understand. Port of London Authority (The Rise and Fall of the Icon) "When the earth was last four degrees warmer, there was no ice at either pole."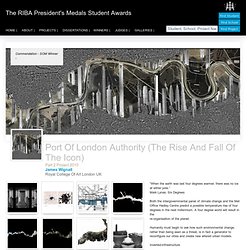 Mark Lynas, Six Degrees Both the intergovernmental panel of climate change and the Met Office Hadley Centre predict a possible temperature rise of four degrees in the next millennium. Architectural Association School of Architecture Projects Review 2010. Design Research LAB MArch StartStop(3) New Architecture, New Century: The AA School 2010.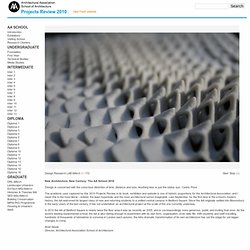 Colours In Cultures. What colour is happiness in China? Or good luck in Africa? Or anger in Eastern Europe? Are any colour meanings universal across cultures and continents? A visualisation of the meanings of different colours in different cultures by David McCandless and AlwaysWithHonor.com. EXTRA A short photo story about how a version of this image ended up as the 91st and final cover design of our book, Information is Beautiful. ** Nigel Peake - Thesis Project ** Laboratorio de Técnicas y Paisajes Contemporáneos. Traductor. SISA – Social Impact Sustainable Architecture. AA Prize for Unbuilt Work | 2009 AA Prize for Unbuilt Entrants. Abril 2009. Forms of Energy. La Biennale di Venezia Un edificio es más que la forma material adoptada por una configuración de energía particular: es un sistema que intercambia la energía con el medio de formas diferentes: disipa, consume y captura la energía. Este proyecto implica un sistema técnico que, por la captura y la emisión de energía, induce efectos espaciales, ambientales y visuales.
Rietveld Landscape - Projects. Zuloark. eco boulevard . ensanche vallecas. concurso emv. El proyecto abre cuenta en el código genético de la ciudad. La primera de las estrategias globales que describen este proyecto es la que deriva de la idea de desvío provisional de lo existente, para evitar la simetría programática. El primer descriptor de la propuesta es el conjunto de medidas que concilian la asamblea (vecinal) con el ensamblaje (elementos urbanos y arquitectónicos), la voluntad vecinal de convertirse en comunidad en prácticas del que emana un nuevo estado normativo Nuevos programas del tejido urbano iniciativas privadas en el espacio público sostenibilidad de una comunidad de vecinos a través de la validación de prácticas comunes (el proyecto urbano aprende a ser sostenible) este modelo de planteamiento del uso de un espacio público será sostenible en la medida que los vecinos se involucren activamente.
pH07 paisajes Habitados. Pfc exhibicionista. LEON 11. III Congreso internacional de arquitectura CONSTRUTEC COAM. Dip-6_040927. AA Visiting School en Chile – Parte 2.
---