Parasitación Infraestructuras
juan freire: Vacíos urbanos: problema y oportunidad
Las ciudades están "llenas" de vacíos. No se trata de los espacios abiertos planificados como parques o vías de comunicación. Los vacíos son espacios temporales entre construcciones a la espera de su urbanización. Forman parte de un proceso dinámico dependiente de multitud de pequeñas historias: un derribo, un retraso en una licencia de obras, una operación inmobiliaria a gran escala, un espacio demasiado pequeño para casi todo que ha quedado abandonado a su suerte … Son espacios casi siempre efímeros que van saltando en el tiempo a lo largo de la ciudad, pero en conjunto conforman espacios peculiares, por su falta de uso y construcciones, en un entorno urbano casi siempre repleto de usos y edificios. ¿Qué hacer con esos vacíos?, normalmente la respuesta es "nada", solo esperar a su "llenado".
Maqueta 1er lugar Cada año, la CAP realiza un concurso de arquitectura en acero para estudiantes, de manera de fomentar el uso de este material entre los futuros arquitectos de Chile. Dada la tradición de este certámen que se organiza desde 1986, se ha vuelto una vitrina del estado de las escuelas de arquitectura chilenas, como ocurrió el año pasado . Para este año se escogió como tema el techar un estadio existente. A continuación, los ganadores. 1er lugar – Estadio Tierra de Campeones, Iquique Universidad Arturo Prat Integrantes: René Bugueño Valencia, Roberto Cárdenas Contreras e Iván Rosales Rosales Profesores Guía: Patricio Julio Egaña, Carmen Valdivieso
Resultados XXI Concurso de Arquitectura en Acero para Estudiantes CAP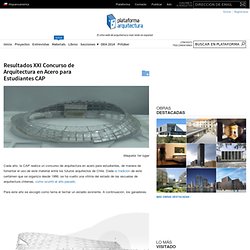 arquitectura y medio ambiente grupo d
Publicado en el diario El País Lacaton y Vassal, 2002, Palais Tokyo Bartleby, el arquitecto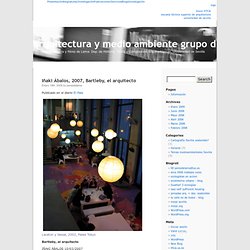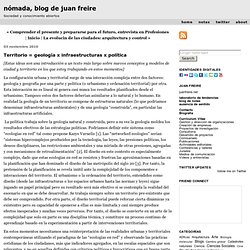 juan freire: Territorio = geología x infraestructuras x política
[Estas ideas son una introducción a un texto más largo sobre nuevos conceptos y modelos de ciudad y territorio en los que estoy trabajando en estos momentos] La configuración urbana y territorial surge de una interacción compleja entre dos factores: geología y geografía por una parte y política (o urbanismo y ordenación territorial) por otra. Esta interacción no es lineal ni genera casi nunca los resultados planificados desde el urbanismo. Tampoco estos dos factores deberían asimilarse a lo natural y lo humano.
La Periferia Doméstica
Under Spaces 2
This is a quick survey of sorts in three parts. This is the second part. Covering about 7.5 acres under Interstate 5 in Seattle, Washington, is the I-5 Colonnade Park .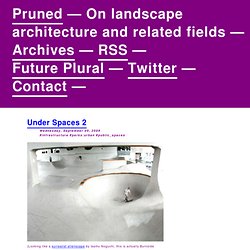 This is a quick survey of sorts in three parts. The first two parts covered built projects. This last part contains two unrealized projects, one a student thesis project and the other a masterplan for a major urban revitalization program. Published in 306090 07: Landscape within Architecture (2004) is Hans Herrmann's Public Domain and the Dispersed City , his thesis project at Clemson University. Sited at the intersection of Interstate 85 and Interstate 285, also known as the topologically knotty Moreland Interchange , in Atlanta, Georgia, this project aimed "to provide new forms of access to the space of the interchange through the introduction and incorporation of an urban park.
Under Spaces 3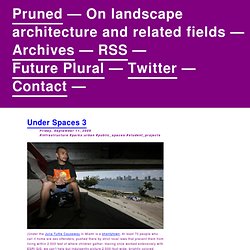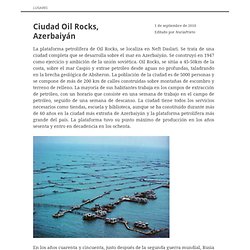 La plataforma petrolífera de Oil Rocks, se localiza en Neft Daslari. Se trata de una ciudad completa que se desarrolla sobre el mar en Azerbaiyán. Se construyó en 1947 como ejercicio y ambición de la unión soviética. Oil Rocks, se sitúa a 45-50km de la costa, sobre el mar Caspio y extrae petróleo desde aguas no profundas, taladrando en la brecha geológica de Absheron. La población de la ciudad es de 5000 personas y se compone de más de 200 km de calles construidas sobre montañas de escombro y terreno de relleno.
Ciudad Oil Rocks, Azerbaiyán
La Periferia Doméstica
La Periferia Doméstica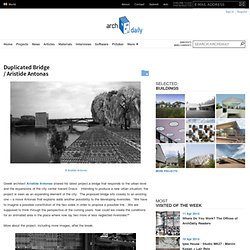 Greek architect Aristide Antonas shared his latest project,a bridge that responds to the urban level and the expansions of the city center toward Drava. Intending to produce a new urban situation, the project is seen as an expanding element of the city. The proposed bridge sits closely to an existing one – a move Antonas that explains adds another possibility to the developing riversides. "We have to imagine a possible constitution of the two sides in order to propose a possible link…We are supposed to think through the perspective of the coming years: how could we create the conditions for an animated area in the place where now lay two more or less neglected riversides?" More about the project, including more images, after the break. The starting point of the project began with evaluating the current conditions and seeking answers to how the bridge may transform the river.
Duplicated Bridge / Aristide Antonas
proyecto ciudad de mexico on Vimeo