Stats
Get flash to fully experience Pearltrees
Tout va très vite en ligne : sites comme outils se démodent rapidement pour laisser la place à d'autres, et cela dans beaucoup de secteurs. Prenez les navigateurs par exemple. Leurs parts de marché ont beaucoup évolué ces dernières années.
Online dating is booming. The industry has doubled since 2007, currently boasting 40 million users and $1.9 billion in annual revenue, according Match.com. But does online dating really work for the lovelorn? Or does it just help companies rake in heaps of cash? Some 17% of married couples say they met online, compared to 27% who say they met through a mutual friend and 38% who say they met at work or school. People who meet on dating sites are also quicker to tie the knot than those who meet in the real world — dating for an average of just over 18 months before getting hitched, compared to 42 months for those who meet offline.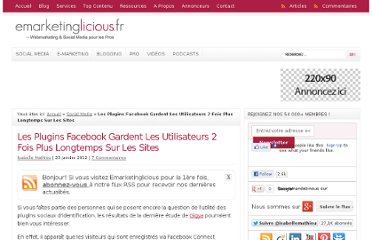 Bonjour! Si vous visitez Emarketinglicious pour la 1ère fois, abonnez-vous à notre flux RSS pour recevoir nos dernières actualités. Si vous faîtes partie des personnes qui se posent encore la question de l'utilité des plugins sociaux d'identification, les résultats de la dernière étude de Gigya pourraient bien vous intéresser.
Super Bowl XLVI was not only a big hit with broadcast viewers, it also excelled in the social TV space. Hollywood news site Deadline reports that 111.3 million Americans tuned in to watch the New York Giants defeat the New England Patriots. That puts Super Bowl XLVI just ahead of last year's record breaking broadcast, making the 2012 Super Bowl the most-watched U.S.