Educational resources
NSDL.org - The National Science Digital Library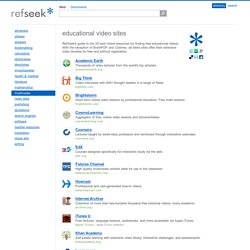 RefSeek's guide to the 25 best online resources for finding free educational videos. With the exception of BrainPOP and Cosmeo, all listed sites offer their extensive video libraries for free and without registration. Academic Earth Thousands of video lectures from the world's top scholars.
Cool Math Videos + Websites | Education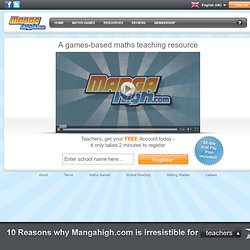 1. Maths Coverage Mangahigh is a comprehensive and powerful maths teaching resource offering full coverage of the UK National Curriculum with more than 400 different challenges ranging from addition to quadratic factorisation 2. Adaptivity Students work best when they work at the edge of their abilities, and Mangahigh tempts students with easy tasks and then builds confidence for harder, more conceptual work
Content Matrix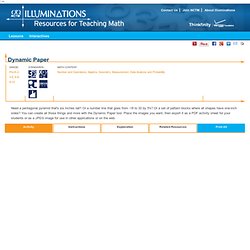 This applet allows you to create the following: Nets – two-dimensional outlines of three-dimensional shapes, including regular polyhedra, prisms, pyramids, cylinders and cones Graph Paper – coordinate graphs, polar coordinates, logarithmic graph paper Number Lines – including positive and negative coordinates Number Grids – hundreds boards and the like Tessellations – tiling patterns involving triangles, quadrilaterals, and hexagons Shapes – pattern blocks, attribute blocks, and color tiles Spinners – up to 16 sectors, with adjustable sizes Select the tab for the type of image you want, enter values for the parameters, and click Add to insert an image into the workspace. On the workspace, you can adjust the size of the image; to change other characteristics, you will need to adjust the values of the parameters on the dashboard. The Reset button will restore the default values for all parameters.
Education - Teaching and Learning Resources
Introduction Welcome to Socrative.com. This website is owned and operated by Socrative.com.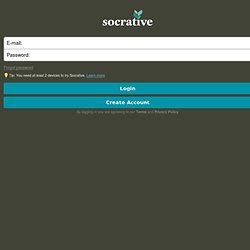 High Tech High: buy the book Contrary to what you may have heard on Oprah, not only do High Tech High students read books, but they actually produce books too. HTH students and faculty publish their work on websites and in books, because we believe that an important step in the learning process is presenting one's work to an authentic audience. It is also how we hold ourselves accountable for the work that we do. Help the High Tech High accountability effort by purchasing books below.
Projects at High Tech High