The Century of the Self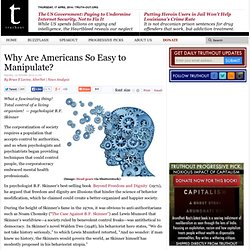 Why Are Americans So Easy to Manipulate?
(Image: Head gears via Shutterstock) What a fascinating thing! Total control of a living organism! — psychologist B.F. Skinner The corporatization of society requires a population that accepts control by authorities, and so when psychologists and psychiatrists began providing techniques that could control people, the corporatocracy embraced mental health professionals.
The Century of the Self collaborative class links
The Century Of The Self 1 of 4 | One: Happiness Machines
The Century Of The Self 2 of 4 | Two: The Engineering Of Consent
"The Century of the Self" reflection form
Reflection form responses
The Century Of The Self 3 of 4 | There is a Policeman Inside All Our Heads, He Must Be Destroyed
The Century Of The Self 4 of 4 | Four: Eight People Sipping Wine in Kettering