Tech literacy
Drink without drowning from the Twitter River | Science Edventures. With some software, you can divide the Twitter River into drinkable streams (Image: River Itchen Weir by neilalderney123 on flickr CC) For the past few weeks, I've been participating in #etmooc, a massive open online course (MOOC) about educational technology and media.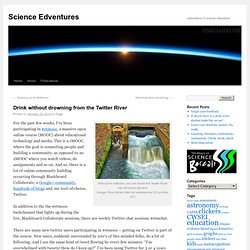 This is a cMOOC, where the goal is connecting people and building a community, as opposed to an xMOOC where you watch videos, do assignments and so on. Tech Teaching Tools. Tech Teaching Tools. Infuse Learning into Your Class. I love using Socrative, Polls Everywhere, and Cel.ly for daily response and student feedback.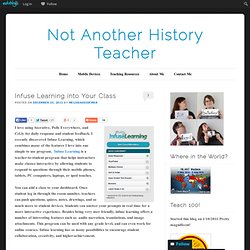 I recently discovered Infuse Learning, which combines many of the features I love into one simple to use program. Infuse Learning is a teacher-to-student program that helps instructors make classes interactive by allowing students to respond to questions through their mobile phones, tablets, PC computers, laptops, or ipod touches. You can add a class to your dashboard. Long Live Paper. People often ask me why I have an iPad and a... Education Technology Expert, Will Richardson, Dazzles at Renbrook.
Webinars | Help Center. 50 Little-Known Ways Google Docs Can Help In Education. 5 Ways To Be A Better Public Speaker 7.16K Views 0 Likes If you've been asked to speak at a conference or host a seminar, you may be shaking in your boots.
Not only is the thought of speaking in public nerve-wracking, but being in charge of a seminar that no one wants to at... Your Brain on Computers - Digital Devices Deprive Brain of Needed Downtime. The Joy of Quiet. How to Use Google Search More Effectively [INFOGRAPHIC] Among certain circles (my family, some of my coworkers, etc.)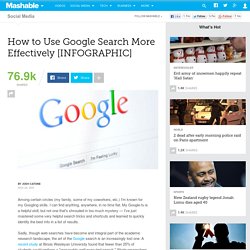 I'm known for my Googling skills. I can find anything, anywhere, in no time flat. My Google-fu is a helpful skill, but not one that's shrouded in too much mystery — I've just mastered some very helpful search tricks and shortcuts and learned to quickly identify the best info in a list of results. Sadly, though web searches have become and integral part of the academic research landscape, the art of the Google search is an increasingly lost one. A recent study at Illinois Wesleyan University found that fewer than 25% of students could perform a "reasonably well-executed search.
" Mac OS X keyboard shortcuts. To use a keyboard shortcut you press a modifier key with a character key.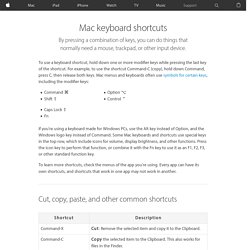 For example, pressing the Command key (it has a symbol) and then the "c" key copies whatever is currently selected (text, graphics, and so forth) into the Clipboard. This is also known as the Command-C keyboard shortcut. A modifier key is a part of many keyboard shortcuts. What Will The Ed Tech Revolution Look Like? During the past 40 years, accounting for inflation, we have nearly tripled the amount of money we spend per student in public K-12 education.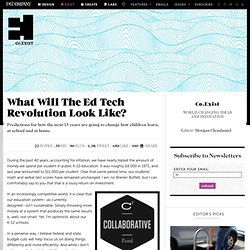 It was roughly $4,000 in 1971, and last year amounted to $11,000 per student. Over that same period time, our students' math and verbal test scores have remained unchanged. I am no Warren Buffett, but I can comfortably say to you that that is a lousy return on investment. In an increasingly competitive world, it is clear that our education system--as currently designed--isn't sustainable. Simply throwing more money at a system that produces the same results is, well, not smart.
---