Reading& writing about poetry
Tone Terms
Attitudes of rationality – explanatory, instructive, indifferent, puzzled, curious, wishful, pensive, thoughtful, pre-occupied, deliberate, candid, thoughtless, innocent, frank, sincere, questioning, uncertain, doubting, incredulous, critical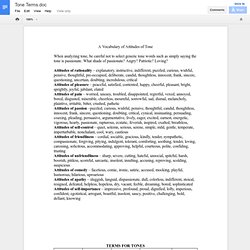 List of Feelings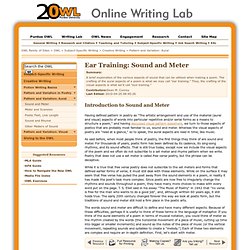 Pattern and Variation: Aural
Summary: A brief exploration of the various aspects of sound that can be utilized when making a poem. The crafting of the aural aspects of a poem is what we may call "ear training." Thus, the crafting of the visual aspects is what we'd call "eye training."
Introduction Once somewhat ignored in scholarly circles, close reading of poetry is making something of a comeback. By learning how to close read a poem you can significantly increase both your understanding and enjoyment of the poem. You may also increase your ability to write convincingly about the poem. The following exercise uses one of William Shakespeare's sonnets (#116) as an example.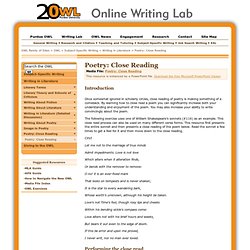 Poetry: Close Reading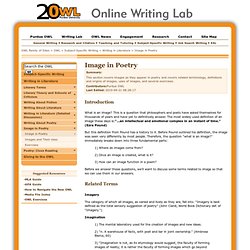 Summary: This section covers images as they appear in poetry and covers related terminology, definitions and origins of images, uses of images, and several exercises. Contributors:Purdue OWLLast Edited: 2010-04-21 08:28:17
Image in Poetry
Explicating a Poem and Symbolism
Writing About Poetry
Summary: This section covers the basics of how to write about poetry. Including why it is done, what you should know, and what you can write about.