Music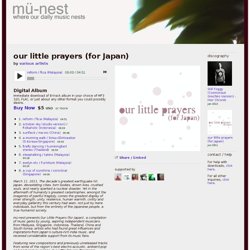 March 11, 2011. The decade's greatest earthquake hit Japan, devastating cities, torn bodies, drown lives, crushed souls, and nearly sparked a nuclear disaster. Yet in the aftermath of humanity's greatest catastrophes, amongst the imageries of painful tragedy, comes the greatest display of inner strength, unity, resilience, human warmth, civility and everyday gallantry this century had seen, not just by mere individuals, but from the entirety of the Japanese people, a true humanist society. mü-nest presents Our Little Prayers (for Japan), a compilation of music gems by young, aspiring independent musicians from Malaysia, Singapore, Indonesia, Thailand, China and South Korea: artists who had found great influences and inspirations from Japan's culture-rich indie music, and received considerable support from its music fans.
our little prayers (for Japan) | mü-nest
Morgane Fouse's sounds on SoundCloud
Loudersoft - A Music Blog Dedicated to Post-ALT Pre-NeXTers.
welistenforyou.com