Words of Life
Most loved today - Quotables. American Sign Language - Night. NIGHT (or "evening") The sign for "night" is made by holding your non-dominant arm horizontally, palm down, pointing to the side.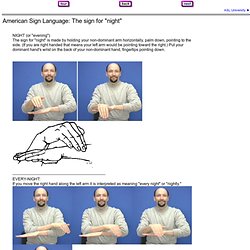 (If you are right handed that means your left arm would be pointing toward the right.) Put your dominant hand's wrist on the back of your non-dominant hand, fingertips pointing down. EVERY-NIGHT: If you move the right hand along the left arm it is interpreted as meaning "every night" or "nightly. " ASL for absurd | sign language dictionary by Handspeak. Sayings, Quotes | DesiQuotes.com. Go after her. fuck, dont sit there and wait. A true soul mate is… | Goodmorning & Goodnight - StumbleUpon. 12:27am | Nov 18th, 2010 "A true soul mate is probably the most important person you'll ever meet, because they tear down your walls and smack you awake.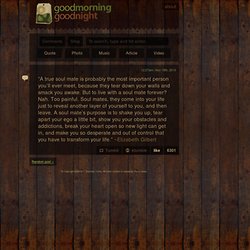 But to live with a soul mate forever? Voices - StumbleUpon.
30 Books I'm Glad I Read Before 30 - StumbleUpon. Post written by: Marc Chernoff Email In various ways, these 30 books convey some of the philosophy of how Angel and I live our lives.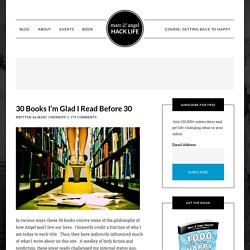 I honestly credit a fraction of who I am today to each title. Thus, they have indirectly influenced much of what I write about on this site. Book recommendations from readers like you - StumbleUpon. FullBooks.com - Thousands of Full-Text Free Books - StumbleUpon. Free Classic AudioBooks. Digital narration for the 21st Century - StumbleUpon. Mae West Quotes - StumbleUpon. 40 Belief-Shaking Remarks From a Ruthless Nonconformist | Raptitude.com - StumbleUpon. If there's one thing Friedrich Nietzsche did well, it's obliterate feel-good beliefs people have about themselves.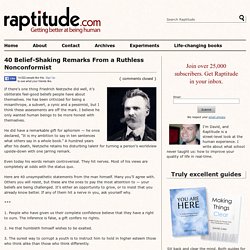 He has been criticized for being a misanthrope, a subvert, a cynic and a pessimist, but I think these assessments are off the mark. I believe he only wanted human beings to be more honest with themselves. He did have a remarkable gift for aphorism — he once declared, "It is my ambition to say in ten sentences what others say in a whole book." A hundred years after his death, Nietzsche retains his disturbing talent for turning a person's worldview upside-down with one jarring remark. 45 Quotes on Dreams. By Stephanie Sarkis, Ph.D.
Learn about the power of your dreams ... I don't dream at night, I dream all day; I dream for a living. - Steven Spielberg A man is not old until regrets take the place of dreams. - John Barrymore. Best Quotes of All Time - StumbleUpon. Photo Credit: BigStockPhoto.com It's been three years since we shared our original list of some of the best quotes of all time, and we felt it was a good time for an update.
We've added another 25 quotes for you. But these aren't just any quotes. These are quotes designed to inspire. They're motivational quotes that will hopefully get you thinking about your life, your work, or your dreams and how you can make these things better. Wednesdays Quotes - StumbleUpon. "There are only two ways to live your life.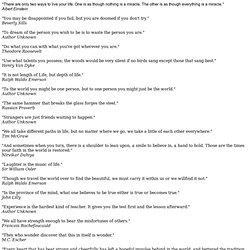 One is as though nothing is a miracle. The other is as though everything is a miracle. "Albert Einstein. Collected Quotes from Albert Einstein. [Note: This list of Einstein quotes was being forwarded around the Internet in e-mail, so I decided to put it on my web page.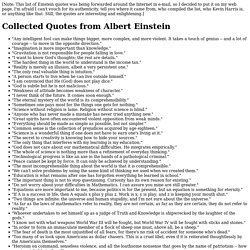 I'm afraid I can't vouch for its authenticity, tell you where it came from, who compiled the list, who Kevin Harris is, or anything like that. Still, the quotes are interesting and enlightening.] Short Quotes for Tattoos - StumbleUpon. Sporting textual tattoos has become the latest trend in the fashion arena, and everyone seems to be on a lookout for a unique quote to wear on their body.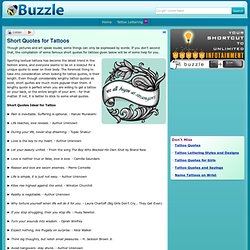 The foremost thing to take into consideration when looking for tattoo quotes, is their length. Even though considerably lengthy tattoo quotes do exist, short quotes are much more popular than them. SO MUCH TO TELL YOU: the 100 club - StumbleUpon. These are the 100 most beautiful words in the English language, apparently.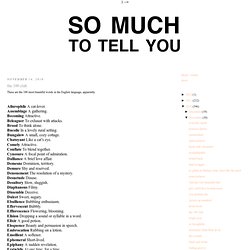 20 Obsolete English Words that Should Make a Comeback. - StumbleUpon. 100 Most beautiful words in the English language* Unusual Words. The Dictionary of Obscure Sorrows & waldosia - StumbleUpon. The Dictionary of Obscure Sorrows is a compendium of invented words written by John Koenig. Each original definition aims to fill a hole in the language—to give a name to emotions we all might experience but don't yet have a word for. The author's mission is to capture the aches, demons, vibes, joys and urges that roam the wilderness of the psychological interior. Each sorrow is bagged, tagged and tranquilized, then released gently back into the subconscious. ▸ visit the facebook page to hear the backstory behind each word. Whichbook | A new way of choosing what to read next - StumbleUpon. Self Publish a Book - Lulu.com - StumbleUpon. Bookshelf Porn - StumbleUpon. Code of Conduct - StumbleUpon.
---