Photoshop
Annapurna Expedition 1970: Design Beautiful Retro Poster in Photoshop
Combine stock photos, triangle shapes and textures to create an awesome retro poster that takes inspiration from climbing expedition to Annapurna in 1970. By mixing up simple shapes with old and grungey textures we'll create a retro poster design for "Annapurna 1970″. Let's not waste any more time and get started! This is what we will be designing.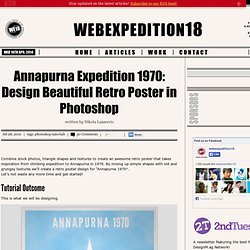 Overview of the Tutorial Today we're going to be creating the dark and grungy poster you see below. You will also find links to the stock images we will be using in this tutorial. This tutorial focuses heavily on blending images together to achieve a desired effect. The Files Step 1
Create a Dark and Grungy Poster in Photoshop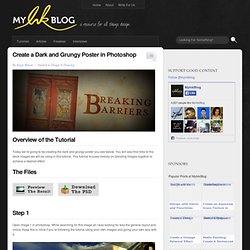 How to Create a Jumbotron Effect
Adding stitches to text
Create film sets in Photoshop
Creating an Old-Collage Effect Poster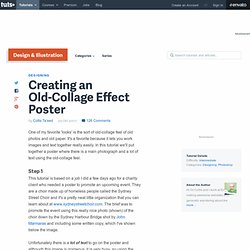 One of my favorite 'looks' is the sort of old-collage feel of old photos and old paper. It's a favorite because it lets you work images and text together really easily. In this tutorial we'll put together a poster where there is a main photograph and a lot of text using the old-collage feel.
Render a Cereal Box Cover from Scratch
Sin City was a really cool movie, at least visually. I really liked the stylish scenes and colors. A few months ago I saw a poster of another Frank Miller movie called "The Spirit." The poster is titled "My City Screams." It really caught my attention because of the way the design played with typography to recreate buildings. Also, the perspective was really well done.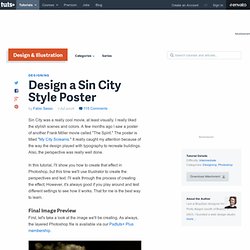 Design a Sin City Style Poster
Minimalistic Poster Design in Photoshop
It's the end of the year and for the last tutorial of 2009 I will show you how to create a poster inspired by the amazing work of Simon Page, especially those beautiful posters for the International Year of Astronomy. I created this design first for the Abduzeedo 3rd Anniversary poster but I changed it a little bit for this Photoshop tutorial. So I will show you how to create a minimalistic design in Photoshop playing with stock photos, blend modes and filters. We will also use a paper texture to give a nice retro feel to our design.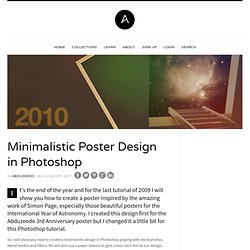 Photos Used The following images were used in the creation of this piece: Woman PhotoTypewriter PhotoOld Paper TextureSunburst Graphic Final Image This is the final image we'll be creating: Step 1
Create a Mock-Retro Poster Concept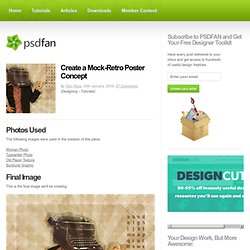 I love to try new things and push my work into new areas. Just doing what I know feels like a wasted opportunity. I get an incredible feeling of excitement and, ultimately, satisfaction when I can see a new illustration taking shape that is going somewhere I haven't necessarily been before; unfamiliarity means I'm learning more! Creating the artwork for this tutorial gave me a real buzz. Due to a small obsession with books, I'm lucky enough to own a pretty good library of visual material, and one of my little gems is a horror film poster book.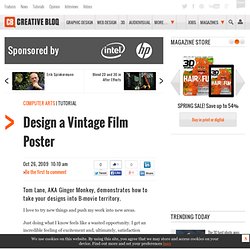 Design a Vintage Film Poster
Digital graphics are largely dependent on the software used to create them. Given the clean, pixel-perfect nature of Photoshop, artworks always risk looking too perfect therefore it's important to learn how to bring nature's random variations into our digital creations. In this tutorial we'll create an atmospheric poster for a dance party using the textured, retro look that's so popular nowadays. Tutorial Assets We will make use of a texture and a photograph.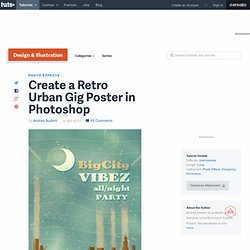 Create a Retro Urban Gig Poster in Photoshop
Iphone exclusive tutorial | Special Effects
Useful resources Tools Used: Adobe Photoshop Wacom Tablet (not required)