Essay
How to write an architecture essay | UK Essays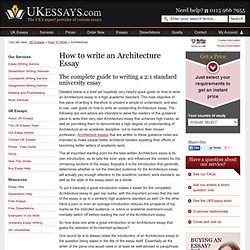 The complete guide to writing a 2:1 standard university essay Detailed below is a brief yet hopefully very helpful quick guide on how to write an Architecture essay to a high academic standard. The main objective of this piece of writing is therefore to present a simple to understand, and also to use, user guide on how to write an outstanding Architecture essay. The following tips and advice are intended to allow the readers of this guidance piece to write their very own Architecture essay that achieves high marks, as well as permitting them to demonstrate a high degree of understanding of Architecture as an academic discipline, not to mention their chosen profession.
THE PURPOSE OF RIEAch RIEA.ch is an institution with the purpose of advancing experimentation and research in the field of architecture, in response to changing political, economic, technological and cultural conditions in the contemporary world. Promotion and training of experimental design, support and implementation of experimental projects in architecture, urban design and other related areas of science and culture. Organization and conduct of lectures, workshops, symposia, competitions, consultations, project management, etc. Publications in areas related to the association's purpose. Enjoy RIEAch
Home - Riea
Lebbeus Woods. Experimental Space and Architecture. 2006 1/8
Architecturally Speaking : Practices of Art, Architecture and the Everyday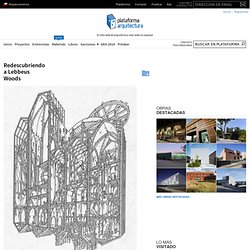 Dibujos conceptuales para la versión original de Alien 3 que nunca se realizó - Lebbeus Woods Continuando un poco con la temática de uno de los últimos post, Utopías Reloaded, queremos tratar más a fondo este tema. En la historia de la arquitectura siempre ha habido pensadores, teóricos y vanguardistas, que con sus propuestas dan una dimensión nueva a la profesión, independientemente de que su obra construida sea mucha o poca. Son intelectuales de la arquitectura y buscan explicar las relaciones de nuestra profesión con otras disciplinas. Entre estos personajes sobresale Lebbeus Woods, arquitecto nacido en Michigan en 1940. Después de haber trabajado con Eero Saarinen, ha concentrado su trabajo en prácticas experimentales y teóricas desde 1976.
Redescubriendo a Lebbeus Woods
Gamasutra Printer Friendly Article
Gama Network Presents: Three Inspirations forCreative Level DesigningBy Paul Warne GamasutraJuly 16 , 2001URL: http://www.gamasutra.com/features/20010716a/warne_01.htm I wish to present to you, my comrades in Level Design, three great works that have inspired in me new thoughts on the nature of spatial design, and consequently new ideas on particular aspects of our art. In a vein similar to that of brother Duncan Brown's GDC presentation on contemporary architecture, I present three works from the realm of experimental or visionary architecture.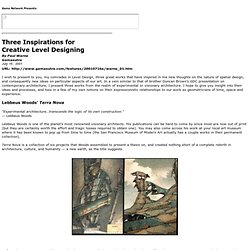 SOLOHOUSE @ 20
The Solohouse is twenty years old. At my age, twenty years does not seem so long, except when I think that it is the length of time between 1940 and 1960, the period when I was growing up, and I can remember with amazement all the changes, to myself and the world, that took place over that span of years. And then I also remember how much has changed since 1988, the year of this project's birth. Considering that, I think the Solohouse has aged reasonably well. Of course, it no longer exists, except in photos and a few drawings, having been destroyed some years ago. The Solohouse, I should explain, is as close as I have come (so far) to building a structure that could be called, in the usual sense, a building.