DIY
Construye tu propia lámpara LED con dos tableros. LED por aquí, LED por allí.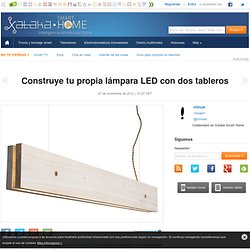 Está claro que la iluminación LED es el futuro inmediato, pero hasta ahora los fabricantes se han limitado a ofrecernos las mismas soluciones de siempre, es decir, bombillas y lámparas de toda la vida, sin sacarle provecho a las características de esta fuente de iluminación. Por eso os propongo construir nuestra propia lámpara LED con dos tableros. La idea no es mía, sino de Frida Ottemo Fröbert y Marie Louise Gustafsson de Northern Lighting, que ofrecen la lámpara Plank a quien no se considere muy manitas, pero realmente podemos fabricarla nosotros mismos sin demasiada complicación.
Materiales necesarios Dos tablones de madera (los de las imágenes son de 120 × 15 × 2,5 cm), que podemos cortar a medida de un tablón mayor, rescatar de algún derribo o de retales de otros apaños en casa. LIJAR. TIPOS DE LIJAS Y LIJADORAS. Lijar significa alisar, pulir, abrillantar o limpiar algo mediante el frotamiento con un objeto abrasivo, generalmente una lija.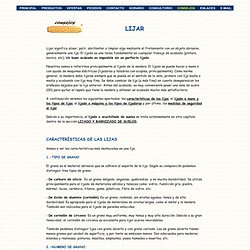 El lijado es una tarea fundamental en cualquier trabajo de acabado (pintura, barniz, etc). Un buen acabado es imposible sin un perfecto lijado. Nosotros vamos a referirnos principalmente al lijado de la madera. El lijado se puede hacer a mano o con ayuda de maquinas eléctricas (lijadoras y taladros con acoples, principalmente). Como norma general, la madera debe lijarse siempre que se pueda en el sentido de la veta, primero con lija basta o media y acabando con lija muy fina. PINTAR PAREDES, TECHOS, MADERAS, METALES, ETC. Pintar significa cubrir con una capa de color una superficie o un objeto.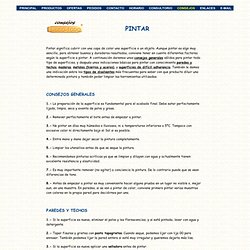 Aunque pintar es algo muy sencillo, para obtener buenos y duraderos resultados, conviene tener en cuenta diferentes factores según la superficie a pintar. A continuación daremos unos consejos generales válidos para pintar todo tipo de superficies, y después unas indicaciones básicas para pintar con conocimiento paredes y techos, maderas, metales (hierros y aceros), y superficies de difícil adherencia. También le damos una indicación sobre los tipos de disolventes más frecuentes para saber con que producto diluir una determinada pintura y también poder limpiar las herramientas utilizadas. DIY votiva de cemento con cordones | Decir sí a Hoboken. By Claire of Fellow Fellow Hi there, it's Claire from Fellow Fellow here!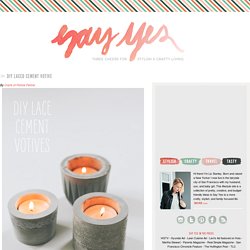 I've got a really cute DIY for you today! A laced cement votive, perfect for summer nights spent outdoors. Keep reading to see the full tutorial after the jump! Here's what you'll need:- Cement powder - Paper cups to mix cement in - Wooden sticks to stir cement mix - Coins - Petroleum Jelly (or cooking spray) – Optional (I'm not sure how much it helps) - Sticker tape (like: - A disposable container (plastic, or paper cup) for the outside of your votive - A smaller disposable container (I used a medicine cup), big enough to hold a tea light - Sandpaper - PliersA few tips: - It's best to keep the outside container fairly small (mine was about 2.5″ diameter) and made from either plastic, or paper (a paper cup works well). uH bench - open source public bench - xuv - Julien Deswaef.
Inkscape Blender [ fr ] ~ uH bench - open source public bench.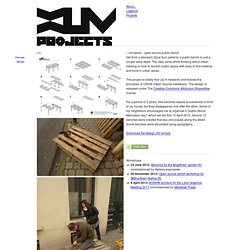 Configurar red VPN - Análisis y novedades. En esta ocasión vamos a aprender a montar nuestro propio servidor de VPN PPTP en Ubuntu.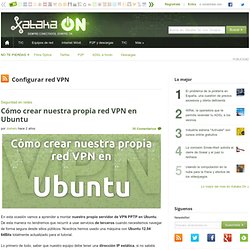 De esta manera no tendremos que recurrir a usar servicios de terceros cuando necesitemos navegar de forma segura desde sitios públicos. Nosotros hemos usado una máquina con Ubuntu 12.04 64Bits totalmente actualizado para el tutorial. Erik's recycled wine bottle torch. This clever outdoor diy idea comes from erik anderson of gerardot & co.- a creative branding and design agency in indianapolis. erik was kind enough to share a fantastic project that turns an everyday bottle into a modern backyard tiki torch. i love the way these torches look and am dying to find a backyard to use these in- too bad the closest thing we have is a 2×2 foot fire escape. but for those of you with yards, i hope you'll enjoy this project from erik. click here for more info on the project and click here to check out erik's work at gerardot & co. thanks, erik!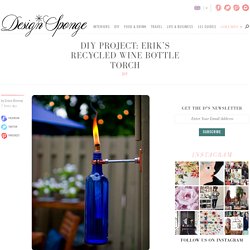 CLICK HERE for the full project instructions after the jump! [****Safety Note: This is for outdoor use only. Paper star lantern tutorial. I suppose it isn't exactly the right time of year for stars and lanterns, but I've got a paper folding fascination at the moment and so was drawn to a project I had wanted to do back in Autumn.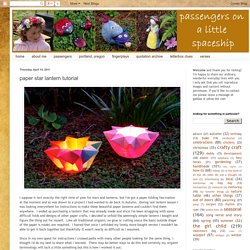 During last lantern season I was looking everywhere for instructions to make these beautiful paper lanterns and couldn't find them anywhere. I ended up purchasing a lantern that was already made and since I've been struggling with some difficult folds and designs of other paper crafts, I decided to unfold the seemingly simple lantern I bought and figure the thing out for myself.
Like all traditional origami, no glue or cutting (once the basic outside shape of the paper is made) are required. I feared that once I unfolded my lovely store-bought version I wouldn't be able to get it back together but thankfully it wasn't nearly as difficult as I assumed. F.A.T. Pull the nightstand out of the mold.
Corner joint exposed | Flickr: Intercambio de fotos. Raspberry Pi | An ARM GNU/Linux box for $25. Take a byte! David A. Mellis - DIY manufactures open sources. Support for programming ATtiny microcontrollers with Arduino.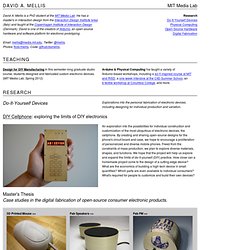 (more) Library for simple playback of audio samples with Arduino. (more) TinyProgrammer: an easy-to-use circuit board for programming low-cost microcontrollers (more) 7 Fun, Kid-Friendly Salad Recipes That Go Beyond Iceberg Lettuce. Email Looking for a fun way to encourage your kid to eat more veggies?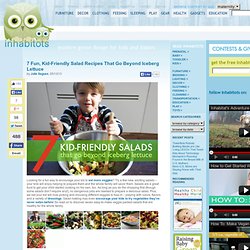 Try a few new, exciting salads – your kids will enjoy helping to prepare them and the whole family will savor them. Salads are a great food to get your child started cooking on his own, too. My Desk. With all this talk about work schedules and approaches, I thought it would be fun to share some photos of my home office in progress. (See here for the story on my vintage office chairs.) Our loft has two long banks of windows. One is in our living area and the other is in our office/guest space (both these rooms are open to each other). I wanted the desk to basically run the length of the windows so an assistant could work there during the day and my husband at night.
Downloads « DIYLILCNC. Downloads Detailed instruction sets covering every step of our build, from parts lists to assembly and Linux setup; digital source files used for laser-cut/CNC fabrication. Creative Commons License Info The plans and source files for this project are released under a Creative Commons Attribution Share-Alike license. This license is often compared to open source software licenses. Hammer Time! Bike Trailer. This trailer is a hodgepodge of the simplest, no-weld trailer components found on Instructables, friend's trailers, and frustrations via trial and error at our warehouse (shameless self promotion - www.hammertimeprojects.org ) The goal is to make the trailer accessible to anyone who can get a hold of these basic tools and materials...
Tools (borrow from a friend ) -Hacksaw (angle grinder and miter saw optional) -Powered drill with steel bit, 1' wood bit, Phillips bit -1" Conduit bender -Calipers (optional) Materials (acquire at a used building materials store, bike co-op, and construction site dumpster.) -15' or so of 2x4 -6' or so of 1" diameter conduit -2 any size bike wheels (front or rear) -1' of angle iron (bed frame works great) -busted bike tube -garden hose -2 large hose clamps -screws -heavy duty staples (optional) Note!
Building a Recumbent Bamboo Trike Frame. I've always been fascinated by bamboo and when I decided to build a recumbent trike it seemed like the obvious material choice for me. Bamboo is beautiful, light, stronger than mild steel and renewable. It does present some challenges however, as culms or poles are not perfectly round, taper from end to end and remain flexible even when cured. So building a 3 dimensional trike frame required a lot of planning, trial & error, and some techniques to account for the variable size of the bamboo.
This instructable will focus on the design and construction of the recumbent trike frame. Before building this trike, I had never built anything that moved or worked on bikes. Food - How to Make Instructables. iPhone Boombox. The following project will show you how to take 3D Solidwork's renderings and 2D Illustrator files and create a minimalist iPhone boombox. The boombox is my design and creation. Originally for a production class, I designed and created the boombox in an attempt to design, render and create using computer programs. Other goals of the object were to hide witness marks and create a minimalist and retro design. Please feel free to contact me with questions or with photos of the boombox you create using my Instructable, especially if you use different materials or components. Turn Your Magazines into a Seat With Organelle Design's DIY Dowel Chair Magazine Dowel Chair by Organelle Design – Inhabitat - Green Design Will Save the World.
Doortop Stash. Skill Builder. Kit-of-No-Parts. Reparar un Monitor de Ordenador por Menos de 1 euro | BlogSOStenible··· – – – ··· – – – ··· – – – ··· – – – ··· «Otras» noticias, y «otra» forma de pensar… Como soldar y desoldar en un cicuito impreso. | ComoHacer.eu | ¿Inventamos juntos? Thing-a-day - The yearly creative sprint. 3DTin.
---