Desing
VW Society Rostock Blog
Home Modern Furnishings | Wall Panels | Wall Tiles | Wall Decor | Modern Bedding | Rugs | Lighting | Pillows | Wall Flats
Solostickers
embossed wallpanels, 3dboard, 3dboards, 3d wall tile, embossed walldecor, 3d decor wall panel
the eco-amp environmentally friendly iPhone speaker amplifier
Designer/Curator As one of the world's most accomplished and influential entertainers, Justin Timberlake is known for his iconic style. With HomeMint, Justin has combined his passion for design and architecture with his aesthetic sensibility and artistic expertise to design and curate a home collection that epitomizes high-end style and quality design.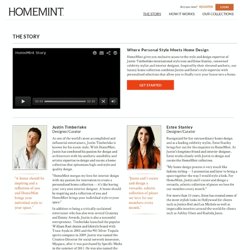 About Justin Timberlake and Estee Stanley - HomeMint
tutorial en español de google sketchup COMPLETO y SENCILLO - 2
El papel se inventó en China, se fabricaba con arapos.
Curso gratis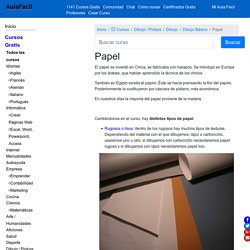 TANTUS CA
Delightfull is an innovative lighting brand that merges the class and charm of the styles of the 40's, 50's, and 60's with contemporary design.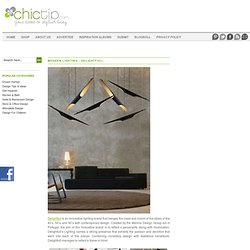 Modern Lighting : Delightfull
| Lékué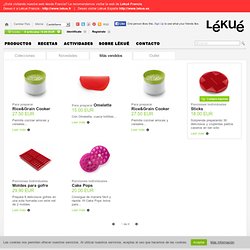 ¿Está visitando nuestra web desde Canada? Le recomendamos visitar la web de Lékué Canada.
uquws.com
Stencil Fonts - Free Cufon Font Library
rocking-2-gether chair 2.1, PAUL KWETON's Portfolio
rocking-2-gether chair 2.1
Guy Style Guide | 101 Incredible Tumblr Blogs for Men's Fashion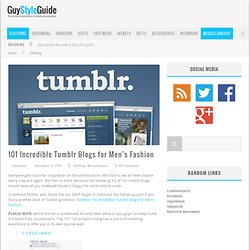 Everyone gets stuck for inspiration on the odd occasion; let's face it, we all have trouble every now and again. But fret no more, because the following list of 101 tumblr blogs should keep all you 'lookbook' fanatics happy for some time to come. So without further ado, here's the list. Don't forget to check out the follow-up post if you fancy another dose of Tumblr goodness: 'Another 100 Incredible Tumblr Blogs for Men's Fashion'.
Lamboo, Inc - Architectural and Structural Bamboo for sustainable building and interior design applications.
'shipping container studio' by daiken-met architects, gifu, japan image © shinkenchiku-sha japanese practice daiken-met architects have designed and completed 'sugoroku office', their personal studio in gifu, japan. a three storey mobile framework supports stacked shipping containers, forming the work areas and future living spaces on the penthouse floor. this building represents a model solution for those interested in surpassing the difficulty involved with making rental contracts for small scale structures in their city as well as responding to the local dilemmas of decreasing population and increasing vacant land.
daiken-met architects / nawakenji-m: sugoroku office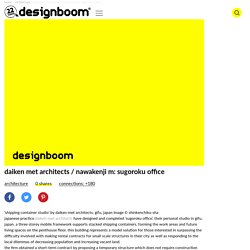 Located in Beijing, China particularly on the south-west corner of an office tower, the Cornerstone Restaurant designed by Studio Ramoprimo was completed early in 2011.
Restaurant Design: Cornerstone Restaurant by Studio Ramoprimo
art. lebedev: integralus digital watch
christ.christ associated architects: house S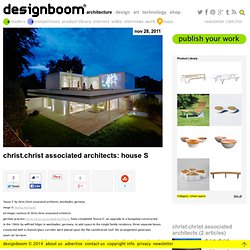 'house S' by christ.christ associated architects, wiesbaden, germanyimage © thomas herrmann all images courtesy of christ.christ associated architects german practice christ.christ associated architects have completed 'house S', an upgrade to a bungalow constructed in the 1960s by wilfried hilger in weisbaden, germany. to add space to the single family residence, three separate boxes connected with a channel glass corridor were placed upon the flat cantilevered roof. the arrangement generates open-air terraces with diverse atmospheres including a stone-paved courtyard with a pine tree, a meadow with an apple tree and a wooden planked patio with a magnolia. aerial view of the house image © thomas herrmann to enter, dwellers pass a small entry garden with a tree which grows through a void found in the overhead canopy. the original walls which were originally found on the ground level were removed to create a large open room with a central kitchen.
'jkc1' by ong&ong, bukit timah, singapore all images © ong&ong singapore-based practice ong&ong has recently completed 'jkc1', a single family residence in bukit timah, singapore. visitors enter through a series of elevated wooden platforms which lead to a swimming pool deck. a void within the stacked stone perimeter wall leads into the ground level dining and living area. resting above the windowless solid enclosure, textured concrete bands beginning at the first level floor plates and roofline frame an upper level veranda which extends to overlook the front and back yards. floor-to-ceiling glass windows border the bedrooms, providing privacy with moveable wooden screens while sliding doors allow direct access to the continuous balcony. front elevation
ong&ong: jkc1 house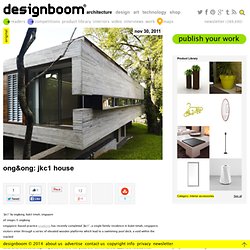 ugo architecture + design: 100 trees
macro lens rubber band for smartphones