3d systems
3D WOOD - Val Gardena. LaserOrigami. LaserOrigami is a rapid prototyping system that produces 3D objects using a laser cutter.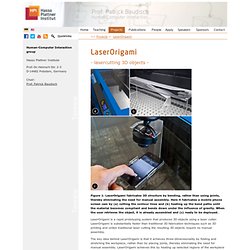 LaserOrigami is substantially faster than traditional 3D fabrication techniques such as 3D printing and unlike traditional laser cutting the resulting 3D objects require no manual assembly. The key idea behind LaserOrigami is that it achieves three-dimensionality by folding and stretching the workpiece, rather than by placing joints, thereby eliminating the need for manual assembly. Constructable. Personal fabrication tools, such as laser cutters and 3D printers allow users to create precise objects quickly.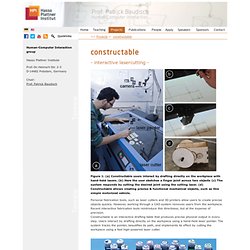 However, working through a CAD system removes users from the workpiece. Recent interactive fabrication tools reintroduce this directness, but at the expense of precision.Constructable is an interactive drafting table that produces precise physical output in every step. Users interact by drafting directly on the workpiece using a hand-held laser pointer. The system tracks the pointer, beautifies its path, and implements its effect by cutting the workpiece using a fast high-powered laser cutter. Pricing guide to DIY CNC mill and router kits. 18 DIY CNC kits from mini to mega Ponoko offers an online, on-demand CNC routing service where you can upload your design file and we'll send you the CNC cut pieces.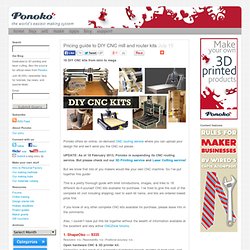 UPDATE: As of 18 February 2013, Ponoko is suspending its CNC routing service. But please check out our 3D Printing service and Laser Cutting service! But we know that lots of you makers would like your own CNC machine. The Othermill: Custom Circuits at Your Fingertips by Otherfab. At Otherfab, we are interested in portable, accessible, computer-controlled machines, and how they can help us design our world.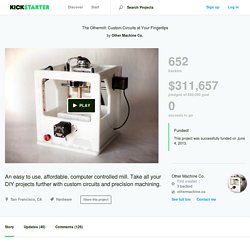 With the ability to make custom circuitry, we can now build our own smart objects - medicine bottles that email reminders, shoes that tell you how fast you went, and even glasses that know when you need to put on sunscreen. The Othermill is our contribution to custom circuit design and the desktop manufacturing revolution. Contact Us. Digitizer. Formlabs - High Resolution Desktop 3D Printer. FoldaRap. FoldaRap Release status: working In my obsession dreaming of a folding RepRap, I finally started to make one, after 5-7 months of development I'm able to travel with it around the town/country/world :) (adventures pictured on flickr / youtube / ustream) And now several people have build one : FoldaRap_Hall-of-Builds, even some by sourcing themselves the parts : google-maps (the red dots)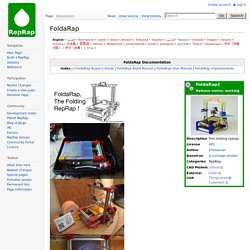 FoldaRap, The Folding RepRap. The campaign is finished for this time, thanks to the 52 contributors from all over the world !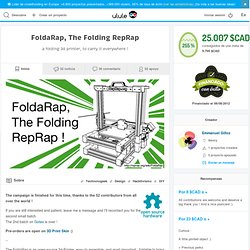 If you are still interested and patient, leave me a message and I'll recontact you for the second small batch.The 2nd batch on Goteo is over ! Pre-orders are open on 3D Print Skin :) The FoldaRap is an open-source 3d-Printer, easy to assemble, and most important : foldable to bring it anywhere ! 3D-Printer, RepRap, what's all about ? 3D-Printing is an additive manufacturing process : layers of plastic are successively laid down to produce objects relatively quickly.
CNC Panel Joinery Notebook. I've been collecting clever ways of slotting flat stock together since I first read Nomadic Furniture back in 1999, well before the advent of the accessible hobby-class CNC tools that, today, make manufacturing parts like these pretty easy.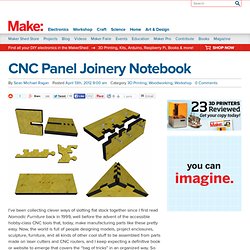 Now, the world is full of people designing models, project enclosures, sculpture, furniture, and all kinds of other cool stuff to be assembled from parts made on laser cutters and CNC routers, and I keep expecting a definitive book or website to emerge that covers the "bag of tricks" in an organized way. So far, I haven't found it. I may have missed it. Or maybe this article can serve as a jumping-off point. In any case, I think it's time to open up my file. | Snijlab. Portabee 3D Printer. The Portabee has been the first conveniently portable 3D printer in the world.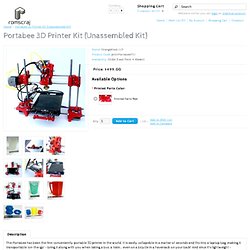 It is easily collapsible in a matter of seconds and fits into a laptop bag, making it transportable 'on-the-go' - bring it along with you when taking a bus, a train... even on a bicycle in a haversack on your back! And since it's lightweight - weighing in at 2.8kg (6.2lbs) - you can bring it around anywhere with you! And with a slightly larger 'laptop luggage' style bag, you can put the Portabee into the same bag as your laptop computer, along with some feedstock filament, power supplies for both devices (the Portabee uses a laptop-type power supply), some instant coffee sachets, cookies... you get the idea. The Portabee opens up numerous possibilities which were previously impractical - designers and design engineers can now offer to print out a sample of their design solution at the client's premises, on the spot and with applied design changes, for quick evaluation. Autodesk 123D - Personal Fabrication, 3D Printing, and Making Products and Services.
Shapeoko | Precision by DefaultShapeoko | Precision by Default. Trotec laser machines for cutting, engraving & marking. "Curso Blender 3D 2.5 básico" 3 Guys CNC - Custom Built home and commerical CNC's. DIY MDF CNC Machine 36x22. The design I'm gonna present is a DIY CNC machine made with MDF board.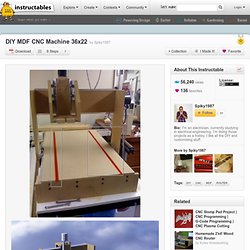 This design has been made by one of my friend and I have built one exactly like his. So we currently have 2 machines like this one. This is my first instructable so maybe there will be a couple of things missing, please feel free to ask or post comments. If you are planning to make one like that, please send me picture of the final results so I can add it to this page.
**This machine is a derivative of the machine you can find on** Downloads « DIYLILCNC. Downloads Detailed instruction sets covering every step of our build, from parts lists to assembly and Linux setup; digital source files used for laser-cut/CNC fabrication.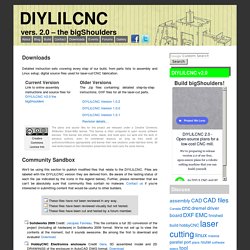 Creative Commons License Info The plans and source files for this project are released under a Creative Commons Attribution Share-Alike license. This license is often compared to open source software licenses. This license lets others remix, tweak, and build upon our work and the work of previous authors, even for commercial reasons, as long as they credit all authors/contributors appropriately and license their new creations under identical terms. DevilMaster. Build Your Own CNC Router, CNC Machine, or 3D Printer. Open source hardware. Express yourself in 3D™ Traductor de Google. My Robot Nation. Mendel Buyers Guide. Edit is restricted to the sysop group (set from the "protect" tab)move is restricted to the sysop group (set from the "protect" tab) Entries on this page are in no way an endorsement of quality of goods or service.
Below is simply a list of suppliers. Do your research by Googling <company_name RepRap forum> before you buy. This will usually find other reprappers' experience with a given company on our forums. See here for details of how to get included on this page. Mendel Parts - 3d printer. The Future Is 3-D | Print your imagination. Thank you for Sample Request. MakerBot Industries - Robots That Make Things.
---