News
Republican Party: Is it becoming Fascist?
Does The Tea Party suck, or what?
2nd Amendment: Would you support a repeal of it?
Gun Control: Will Congress toughen access to guns, or not?
Genesis II: Extraterrestrial Oceans Could Host Life
NASA's battle cry behind the small armada of orbiters, landers and rovers dispatched to Mars is "follow the water!" Where there's water, there could be life, which needs a solvent like water to assemble the complex macromolecules needed for living systems. Mars is covered with geological evidence that it was once a soggy planet. But no longer. One of the most exciting findings to date from the roving field geologist, the Mars Science Laboratory Curiosity, was the detection of a dried up ancient stream where water once flowed billions of years ago. The irony is that if you travel a couple hundred million miles beyond Mars' orbit you cross the solar system's frost line, the boundary beyond which there is plenty of water preserved from the planets' birth.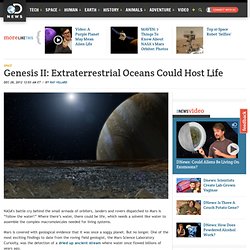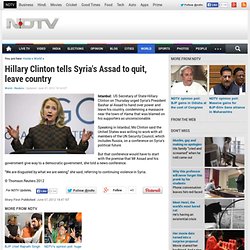 Hillary Clinton tells Syria's Assad to quit, leave country
Istanbul: US Secretary of State Hillary Clinton on Thursday urged Syria's President Bashar al-Assad to hand over power and leave his country, condemning a massacre near the town of Hama that was blamed on his supporters as unconscionable. Speaking in Istanbul, Ms Clinton said the United States was willing to work with all members of the UN Security Council, which includes Russia, on a conference on Syria's political future. But that conference would have to start with the premise that Mr Assad and his government give way to a democratic government, she told a news conference. "We are disgusted by what we are seeing," she said, referring to continuing violence in Syria. © Thomson Reuters 2012
Should Ayman al-Zawahiri be captured dead or alive?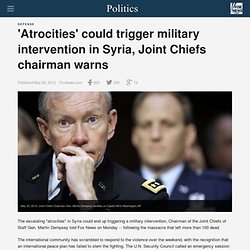 The escalating "atrocities" in Syria could end up triggering a military intervention, Chairman of the Joint Chiefs of Staff Gen. Martin Dempsey told Fox News on Monday -- following the massacre that left more than 100 dead. The international community has scrambled to respond to the violence over the weekend, with the recognition that an international peace plan has failed to stem the fighting. The U.N. Security Council called an emergency session Sunday, with its members unanimously supporting a statement condemning the killings and blaming the Bashar al-Assad regime. Meanwhile, U.N. envoy Kofi Annan traveled to Syria for talks.
'Atrocities' could trigger military intervention in Syria, Joint Chiefs chairman warns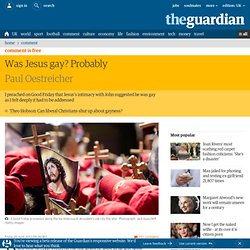 Was Jesus gay? Probably | Paul Oestreicher | Comment is free
A Good Friday procession along the Via Dolorosa in Jerusalem's old city this year. Photograph: Jack Guez/AFP/Getty Images Preaching on Good Friday on the last words of Jesus as he was being executed makes great spiritual demands on the preacher. The Jesuits began this tradition.
Gingrich's Laughable Climate Change Denial
Romney takes Iowa Republican vote by hair's breadth
Analysis: Obama among the winners in Iowa
2008 Iowa Caucus Victory Speech: Promises Kept
President Obama's Weekly Address: Working Together in the New Year
West Wing Week 12/30/11 or "Best of the West (Wing Week)"
Jasper Howell Braxton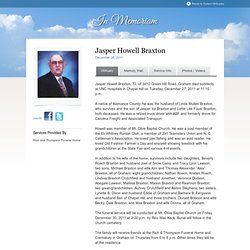 December 28, 2011 Jasper Howell Braxton, 72, of 3410 Green Hill Road, Graham died suddenly at UNC Hospitals in Chapel Hill on Tuesday, December 27, 2011 at 11:15 p.m. A native of Alamance County, he was the husband of Linda Mullen Braxton, who survives and the son of Jasper Ira Braxton and Lottie Lee Foust Braxton, both deceased. He was a retired truck driver with ABF and formerly drove for Carolina Freight and Associated Transport. Howell was member of Mt. Olive Baptist Church.
For those who believe GoDaddy didn't eat enough humble pie for backing the Stop Online Piracy Act (SOPA), the company's taken further measures to backtrack on on its earlier support of SOPA. GoDaddy's president issued an apology Thursday evening pledging to repair relationships with domain holders who bolted to competitors over the issue and to reiterate its oppostion to the proposed legislation. "We have observed a spike in domain name transfers, which are running above normal rates and which we attribute to Go Daddy's prior support for SOPA, which was reversed," GoDaddy CEO Warren Adelman said in a statement delivered to media outlets via email. "GoDaddy opposes SOPA because the legislation has not fulfilled its basic requirement to build a consensus among stake-holders in the technology and Internet communities," he added.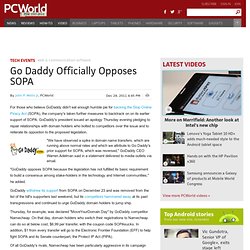 Go Daddy Officially Opposes SOPA
Hillary Clinton --- AP Photo by Elise Amendola In the 2012 Presidential Election , the Republican candidate will likely face the long-rumored, Obama-Hillary super ticket, predicts longtime political guru and Bill Clinton administration veteran Robert Reich . " Hillary Clinton and Joe Biden swap places," Reich wrote in Business Insider on Wednesday. "Biden becomes secretary of state — a position he's apparently coveted for years. And Hillary Clinton, vice president. "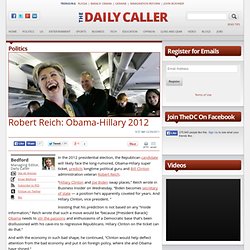 Hillary Clinton | Barack Obama | Joe Biden
Jim Messina: Paths to 270 Electoral Votes -- Obama For America
Jasper Howell Braxton Obituary: View Jasper Howell Braxton's Obituary by TheTimesNews.com
Anonymous - Warning to Major Corporations Supporting SOPA/PIPA
Will you stay up at least until midnight on New Years EVE?
Fighting for Veterans' Jobs: Keep the Pressure on Congress to Pass the President's Jobs Plan
US President Barack Obama joins Google+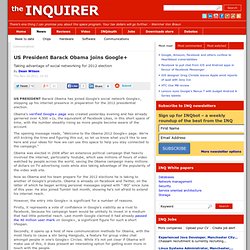 US PRESIDENT Barack Obama has joined Google's social network Google+, stepping up his internet presence in preparation for the 2012 presidential election. Obama's verified Google+ page was created yesterday evening and has already garnered over 4,500 +1s, the equivalent of Facebook Likes, in this short space of time, with the number steadily rising as more people become aware of the account. The opening message reads, "Welcome to the Obama 2012 Google+ page. We're still kicking the tires and figuring this out, so let us know what you'd like to see here and your ideas for how we can use this space to help you stay connected to the campaign." Obama was elected in 2008 after an extensive political campaign that heavily involved the internet, particularly Youtube, which saw millions of hours of video watched by people across the world, saving the Obama campaign many millions of dollars on TV advertising costs while also taking advantage of the popularity of the video web site.
President Obama's Weekly Address: Wishing the American people a happy Thanksgiving
West Wing Week 11/24/11 or "Your Best You"
Most liveable alien worlds ranked
23 November 2011 Last updated at 18:59 GMT Saturn's moon Titan bears many similarities to the early Earth Scientists have outlined which moons and planets are most likely to harbour extra-terrestrial life. Among the most habitable alien worlds were Saturn's moon Titan and the exoplanet Gliese 581g - thought to reside some 20.5 light-years away in the constellation Libra.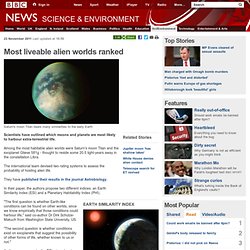 President Obama on Tax Cuts for the Middle Class
Misunderstood and Mistranslated Words of Jesus Hell believing Christians argue that Jesus Christ Himself preached more about hell than any other person in the Bible. In this chapter, we shall see how, where and why hell believers misunderstand and mistranslate Jesus's words.
18. Jesus Christ did not Teach Hell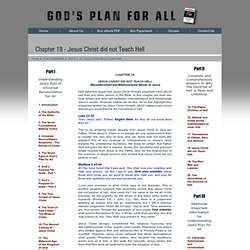 President Obama Welcomes Guests to "In Performance at the White House: Country Music"
President Obama Makes a Statement about the Supercommittee
President Obama Signs a Bill Offering Tax Credits to Business that Hire Veterans
President Obama Speaks to Australian High School Students
NYC Sues Roll-Your-Own Cigarette Shops Over Taxes
President Barack Obama Attends Tree Dedication Ceremony
President Obama Speaks to U.S. and Australian Service Members
Muammar Gaddafi's Son Captured
Gaddafi's son captured by Zintan fighters
Syria Battle Footage - Syria Free Army defends Baba Amr from Assad Army - Homs - Nov 2011
President Obama's Weekly Address: Creating an Economy Built to Last
President Obama Speaks on Agreement Between Boeing and Lion Air
President Barack Obama Speaks on Burma
Ten reasons why Obama will be reelected in 2012
Watching Republican presidential debate on November 12 on US foreign policy, you might be forgiven if you thought it shed absolutely no light on US foreign policy. After all, by definition ... and by God's good graces ... the views expressed represented those of people who will have precious little influence over America's international course. Only one of these people can be the Republican nominee.
President Obama on the Relationship Between Australia and the United States
Police, owner differ over dog shooting incident | shooting, dog, graham
West Wing Week 11/17/11 - A Preview
President Obama's Great American Smokeout Message
President Barack Obama Speaks about Startup America
Internet titans fight SOPA with full-page NY Times ad
Nine giants of the Internet — Google, eBAy, AOL, Facebook, Yahoo, Zynga, LinkedIn, Mozilla and Twitter — placed a full-page ad in The New York Times as part of their efforts to fight back against the "Stop Online Piracy Act" (SOPA) and the "PROTECT IP Act." Update: A Google spokesperson has just informed us that, in addition to The New York Times, this ad ran in the Wall Street Journal, Washington Post, and the Washington Times. These pieces of legislation, which have strong bipartisan support in Congress, as well as backing from the Motion Picture Association of America, a variety of Hollywood union organizations, and even Master Card and Pfizer, would require technology companies and Internet service providers to block access to any website that the entertainment industry believes "engages in, enables or facilitates" copyright infringement. In essence, these bills, if they become law, would allow for broad Internet censorship.
Opponents of a bill designed to protect the rights of film companies and music labels say it could be perverted to censor the Internet in the United States. Hearings in the House of Representatives on the Stop Internet Piracy Act (SOPA) began Wednesday, sparking a campaign by dozens of companies to keep the bill from becoming law. "We support the bill's stated goals," says an open letter signed by nine Internet companies, including Google, Facebook, Twitter, Yahoo, AOL and eBay . "Unfortunately, the bills as drafted would expose law-abiding U.S. Internet and technology companies to new uncertain liabilities." The companies believe the government should "consider more targeted ways to combat foreign 'rogue' websites dedicated to copyright infringement and trademark counterfeiting."
SOPA (Stop Internet Piracy Act) is 'Internet censorship,' says Google & Twitter & Facebook - NY Daily News
Is God an imaginary character, like Santa Claus, and the Easter Bunny, etc?
President Obama's News Conference with Prime Minister Gillard of Australia
Google argues against U.S. online piracy bill
RIP FREEDOM OF SPEECH
Protect The Internet
"Europa has the best chance of having life there today," said Britney Schmidt , who studies the moon at the University of Texas at Austin and led the new study appearing in the journal Nature . Such lakes could provide a habitat for life or act as channels for organic compounds on Europa's surface to be drawn into the moon's far deeper ocean, said Don Blankenship , a geophysicist and Europa specialist also at the University of Texas. In the 1990s, NASA's Galileo probe found strong evidence of a deep, briny ocean covering the entire moon far beneath the icy surface. The discovery of the moon-girdling ocean immediately prompted speculation that such an environment could foster life. But to do so, scientists said, organic compounds from Europa's surface would need to find their way through the ice. Subsurface lakes — and the process that creates them — would provide just such channels.
Jupiter's moon Europa: Lake theory boosts hopes for life
Michelle Obama: Join Women for Obama
Porn and Violent Images Infest Facebook
TORTURE ME, BABY!
President Obama Holds a Press Conference at the APEC Summit
President Obama rebukes 2012 rivals - Carrie Budoff Brown and Jennifer Epstein
President Obama at the Trans-Pacific Partnership Meeting
Free Syrian Army battles regime
President Obama's Weekly Address: Honoring Our Veterans for Their Service and Sacrifice
President Barack Obama Honors Veterans at Arlington National Cemetery
Black Sabbath announce new album, 2012 world tour
Facebook Timeline: The Next Step Is Coming Soon
West Wing Week: 11/11/11 or "Super Duper Space Wrench"
2012 Presidential Election: Volunteer for Barack Obama's Campaign
Peterman returns to Graham mayor's seat | graham, returns, seat
The Beginning of the End of Adobe Flash Player
President Obama Signs Order to Cut Waste and Promote Efficiency
Firefox 8 cracks down on add-ons | Deep Tech
President Obama Speaks on Getting Our Veterans Back to Work
Planetary Scientists Hope to Bring Back Mars Moondust: Scientific American Podcast
1 Year From Election Day, Obama Eyes Second Term
AN OPEN LETTER TO JOHN BOEHNER AND MITCH MCCONNELL
President Obama's Press Conference on the G20 Summit
President Barack Obama Speaks About the US-France Alliance
Daylight Saving Time 2011: Set Clocks Back This Weekend
Andy Rooney Passes Away
John Avlon: How Obama Can Win Reelection Through Reform of Congress
A Year out, Obama Campaign Makes Volunteer Push
Weekly Address: We Have to Increase the Pace
West Wing Week 11/04/11 or "Let's Get Moving"
President Obama and President Sarkozy of France Speak on Bilateral Meeting
U.S. Intelligence Calls China World's Biggest Cyber Thief
President Obama slams GOP decision to vote on 'In God We Trust' motto instead of his job creation bill 
Poll: Obama and Romney tied in North Carolina - Politics Wires
Gaddafi Son Said to Be in Vast Sahara