Tools
I don't know what I'd do without my USB flash drives. Over the years they have evolved from being a mere storage device where I dumped files that I wanted to take with me when I was on the move into a platform in their own right. With the aid of a few software applications and utilities (some free, some not), you can do the same to your USB flash drive. The first thing that you need is a USB flash drive that has decent capacity.
Portable office on your USB flash drive | Hardware 2.0 | ZDNet.com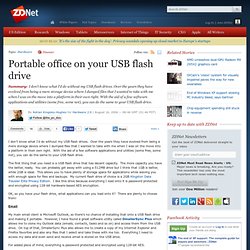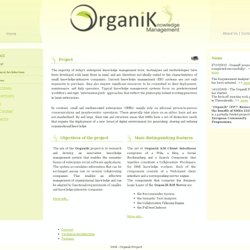 The majority of today's enterprise knowledge management tools, techniques and methodologies have been developed with large firms in mind, and are therefore not ideally suited to the characteristics of small knowledge-intensive companies. Current knowledge management (KM) systems are not only expensive to purchase, they also require significant resources to be committed to their deployment, maintenance, and daily operation. Typical knowledge management systems focus on predetermined workflows and rigid "information-push" approaches that reflect the philosophy behind working practices in large enterprises.
The Organik Project - An organic knowledge management system for small European knowledge-intensive companies
Welcome to EVS — EVS
Document Actions Since 1997, NCI Enterprise Vocabulary Services (EVS) has provided terminology content, tools, and services to accurately code, analyze and share cancer and biomedical research, clinical and public health information. EVS works with many partners to develop, license and publish terminology, jointly develop software tools, and support harmonization and shared standards. EVS provides the foundational layer for NCI's informatics infrastructure, and plays an important role in federal and international standards efforts (see EVS Use and Collaborations). The EVS Wiki provides extensive details on these and other EVS resources, tools and services.