RESEARCH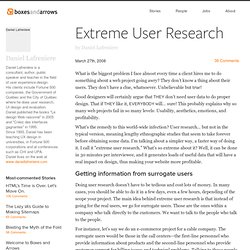 What is the biggest problem I face almost every time a client hires me to do something about a web project going awry? They don't know a thing about their users. They don't have a clue, whatsoever. Unbelievable but true! Good designers will certainly argue that THEY don't need user data to do proper design.
Extreme User Research
Card Sorting Book Site
Designing Usable Categories Published: April 2009 Paperback: 162 pages, ISBN 1-933820-02-0 Digital: ISBN 1-933820-07-1 by Donna Spencer The ultimate guide to one of the under-appreciated user research methods in our toolbox. Whether you work on small web sites or in large corporate environments, this book is just the right size to give you everything you need to know to be a pro at card sorting."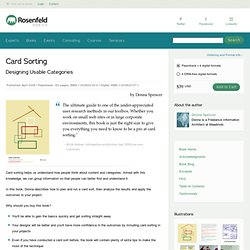 abstentions.pdf (application/pdf Object)