Digital_collections
Supporting Collection Development Decisions by Mining and Analyzing Digital Archive Usage Data. TCDL BulletinCurrent 2005 Volume 2 Issue 1 Jewel Ward†, Johan Bollen‡, Jeffrey Pearson†, Shing-Cheung Chan†, Hui-Hsien Chi†, Marie Chi†, Kristine Guevara†, Hsiao-han Huang†, Genesan Kim†, Maks Krivokon†, Bo H.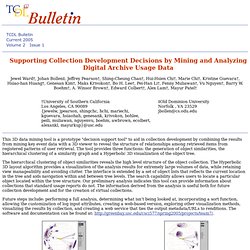 Lee†, Pei-Han Li†, Fenny Muliawan†, Vu Nguyen†, Barry W. PADI - Preserving Access to Digital Information. Subjects Menu: PADI : preserving access to digital information (including ICADS) was selected for preservation by the National Library of Australia.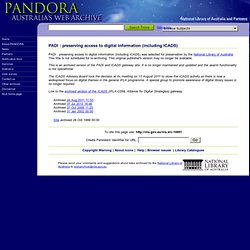 This title is not scheduled for re-archiving. This original publisher's version may no longer be available. Technical Information (American Memory from the Library of Congress) Building Digital Collections: A Technical Overview The American Memory historical collections at the Library of Congress are the product of a permanent commitment to explore and establish the best practices of digitization, online presentation and access, and digital preservation of historical materials.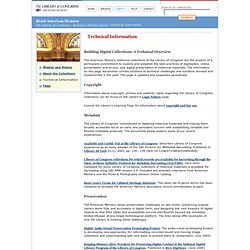 The information on this page documents current solutions to technical challenges and solutions devised and implemented in the past. The page is updated and expanded periodically.
---